Top 10 Spas for Yoga
Published: Tuesday, April 17th 2012
in Fitness
---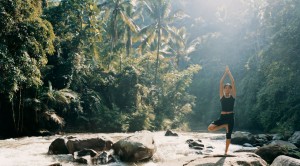 Get your Om on.
Yoga. For some, it's the art of pressing the pause button and tuning into a deeper sense of self, while for others, it's an energizing workout to burn calories and strengthen the body. And for yoga devotees, it's simply life.
Whether you fall into one of these categories, or are a mix of all three, read on to find the Top 10 spas our readers chose as "Best for Yoga."
Ananda in the Himalayas (New Delhi, India)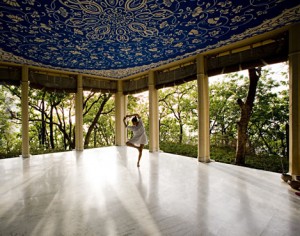 The backdrop of the Himalayas bordered by the River Ganges sets the scene for destination spa, which was formerly a residential palace of a maharajah.  Offering a combination of Ayurveda, Vedanta and yoga, this place is yoga heaven.
At the heart of Canyon Ranch's wellness activities is the 100,000-square-foot spa with a yoga studio (as well as racquetball, basketball and squash courts, indoor running track, massage and bodywork rooms…the list goes on!).
Canyon Ranch's sister property in Tucson attracts yogis as well; among the 40 fitness classes and activities available daily are a variety of spiritual fitness classes, including yoga.
COMO Shambhala Estate (Bali, Indonesia)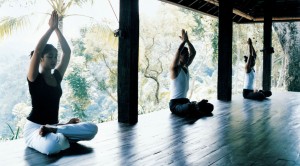 Arguably thought to be one of the best places to practice Hatha Yoga, a combination of asanas [postures], breathing and meditation, this Balinese resort features complimentary daily classes and one-on-one sessions, and visiting masters host specialist weeks; upcoming retreats include Yoga, Tea and You with Sheldon Leon Grant and the Art and Science of your Yoga Practice with Judy Krupp that typically involve five hours of practice daily over the course of five days.
Immerse yourself in yoga the Golden Door way: A usual weeklong stay here allows you to enjoy ancient disciplines like yoga (for the beginner, intermediate and advanced) daily. Aqua Yoga is also available. What could be better for mind and body?
Kripalu Center for Yoga & Health (Stockbridge, MA)
Committed to promoting the art and science of yoga, Kripalu deems itself "the largest and most established retreat center for yoga, health and holistic living in North America." Yoga programs of all types are available for varying levels and include Therapeutic Yoga and Yogic Anatomy; Kripalu's professional schools offer residential training and certification in yoga and Ayurveda as well. Here's to your health!
Lake Austin Spa Resort (Austin, TX)
The "everything's bigger in Texas" adage reigns when it comes to yoga at this spa resort, too: The classes for yoga enthusiasts are too immense to count, ranging from Balancing the Chakras, BodyFlow, Vinyasa Flow, Water Yoga, Yoga for the Face, Yoga Sculpt and Sun or Full Moon Salutations, practiced on the outdoor yoga deck overlooking Lake Austin.
Mii amo, a Destination Spa at Enchantment (Sedona, AZ)
Yoga fans can get their Om on at Mii amo, where the current schedule includes yoga two or three times a day in the movement studio (Chakra Yoga, Yogalates, Yin Yoga, Vitality Flow and more!).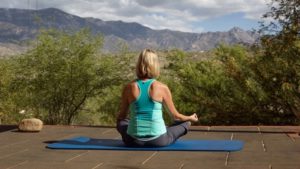 Miraval Resort & Spa (Tucson, AZ)
Miraval appeals to yoga fans with a vast menu, from Pranayama and Morning Yoga to striking practices like Native American yoga, Yoga Nidra Meditation, Yogic Sleep and Flying Dragon. The resort's newest yoga class, Yoga Level 2, is designed to cleanse the body and get you ready for bikini season. Can you say Om?
Rancho La Puerta (Tecate, Mexico)
Yoga has a storied past here (Indra Devi, arguably considered the most influential yoga teacher of the mid-20th century, was at both the Ranch and its sister spa, Golden Door), and regularly scheduled yoga – from restorative to men only – is held every day, every week (those who wish for a yoga vacation will devote several hours of yoga daily). Learn of upcoming specialty programs.
Plus, find out your yoga style.