Water Biking – Get Ready to Cycle Underwater This Summer!
Published: Monday, July 10th 2017
in Fitness
by
---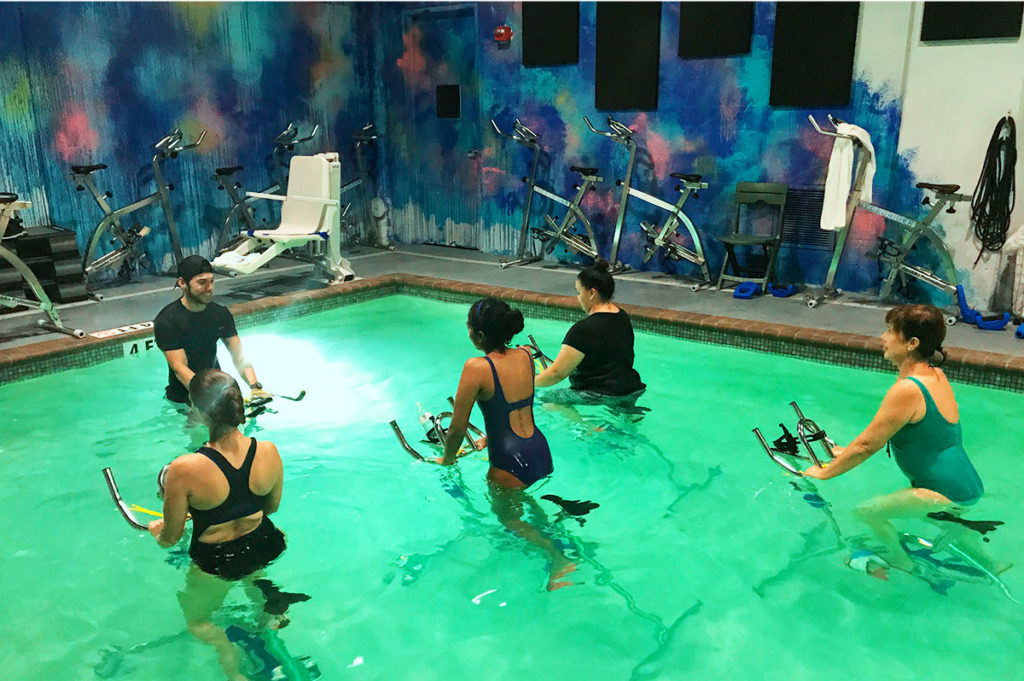 Water Biking Class, Courtesy of Water Biking Studio
Water biking is one of the best-kept secrets in fitness these days primarily because it is relatively new here in the United States. However, this fun and invigorating exercise is gaining in popularity and studios are popping up in cities like NYC, L.A. and Miami.
But what exactly is water biking? The easiest way to describe water biking is to say that it is a cycling class underwater in a pool. Instructors conduct group classes that use static bikes with upbeat music and exercise routines. However, this is where the similarities end. For starters, water biking is a low-impact exercise, high-intensity workout that burns calories and tones the entire body. It also helps with active recovery from injuries, joint flexibility and there is a study that suggests it can reduce cellulite. [1]
People in France and Europe have been practicing water biking for several years. The concept of biking underwater originated in Italy as a way to help patients rehabilitate during hospital stays. When they prescribed this type of therapy, doctors also noticed that patients improved their skin tone and reduced the appearance of cellulite.
I normally have lots of issues with my knees and hips and don't do much spinning but when I heard water biking could help with flexibility, cellulite reduction and tone my body, I volunteered to give water biking a try. I took a class at the WaterBiking Studio in Coral Gables, Miami. My impression? The class was awesome! Chris, our instructor, had an amazing energy and made us all work hard while we had fun. The workout was intense. I could definitely feel the extra resistance the water created. The fact it was low intensity paired with our hands-on instructor allowed me to focus on good posture as well as technique. Both are key components to avoid injury and make the most of any exercise routine.
WaterBiking Studio offers four different classes:
• WaterBiking where you pedal on a stationary bike in a swimming pool as described above.
• WaterCircuit is a water circuit performed on a water bike and also uses Aqua treadmills and Aqua Steppers
• WaterBoxing, which is a combination of martial arts, kickboxing all done under water
• Water/Zumba to combine dance moves for low-resistance impact.
[1] Observational study carried out by Dr. Philippe Blanchemaison for Waterbike®