Get Out of Your Comfort Zone, Plus Enter to Win a Gift Certificate
Published: Monday, January 31st 2011
in Fitness
---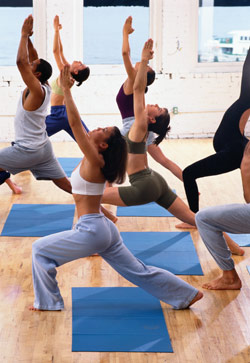 Mark your calendars and get ready for seven days of total health and spa treatments!
SpaFinder's Wellness Week™ is March 21-27, which means fabulous 50% discounts or $50 prices on spa treatments and healthy activities—Pilates, yoga, nutrition assessments, and more—at businesses nationwide. More importantly, Wellness Week™ is your chance to step out of your comfort zone and visit new spas, treatments, or fitness pursuits that you've been eager to try, but haven't found the time to pencil into your crazy schedule.
You've probably had a massage or even an exfoliating facial before, but have you been wondering what a Bar Method class is like? Still trying to figure out what Zumba is? Now's your opportunity — these Wellness Week™ partners will present an assortment of nontraditional types of fitness to help you become svelte, get energized, or simply feel better. More are signing up every day, so be sure to check back often!
Plus, take our survey and be entered to win a free SpaFinder Gift Certificate!
Pilates With Jenn, LLC – Oakland, NJ
Pink Ribbon Pilates Session; Five or Ten Private Pilates Apparatus Sessions; Private Pilates the rest of 2011
Indigo Studio – Chicago, IL
One Month Unlimited; Five Class Pass; Drop In Class; 20 Class Pass
Three in One Yoga – Bradenton, FL
10 Classes for $50; ½ Off Private Lesson (One Hour)
Yoga Shelter – West Bloomfield, MI
Free Week Visit; Intro Offer
Work It Out, a fitness boutique – Hoboken, NJ
Five- or Ten-Class Adult Package; Gold Youth Gymnastics Package; Adult or Youth Private Session Five Pack
Zenyasa Yoga & Wellness Studio – New York, NY
Details to come
Atmananda Yoga Sequence – New York, NY
Details to come
Ten X Club – Natick, MA
Details to come
Read more: