Workout Wear We Love: Four Favorite Basics
---
Just because you're working out doesn't mean you can't look good—and be comfortable—while doing it. We've rounded up some basic pieces that we love to don whether we're hitting the gym, a yoga/Pilates studio or the park. From tie dye (yes, we're bringing it back!) to laser-cut mesh, these basics will help you get into tip-top shape and look good while you're at it.
A Stylish Stray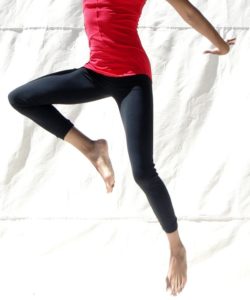 We love how these Prancing Leopard Organics Xingu Leggings stray from the standard legging while maintaining a flattering look. With the band at the bottom, these leggings give a faint nod to sweats, but in a stylish way, and the diagonal seam design offers interesting and flattering detail.  Made with quick-drying and long-lasting Turkish organic Zeugma cotton (made with at least 95 percent-certified organic cotton), these leggings offer just the right amount of stretch, making them comfy while still staying snug throughout. Wear these for any type of exercise, from running at the park or working out in the gym to yoga on a mat or Pilates on a reformer.
Prancing Leopard Organics Xingu Leggings, $73 at prancingleopard.com
Tie-Dye Revival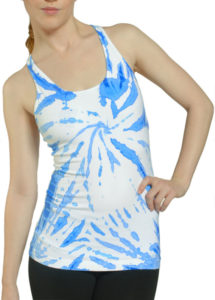 While tie dye saw its heyday in the '70s, we absolutely LOVE this U-Scoop Swimmer's Tank by Hard Tail. Perfect for everything from running to yoga, this top will energize and brighten your workout with plenty of built-in support and comfort. The U-scoop neckline is extremely flattering, showing off your décolleté, and the length is perfect — pull it down for a little more coverage, or let it scrunch a little to show some of that hard-worked-for tush without worries that the top will keep riding up. We highly recommend the neon pink one even for those who don't normally wear the color (or tie dye, for that matter!) — it should be available on the site below in a few weeks!
Hard Tail U-Scoop Swimmer's Tank, $59 at londomondo.com
Post-Workout Pullover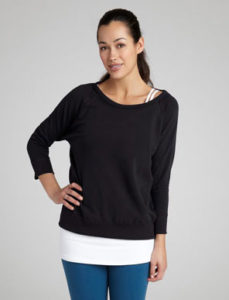 After a sweat-inducing workout, it can sometimes get a little chilly. This Relaxed Pullover from Beyond Yoga offers a super comfortable, flattering and easy-to-pack and pull-on top to keep the goose bumps away. Made from organic cotton fleece, the fibers in this top are grown without commercial pesticides or fertilizers; it's even processed using certified, low-impact and eco-friendly processes and dyes. We love the wide crew neckline (we're all about the décolleté!) and how lightweight this top is, which makes it suitable for any season. When you're not working out, pair it with some jeans or a skirt to get even more use out of it.
Relaxed Pullover, $86 at beyondyoga.com
Laser-Cut Speed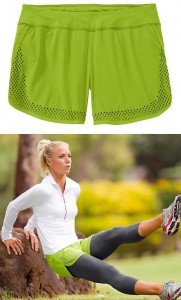 These Lap Shorts from Athleta are perfect for both the gym and an outdoor run. Lightweight, moisture-wicking AND wrinkle resistant, these shorts are also UPF 50+, which means they block 98 percent of the UV radiation that falls on the surface of the garment, perfect for sunny-day runs. We love the bright color options and the wide-knit waistband, which keeps these shorts in place, and, can we talk about the detail around the hem? We think the laser-cut element on these shorts is not only great for ventilation but also quite flattering. What's more, these shorts come with a built-in internal brief, internal drawstring and an extremely handy rear zip pocket — no more tying your house keys into your shoes!
Lap Shorts, $49 at athleta.gap.com
And, to learn about how to find the best-fitting sports bra for you, check out Sports Bras 101: Get Fit in Your Best Fit.