6 Lower-Body Strengthening Exercises with the Flex Band
---
Flex band workouts are great for increasing strength and flexibility at the same time and are very effective for lower-body core conditioning and hip strengthening. Athletes require both of these: Tennis players do a lot of lateral movement on the course, as well as jumping, which puts more impact on the low back, hips, and knees; a golfer's swing involves the rotation of the spine and requires a lot of support from the hips, obliques, and low back; and runners may suffer from low back, hip, and knee weaknesses. Lower-body flex band work will also benefit people who may stand or sit for long periods of time on the job, as well as those with arthritis. Slow, controlled movements and stretching increase the sinovial fluids in the joints. The flex band exercises below focus on the low back (lumbar), transversus, rectus and quads, adductors, hips, and knees.
Try these resistance exercises using a five- or six-foot flex band to lengthen and strengthen your muscles.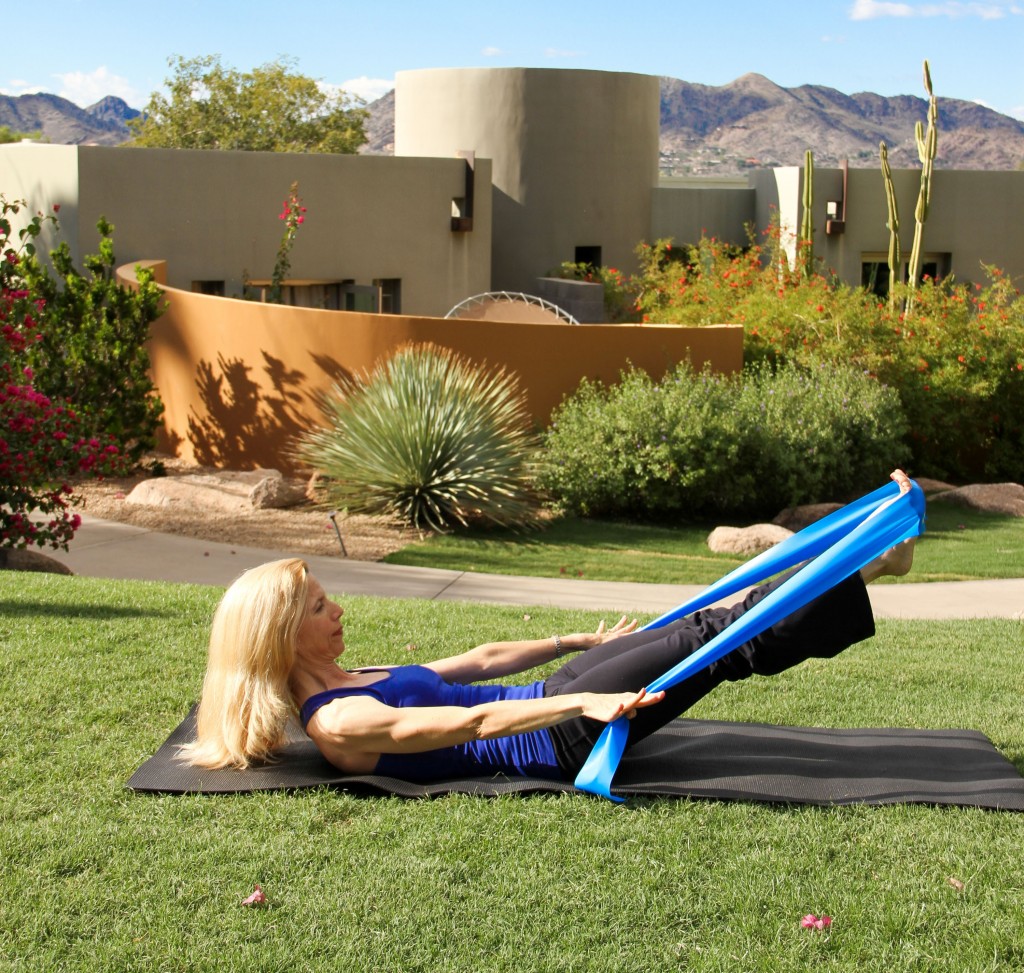 Pilates 100 Total Core Exercise with the Flex Band
Lying prone on a mat, place the flex band around the bottom of your feet—nice and wide to secure position—covering the ball of your foot. Place each end of the band in your palm between thumb and index finger. Lengthen your legs out in front and pull your rib cage in, creating a neutral spine in your back, with no arching. Lift your head up from the center of your breast bone and tuck your chin in slightly. Extend arms to your hips, off the floor a few inches.
Inhale and pulse your arms for 5x (as if you are tapping palms lightly on water), exhale, and pulse your arms down 5x. Repeat this sequence until you inhale and exhale 5x in and 5x out, for a set of 10x total.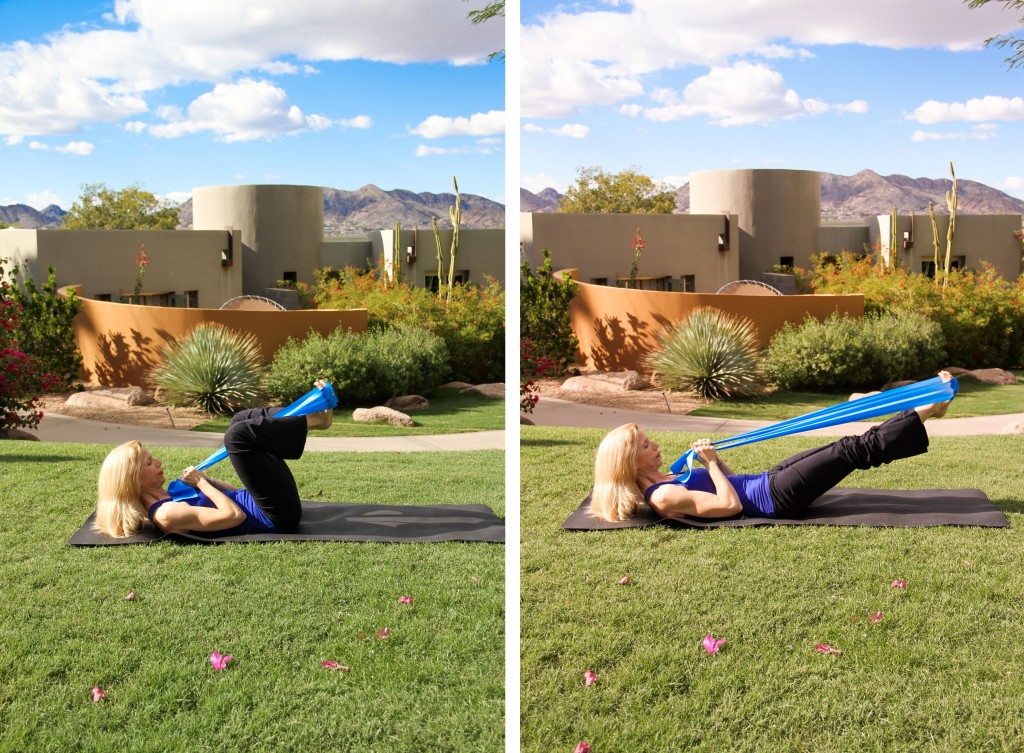 Frog with Flex Band – works adductors, hips, lower abdominals
Wrap the center of the band around the bottom of your feet, the ends in each fist, and the tip of the back through the top of your hand. Bend your elbows and tuck your fists into chest, hold arms there. Bend your knees with your heels together and your toes turned out in a narrow "V." Inhale and extend legs out, without arching the back. Exhale, pull your navel to your spine. Inhale, bend the knees, exhale, and extend. Repeat 10-12x.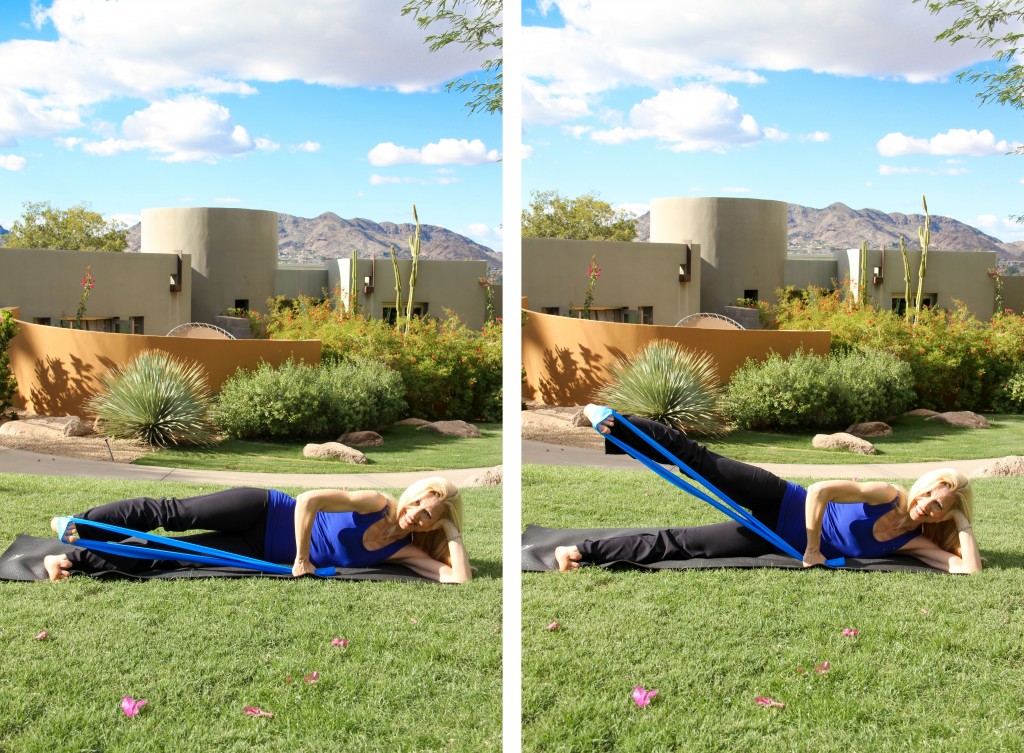 Hip Abduction with the Flex Band – works hips, Tensor fasciae latae and spine erectors
Lying on your left side, wrap the band around your right foot, place both ends in your right fist. Place your fist on the ground to create resistance. Place your head on your hand. Inhale and lift leg up laterally with knee facing the front, parallel to the floor. Exhale, pull your navel to your spine. Inhale, lower leg down a few inches. Exhale, lift above hip. Repeat 10x and then lift leg above hip and pulse it up 10x. Repeat entire sequence on the other side.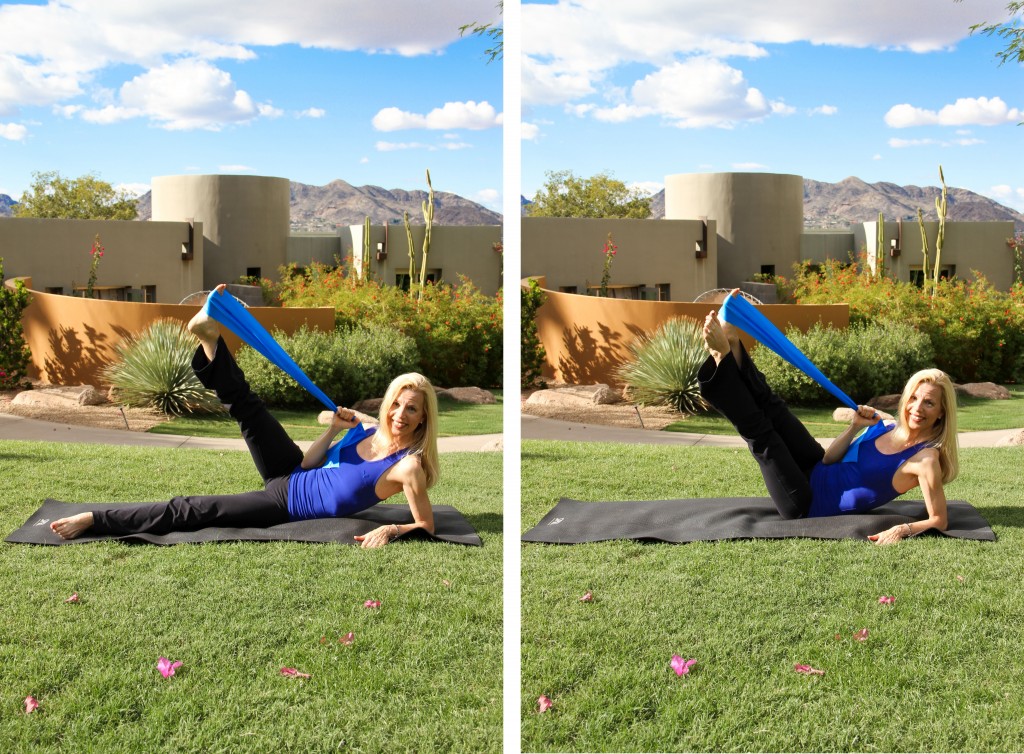 Side Leg Lift with Band – works hips, abs and adductors
Lying on your left elbow and forearm with elbow tracking under your shoulder, wrap the band around your right foot and hold in your right hand. Turn your navel toward the sky and lift the right leg up—hold it there. Extend your left leg out. Inhale, lift your left leg up and connect your heels, exhale and draw your navel in. Inhale and release the left leg down, exhale to lift. Repeat 10x and then repeat on the other leg.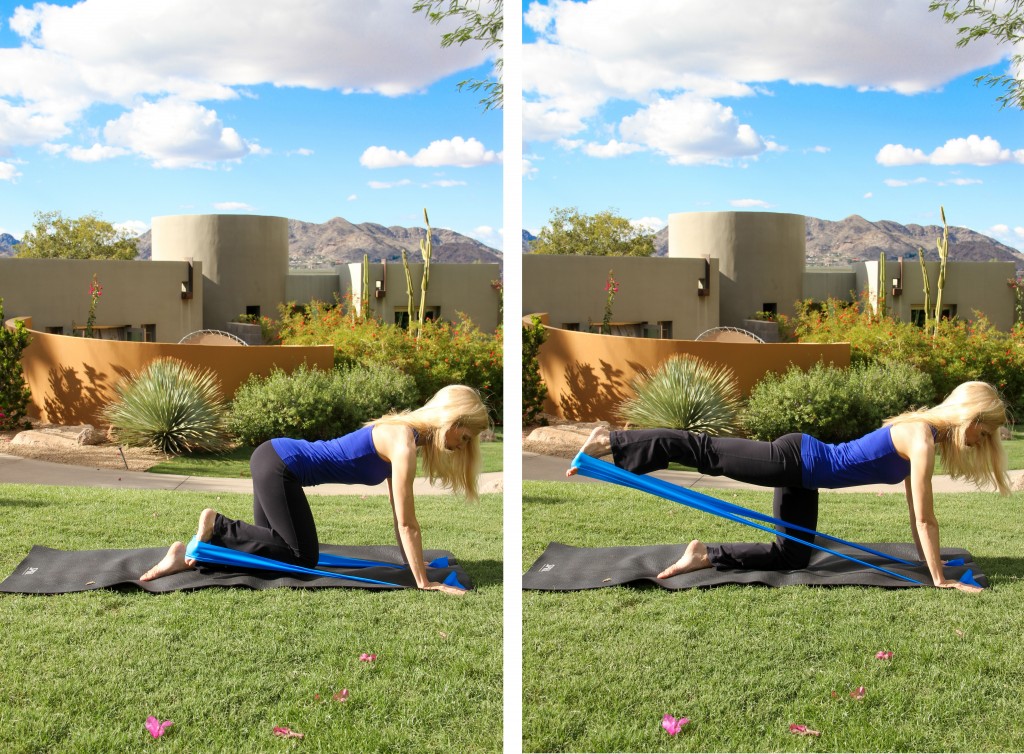 Back Leg Extension – strengthens back extensors, glutes and multifidus
On your hands and knees place hands shoulder-width apart and knees hip-width apart. Wrap your band around the bottom of your right foot and place the ends under your right palm. Inhale and lift your left knee up a few inches off the floor, exhale. Extend your leg straight back—keeping your hips square and your spine in neutral with no excessive arch in your back. Pull your abs in tight. Inhale, bend the knee off the floor to hip, exhale lengthen leg back. Repeat 10x and then on the other leg.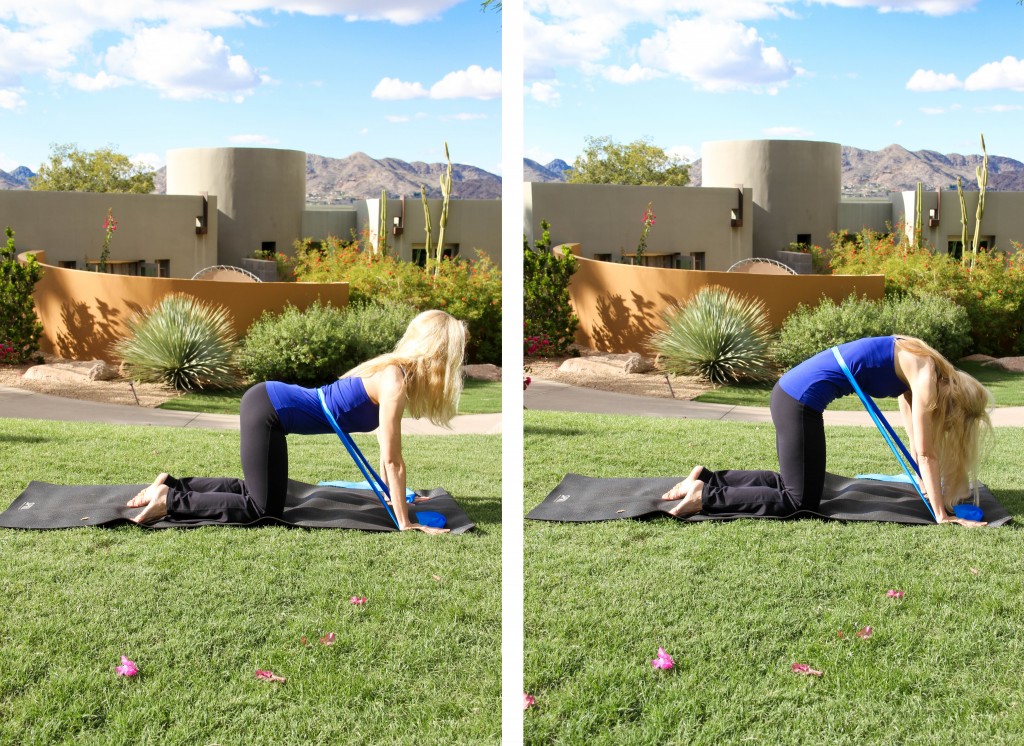 Spine Stretch with band – opens up the vertebrae of the spine
On your hands and knees, place the band wide around the center of your back and put the ends under each palm. Start in neutral spine, with natural curve in your back. Inhale and press your spine into the band, feel the resistance, making an arch like a cat. Exhale, hold. Lower your head to release your neck. Inhale back to neutral spine, exhale to cat stretch. Repeat 5x.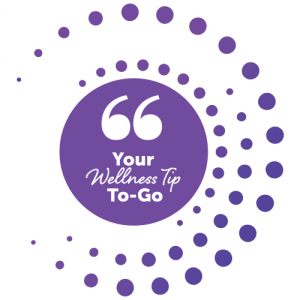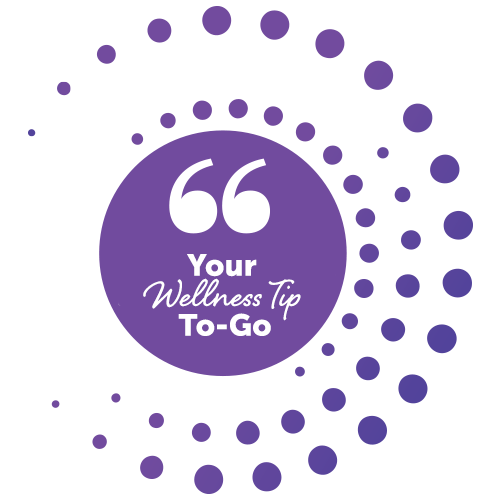 Your Wellness Tip To-Go:
Get ready to sweat! We have countless workout options here!