2022 July Moon
---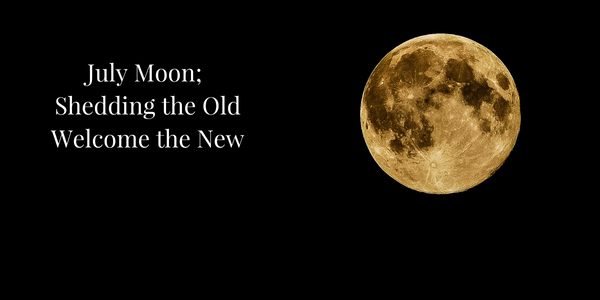 It's Summer and this July Moon, it's time to rejuvenate from the first few months of the year to look ahead to the last. With the changing of the tides, look to shed the burden of winter and embrace the refreshing season ahead.
The Buck Moon
Our July Moon honors the Buck, as this is the season the antlers of male deer are in full-growth mode. This year's supermoon is the largest and closest one to Earth, even closer than our Strawberry Moon. For farmers, high summer is the time to cut and cure hay to put away for winter feed. This is a time of contemplation to determine what we want the year ahead to look like.
The Moon Period
Because the moon is linked to water, many think that full moon impacts moods, lends itself to erratic behaviors and hormonal imbalances. Full moon is supposed to be the perfect time to cut your hair and expect nails to grow as well as manifest desires. In many beachfront locations, full moon parties are the norm with people practicing yoga on the beach, casting the old away in fire pits and dancing until dawn. With music playing like drums or guitar and in some cases sound bowls, people gather for alignment, meditation and contemplation.
Moon Rituals
Since we're always fans of self reflection and pauses, we encourage our readers to plan this full moon accordingly. Create vision boards for the next few months, write and speak aloud manifestations and sage the home. Invite your friends over for the special event and share your ideas with them. Cleanse your space to make way for whatever awaits you and be ready to welcome whatever it may be.