2) SpaFinder Spa Trend 2010: Year of the Hammam – Revisited
---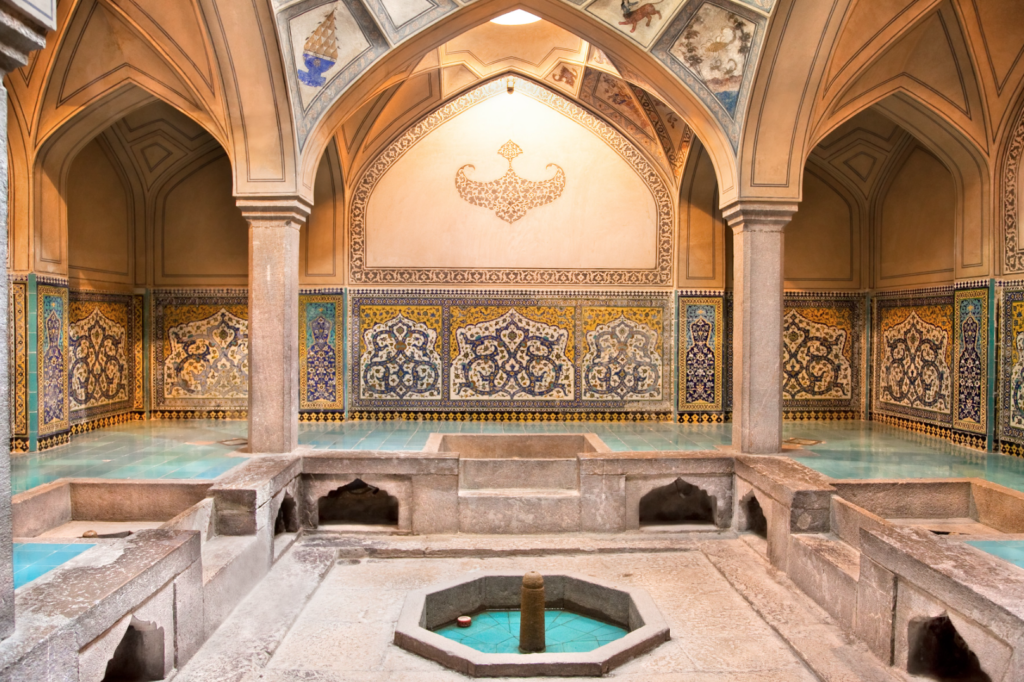 Continuing on with my review of SpaFinder's 2010 Top 10 Spa Trends (and then evaluating how the trend actually developed), we predicted an increasing popularity of hammams.
Admittedly this trend took many people by surprise, in fact, I don't think anyone really saw this one coming! (I love it when that happens!) Our research, however, put this one on our radar. Having the chance to speak with many companies who create hydro and thermal experiences for spas, I knew that there were more hammams on the drawing board than in years past. The spas at the Mandarin Oriental in Las Vegas and Trump Soho in New York were under construction and both would have hammams. I knew that would be big news. What I didn't know was whether or not these spas would host authentic hammams, or if they would simply put the name hammam on a steam room (which is one of my pet peeves). I was happy to learn that both committed to the traditional experience, even using authentic terms such as kese, pestemal, and belly stone for example. The New York Times even made it a point to compliment the effort toward authenticity.
Here is what we wrote about the trend a year ago:
Spa Trend #2: The Year of the Hammam
With spa-goers increasingly seeking authenticity, tradition, and that magical spa experience that also offers true results, the Eastern European/Middle Eastern/North African hammam (hamam in Turkey) represents one of the hottest trends for 2010, albeit with a distinctly modern expression. This is the year in which people who've never heard the term hammam will learn its meaning, and those already familiar with it will discover new places to experience it.
Anyone who has sampled this age-old ritual of cleansing and purification will not be surprised by its rising popularity. The combination of a vigorous full-body scrub and bubbly soaping, now often capped by a full-body massage, makes for an extraordinary experience, with results that last weeks. A traditional hammam, from an Arabic word meaning "heat," consists of a hot room (the sıcaklık, or hararet), a warm, intermediate room, and the cool room (or soğukluk). And these are not ordinary rooms but typically architectural marvels.
Spa-goers love hammams because one can extend this Eastern European/Middle Eastern/North African multicircuit bathing experience for hours. Spa owners love them because of their photogenic "wow" design and the opportunity to make money, since the treatment requires a therapist and allows for top dollar/Euro pricing. And although traditionally they've been a same-sex experience, new modern twists have broadened the experience to couples.
Travel to venerable hammams like the 16th-century Çemberlita in Istanbul will increase, while brand-new spas will unveil distinctly modern incarnations. Introduced to the modern spa scene by lavish Middle Eastern resort spas (such as Dubai's One and Only Royal Mirage or Morocco's La Mamounia), next-generation versions are already gaining popularity in Europe, where top spa builders and product manufacturers report a serious increase in requests for a hammam component in new spa design. The trend is hitting North America: Ten Spa in Winnipeg, Canada opened a few years ago with a hamam and offers a variety of experiences including their "Hamam Fully Loaded" treatment. This year both the Drift Spa at Palms Place and Mandarin Oriental in Las Vegas recently rolled out hammams, as did the new InterContinental Montelucia in Arizona. Trump Soho in Manhattan (slated for early 2010) will boast separate luxury hammams for men and women. And expect Turkish hammams in both the Traymore and Epic Hotels in Miami. You can also expect more floating versions on cruise ships soon.
And delegates attending the 2010 Global Spa Summit (fittingly taking place in Istanbul next May) will sample both ancient and modern local interpretations. In the future, look for sauna or steam rooms around the world inappropriately labeled "hammams" to be taken to task as the industry commits to higher standards of authenticity.
So how did we do? I think this one was a mixed bag; clearly there was buzz about hammams as expected, however, there were several on the drawing board that were nixed due to the recession. I was somewhat disappointed to find out that some hammams in the U.S. (Drift Spa, Traymore and Epic) are still used as steam rooms without the great scrubbing, soaping, and detoxing ritual that makes it such a great treatment.
On the other hand, I was really impressed with some of the exciting new products that gave nods to the hammam including: The Red Flower Hammam Range, Davines Hammam Soap Ritual, and the wonderfully fragrant line of hammam blend oils from [comfort zone].
Finally, I am proud of the fact that our alliance with NewBeauty Magazine, which now includes a SpaFinder supplement with each issue, showcased hammams in their inaugural issue! Furthermore, because the Global Spa Summit was held in Istanbul, and most of the 250 delegates experienced a traditional hammam ritual, I am very optomistic that we will continue to see more true hammams develop around the world.
So, my grade for this trend would be an A -. I am giving myself some extra credit for having taken the risk to predict something totally out of the blue!
More information on Hammam.