5) SpaFinder Top Spa Trend 2010: The Hybrid Spa – Revisited
---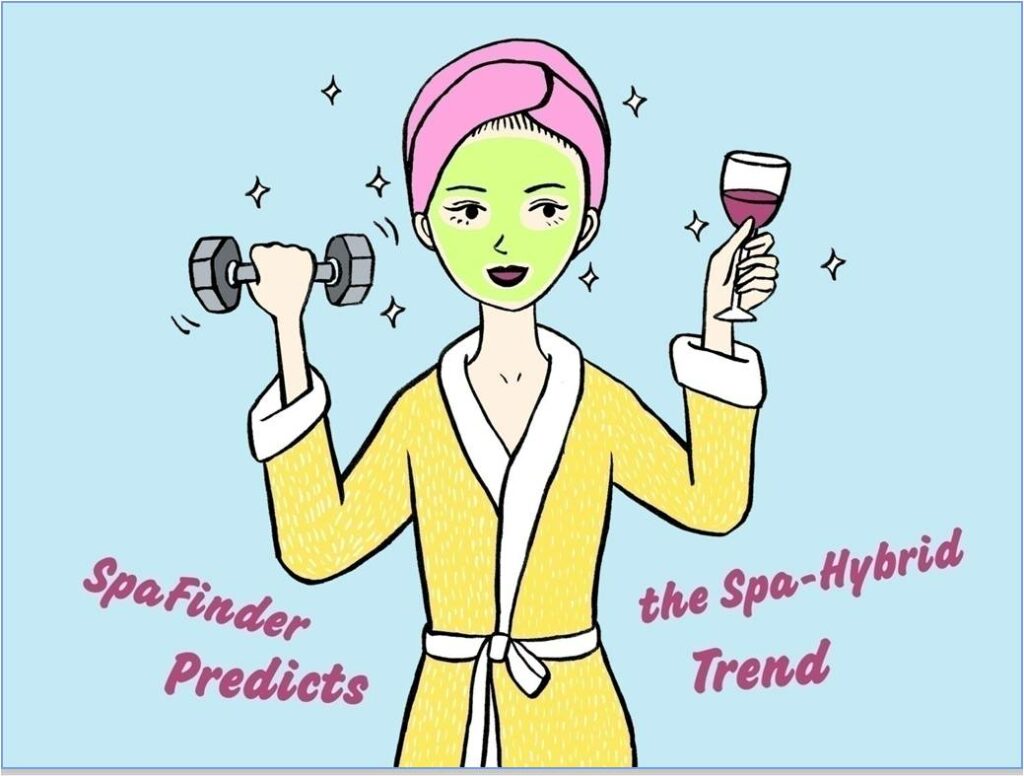 So let's take a look at our 5th spa trend prediction for 2010 called "The Hybrid Spa" and see how we did. (Hint, my grade is lower than the first four trends on this one.)
Last year at this time we were noticing a movement toward fusing several concepts together. For many years we had seen a certain cookie cutter approach to spa: an establishment with massage, facials, body treatments, mani/pedi, make-up, Enya music, soft lights, a boutique, and a name that usually started with the letter A that linked itself to Sanskrit. (ok, I just threw in that last bit to vet my frustration about all those A spas I have a hard time keeping straight…Amani, Amano, Avania, Aji, Amatra, Aspira, Anara, Alilla…you get the picture. Sanskrit? Or internet search advantage? Hmm.
So here is how we described the Hybrid Spa.
The modern spa is increasingly a "hyphenated" affair, with spas incorporating far more fitness, fitness centers incorporating more spa, hospitals incorporating spa elements, and spas bringing in more medical doctors and specialists. The era of the spa/fitness/integrated-health-center/hospital/spiritual-retreat/wellness-center/beauty-clinic is on a serious upswing. It's one integrated human body, after all, and the "pure" spa is on the decline, while the hybrid spa is busy inventing new you-name-it, plugged-in models.
According to a recent industry survey, 64 percent of spas today still identify themselves as a "pure spa," but 38 percent of those plan to add hybrid (fitness, complementary medicine, etc.) elements in the future. So with only 26 percent of spas vowing to remain "pure," the profusion of hybrid models on today's spa showroom isn't surprising. Twenty percent of spas now offer exercise/fitness, 29 percent offer wellness/complementary medicine (acupuncture, etc.), 35 percent feature spirituality/mind offerings (meditation, etc.), while 25 percent offer classes on wellness topics, etc. For consumers, it means your exercise and overall health and wellness regime—and your spa—are naturally merging.
Consider the hyphens: "club spas" combining fitness and spa, chiropractic and spa, "Biggest Loser"-style boot camps and spa, mobile spas within hotel spas, every breed of medical and spa, "beauty bars" combining manicures and martinis, hospitals morphing into "integrative health centers" or "spa-spitals," spa and fertility, spa and meditation, spas providing cancer care—even spas integrating fitness programs that are themselves fusion-hybrid models: spinning yoga, pilates, ballet, kettle balls, weights, hula hoops—you name it—into new amalgams. Fueling the trend: Investors are more keen on spending on the broader health and wellness category today than on pure spa.
Examples include: Nuffield Health (200 U.K. facilities), combining the hospital/clinic/diagnostic center with the health club and full spa services, interweaving yoga, physiotherapy, etc.; the Malo Clinic Spa at the Venetian Macau-Resort Hotel in China, an integrative wellness center offering both comprehensive medical treatments and executive health checkups (six operating theaters, a staff of 50 doctors, etc.) with a full spa featuring 100 spa therapists; Exhale MindBodySpa (15 day spa locations from Los Angeles to the Caribbean), integrating yoga and fitness classes, acupuncture, nutrition, workshops, fertility programs, etc., around the core spa model; and Joan Lunden's Camp Reveille, combining a traditional women's "summer camp" with spa, set to travel to destination/resort spas across the U.S. next year. Still to come? Word has it that trendy global clothing giant Urban Outfitters will be rolling out a hybrid of its own.
Upon review, I can see that, yes indeed, we are seeing lots of hybrids. But I am also struck by how broad of a definition we were using for hybrid! It pretty much cast almost any spa that added a point of differentiation as a hybrid. Tsk Tsk. On the other hand I have heard from people – including someone as astute as Michael Tompkins, GM of Miraval – that this trend was a real inspiration for 2010. Michael mentioned that it spoke to him in a way that resulted in all kinds of creative additions to Miraval's programming!
So while I would probably grade myself a C for not defining hybrid more clearly, I am going to balance that out with a A for having listed a heck of a lot of great examples of hybrids happening out there. So in the spirit of the hybrid…I will give myself a B on this one.