6 Simple Ways to Make Your Home More "Well"
---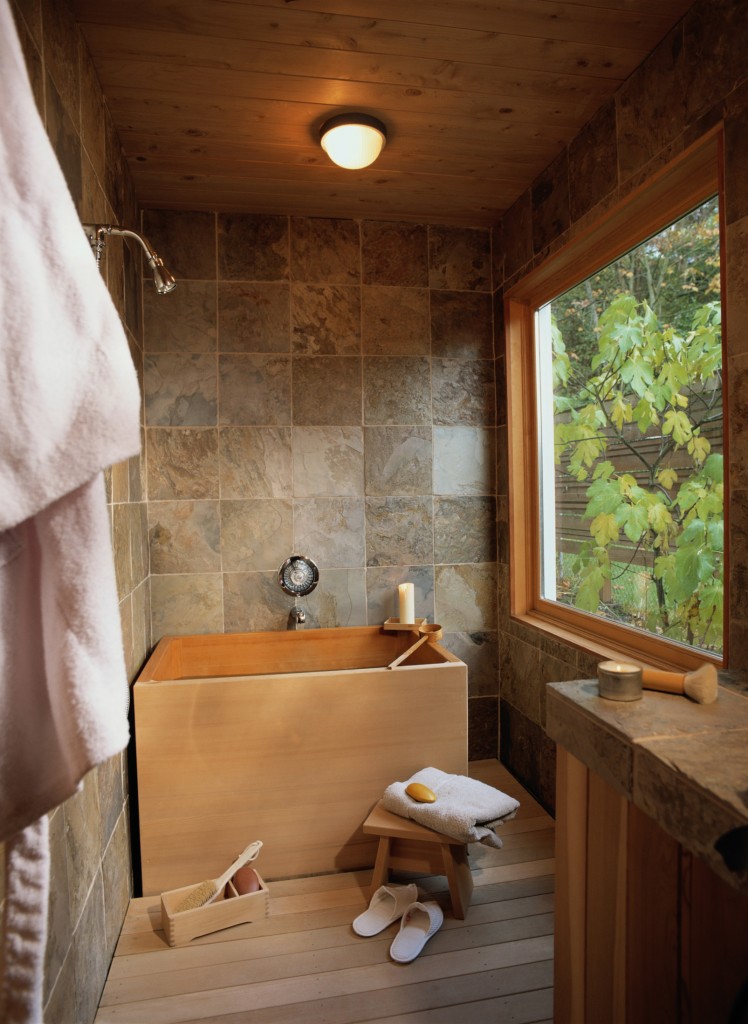 When Gisele Bündchen and Tom Brady put their $20-million, eco-friendly L.A. home on the market in early 2014, I immediately called my realtor and put a bid on it—nah, totally kidding of course, but a girl can dream, right? Yes, the nearly 14,000-square-foot house, once highlighted in Architectural Digest, has a gourmet kitchen, a fully equipped gym, and a koi-filled moat (yes, I said moat), but what appeals to me most is its emphasis on sustainable living, with eco-architectural features like recycled construction materials and photovoltaic solar panels. That same impressed feeling was triggered when I read of Leonardo DiCaprio's purchase of a green-friendly-slash-health-centric apartment in New York City's Greenwich Village; it came complete with wellness features such as kitchen herbariums and vitamin C-infused showers.
It got me thinking: While we all can't live like the rich and famous, there are simple steps we can take to make our homes wellness-enhanced, whether wellness to you means living eco consciously or healthfully or both. Here are six ways to make your home more "well"—plus, share your ideas with us!
1. It's okay to feel green. The idea that plants aid in de-stressing, decreasing physical discomfort, and boosting calm stems from various studies, so buy a houseplant and place it in your abode. If that's not reason enough, take root in this: Select houseplants, including the English ivy, bamboo palm, and spider plant, also are capable of filtering pollutants and purifying the air.
2. Get your vitamin C. Take a cue from Mr. DiCaprio and install a vitamin C-infused showerhead—while there have been arguments about its effectiveness (some say the vitamin C filter neutralizes chlorine in the water, providing healthier skin and hair; others say it's all hype), it is inexpensive should you choose to tap into this idea.  Hand-held shower filters start at about $99, with a five-pack of vitamin C shower filter cartridges going for around $59. (Note: Other healthy options include installing a water filter system on your sink.)
3. Take a stand. Ergonomic furniture that forces good posture can be pricey, but a cheaper route would be to purchase a pillow designed to provide support and maintain ideal posture while you catch your Zzzs. The Sealy Posturepedic Posture Fit Side Sleeper Pillow ($45; sealybedding.com) is a staple on my bed.
4. A better snooze than Sleeping Beauty. Fall asleep and wake well-rested with the help of an alarm clock that aligns your body's natural circadian rhythm. MGM Grand's Stay Well rooms spotlight the dawn simulator alarm clock; Soleil Sleep Spa's version ($129; soleilsunalarm.com), which uses a blend of light and sound therapy, is just one example available to the masses (you can charge your phone from it, too).
5. The sense of scents. We can't say enough about the benefits of aromatherapy (it was one of our top 10 spa and wellness trends for 2014, after all—which is why we love the concept of the ESSIO Aromatherapy Shower Kit (starting at $44.99; essioshower.com). Three simple steps—attach the ESSIO device to your shower; insert pod; turn on the water and enjoy a stream of organic essential oils into your shower—and you're on your way to an at-home spa experience.
6. Alternate the throw rug or doormat with a few reflexology mats—not only are they beneficial, as they reduce tension and back pain, clear blocked energy channels, and improve circulation, but they're a conversation starter. Options include the Dr. Oz-approved, organic hemp and cotton Spoonk™ Mat—with 6,210 stimulation points!—for $69.99 (spoonkspace.com), but I've seen mats for as low as $10.