8) SpaFinder Spa Trend 2010: Scary and Silly Spa Stories – Revisited
---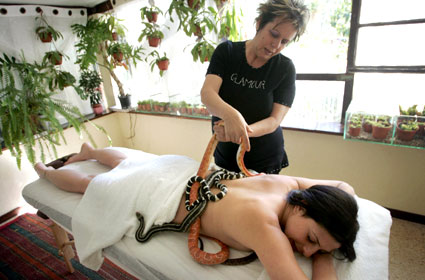 When we predicted this trend last year we decided to draw attention to the scary and silly spa stories to make the case for 'evidenced based medicine' (EBM) to begin being associated with spa modalities.  We considered using the term 'evidenced based medicine' in the title of the trend but then decided that it was likely to cause eyes to glaze over – that it would likely be a yawn.  But the principle was anything but boring – and how right we were! Here is what we wrote last year:
8) Scary and Silly Spa Stories Drive Evidence, Science, and Standards The fallout from heavily publicized spa horror stories—and the recession-driven consumer insistence on no-gimmick treatments with real, measurable benefits—will quicken a rising industry trend: the demand for evidence-based therapies, stricter industry standards, and greater transparency/resources to help spa-goers separate the spa wheat from the chaff. As spas move into the health and wellness sectors, facts, evidence, and science that support industry approaches will move front and center, even at the cost of a few diamond facials.
A horrific sweat lodge tragedy (even if it was incorrectly yoked to the spa industry), as well as some truly scary stories of med-spa procedures gone terribly wrong, got our attention in '09. As did the silly spa stories, whether nibbling fish pedicures or slithering snake massages. Yes, media representations of the spa world can sometimes be flat-out wrong or cartoonish, but the impact can, with wise response, ultimately prove positive: It's leading to more activity to ensure safety and standards and provide clear evidence that spa approaches actually work—the most powerful weapon for an industry increasingly staking out its health and wellness authority and the bedrock upon which future growth is based.
Well, when we said that it was important that there would be clear evidence that spa approaches actually work, we couldn't have known that the New York Times would give us exactly what we wanted.   Those of us in the spa industry know that there are many studies that show evidence for spa modalities but most are buried in medical databases without  much incentive by anyone (as in drug companies) to unearth them.
Therefore it was very exciting to see the article in the September 20th issue of the Times titled, "Massage Benefits Are More Than Skin Deep."  They reported a study that was done by Cedar Sinai in LA where they took blood samples from people before and after a 45 minute Swedish massage.  Here is what they said about the results.  " To their surprise, the researchers, sponsored by the National Center for Complementary and Alternative Medicine, a division of the National Institutes of Health, found that a single session of massage caused biological changes."  The changes they mentioned included a decrease in cortisol levels (stress hormone) and an increase in lymphocytes which helps the immune system.
Ta da!  Just what the doctor ordered – or shall I say,  just the kind of thing we needed to help give this trend some impetus – and to have some good back up for giving myself an A+ for this prediction!
My twitter address: @susieellis