Get Access to all Global Spa Summit 2011 Presentations
---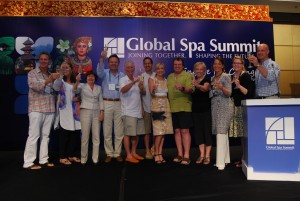 May's Global Spa Summit 2011 in Bali was a resounding success (not my words but the words of so many attendees).  And I do agree!  It had rich content, was fun and the networking was the best ever.  The "official wrap up press release" is below in its entirety.  Highlights are that this year they are making EVERYTHING from the Summit – Powerpoints, summaries, research, photos and video – available for others to access.  It is the "Spirit of the Summit" to share the valuable information for the good of the industry.  The things you must check out:  the 10 research reports, audience poll results, information about the exciting new portal www.spaevidence.com and the announcement about where the 2012 Summit will take place.  Hint.  Think "Rocky Mountain High."     It's all at http://www.globalspasummit.org/index.php/summit-2011.
Happy Exploring….
PRESS RELEASE
"Sold Out" 2011 Global Spa Summit Makes Presentations, And Historic Amount of New Research, Available to World
Information Designed to Help Industry "Engage the Change" – And Tackle New Markets, Business Models and Technologies – Now Available Online
New York, NY June 9, 2011 – The Global Spa Summit reported today that its recent conference in Bali, Indonesia from May 15-18 was sold out. The fifth-annual conference, held for the first time in Asia, attracted a record number of executives (275) from 35 nations. And, as the only industry conference that travels to a new global region each year, the Summit attracted both a strong Asian, and globally balanced, delegacy: 46% of attendees hailed from Asia, 30% from the Americas, and 19% from Europe.
Under the 2011 banner of "Engage the Change: The Customer. The Money. The Future," delegates attended dozens of presentations and panels exploring smart new ways to engage with consumers; enter new markets; embrace new technologies; implement new business, tourism and wellness concepts; and pursue new investments.
While the conference is designed as an intimate, invite-only event, the broader Summit mission is "Joining Together. Shaping the Future." So, as an organization firmly committed to the collective growth of the 75,000-plus spas across the world, it was announced today that Powerpoint presentations and session notes from the three-day agenda, along with ten new research reports, are now available online and free to all.
Presentations/Research can be accessed at: http://www.globalspasummit.org/index.php/summit-2011/presentations-scribe-notes-2011
A highlight of the 2011 Summit was the unveiling of the world's first online portal dedicated to the medical evidence that exists for 22 spa and wellness therapies, the most potentially "game-changing" undertaking in the organization's history. The Summit invites spa, wellness and medical professionals to start exploring this critical new resource at: www.spaevidence.com "I've attended every Summit, and the atmosphere has never been more electric, with so many delegates reporting that it represented the richest, most valuable and provocative slate of content in our history," said Anne McCall Wilson, GSS 2011 Co-Chair and Board Member, and Vice President, Spas, Fairmont Raffles Hotels International Inc. "We're thrilled to offer the presentations and research to the entire spa and wellness industry, so they can benefit from much of the knowledge and insight shared this May."
Each day the Summit explored different aspects of "Engaging the Change," organized around "The Customer," "The Money" and "the Future."
Day 1 – The Customer: Highlights ranged from Kate Ancketill of GDR Creative Intelligence's keynote on how brands outside the spa industry are most creatively deploying technologies like social networking, gaming, mobile apps and video – to Dave McCaughan of McCann Worldgroup's insight into "What Every Business Must Know about Asian People – Not Consumers" – to Emmanuelle Linard of Edelkoort's forecast of lifestyle and design trends set to emerge in 2012.
Day 2 – The Money: Highlights spanned the Professor Mary Tabacchi-led panel on the investment landscape for spa/wellness companies worldwide – to Horwath Consulting's "weather forecast" for the pan-Asian hotel, spa and tourism markets – to Chinese business leaders offering an insider's view of their explosive spa market – to John Hardy's keynote on his vision for his cutting-edge, sustainable Green School project – to a panel on new franchising business models and opportunities.
Day 3 – The Future: Highlights included Dr. Kenneth Pelletier's keynote on the integrative medicine opportunity for spas – Dr. Daniel Friedland setting the Evidence-Based Medicine foundation for the spa industry – the unveiling of the Evidenced-Based Medicine Portal – Medeguide's Ruben Toral on spas' growing opportunities in medical tourism – and Xellum's Laszlo Puczko on the new research report on spas' exciting new opportunities in Wellness Tourism.
Historic Volume of Industry Research:
The release of new industry research is a hallmark of every Summit, and the ten research reports shared with delegates, and now available to all, are:
GSS-sponsored "Wellness Tourism and Medical Tourism – Where Do Spa Fit?"
Coyle Hospitality Group: "Priorities of Today's Spa Consumers"
Diagonal Reports: "Spa Market, USA"
Euromonitor Int'l: "Consumer Mindsets, 2011"
Euromonitor Int'l: "Post-Recession Consumer Dynamics"
Horwath Consulting: "Global Hotel Market Sentiment Survey, 2011"
Horwath Consulting: "Hotel Yearbook 2011: What To Expect in the Year Ahead
IDEA: "Fitness Programs and Equipment Trends" (Summary & Full Report)
IHRSA: "Global Report – "State of the Health Club Industry"
Smith Travel Research: "Global Hotel Performance, 2011"
Additionally, each year a live poll of executive attendees provides a window into current industry performance and strategies and future, planned directions. Complete poll results: http://www.globalspasummit.org/images/stories/pdf/gss_2011_audienceresponse.final.pdf
2011 Delegate Survey Highlights:
The economic turnaround is directly, positively impacting the spa and wellness industries: 82% predict an increase in gross revenues for 2011.
China ranks as the #1 place industry leaders would most like to expand their business (31%), followed by "other countries in Southeast Asia" (28%).
57% report that social media campaigns are currently driving an improvement in customers/sales, but 26% still don't engage in any social media initiatives.
37% report that group buying/online deal sites have driven an improvement in customers/sales, but 58% don't participate in group buying/online deal sites, the fastest-growing online category.
Executives predict that among all spa/wellness segments over the next few years, Preventative Medicine will experience the greatest growth (44%), followed by Beauty & Cosmetic (24%).
"Training/Education" ranks as the #1 challenge facing the global spa industry today (27%), followed by "Standards/Definitions/Best Practices" (12%), with "Oversupply of Spas" (10%) ranking third.
Delegates report that the #1 obstacle to growth for their own businesses was "lack of professional human resources" (29%).
2012 Summit: Aspen, Colorado in Partnership with The Aspen Institute
The event concluded with the enthusiastically received announcement that the next Summit would take place in Aspen, Colorado from June 4-6, 2012, in conjunction with the world-renowned global think-tank, The Aspen Institute. the Aspen Institute, founded in 1950, is an international nonprofit dedicated to fostering open-minded dialogue through seminars, policy programs and conferences. Headquartered in Washington, DC, it has campuses in Aspen, Colorado and Maryland, with partner Institutes in Berlin, Rome, Lyon, Tokyo, New Delhi, and Bucharest.
For more information, contact: Beth McGroarty, 213-300-0107 or beth@rbicom.com
My twitter address: @susieellis