Adlon Day Spa at the Kempinski Hotel in Berlin – Impressive
---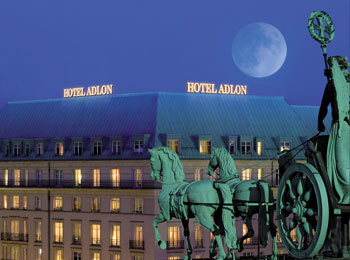 Visited Adlon Day Spa in Berlin. Learned that it is a day spa connected with the historic 5-star Adlon Kempinski Hotel…which was magnificently rebuilt right next to the Brandenburger Tor in the late 90s. The day spa is not part of the Kempinski brand, however, I think that this spa facility, with its 13 porcelain-colored treatment rooms with fireplaces and sitting lounges, sparkling tiled WATSU pool, and carefully selected skin care products, is an excellent fit. Stunningly designed and decorated by Anne Maria Jagdfeld, the spa is, if I had to use one word, exquisite.
Nicholas and I checked out of our Potsdam budget hotel (located in the former east German area outside of Berlin) where we stayed while attending ITB and into the Adlon Kempinski – which is the height of luxury. Since Reto Wittwer will be the keynote speaker at the Global Spa Summit and this was the first Kempinski hotel, I thought it would be a good idea to experience it. Wow… quite a contrast from our earlier digs. I was very proud of Nicholas who adjusted equally well to both places.
I watched a short movie about the history of the famous Adlon Kempinski which provided a haven for its guests during both world wars. The hotel survived both wars although, sadly, it was destroyed by a fire shortly after the end of the Second World War. It was totally rebuilt about ten years ago. The movie showed that while bombs were dropping all over Berlin, there was elegant dining, top notch service, and socializing at the Adlon.
I couldn't help thinking about how I was having a small taste of that experience. For just a few days, the current global financial crisis wasn't happening and we were immersed in another time… where things were carefree and the joyful service overwhelmed any stress. I think that the consistent hospitality at the Adlon was the best I have ever experienced. It reminded me how restorative it can be to "get away" and how lovely it is when everyone says yes with a smile…all the time.