Arthritis Month: Spa Treatments For Arthritis
---
Did you know that arthritis is America's #1 cause of disability? In fact, According to the Centers for Disease Control and Prevention (CDC), "by 2030, an estimated 67 million Americans ages 18 years or older are projected to have doctor-diagnosed arthritis." With numbers that high it's no wonder many spas feature treatments that can help relieve the symptoms of and pain associated with arthritis. In honor of Arthritis Month we've rounded up spas that offer services for arthritis and joint pain.
The Oaks at Ojai – Ojai, California
Joint Health Massage – After a day's workout, muscle soreness is common. The herb Arnica (Arnica montana) has been used for medicinal purposes since the 1500s and has been used to soothe muscle aches, reduce inflammation, and heal wounds. The Oaks has developed a treatment that focuses on joint pain and relieving it.  It's a wonderful way to recover from a day of workouts at The Oaks – or to sooth those with chronic joint pain. 50 minutes; $95
Ayurvedas World – New York, NY
Janu Basti (Knee Pain Treatment) – In this treatment the knee is bathed in warm medicated oils or herbal decoctions. It promotes the strength of the knee joint by improving the circulation. The treatment is beneficial for those with pain in their knee joints and Osteo Arthritis of the knee joint. 30 minutes; $85, 60 minutes; $125
Champneys Tring – United Kingdom
Kriotherapy – The signature Kriotherapy session consists of three minutes in a chamber set at a temperature of -135 degrees, used to rejuvenate the skin, increase circulation, and aid in ailments such as osteoporosis, arthritis, and more. 25 minutes; £55
Teatrees Boutique Spa – Blue Ridge, Georgia
Mini Arthritis Hand Treatment – Arthritis Hand Massage with peppermint oil to reduce inflammation and joint pain, followed by warm compresses. 10 minutes; $15
Deluxe Full Body Massage (Pizichilli) – Heated oil, infused with healing herbs, is poured by two therapists. The combination of the heat, flow of oil, and massage is deeply relaxing and nurturing. This massage helps relieve pain from arthritis, fibromyalgia, chronic fatigue syndrome, and pain from trauma. Most beneficial for Vata imbalance. 75 minutes; $225
Treatments that can be found all around the world:

Paraffin Wax: According to the Institute for Integrative Healthcare Studies, warm paraffin wax dips (a common add-on to many spa manicures and pedicures) help to expand the blood vessels, increase circulation, draw nutrients to the skin's surface, and flush out toxins. "In 2006 Cochrane review reported positive results for paraffin wax baths for arthritic hands. When comparing various heat therapies, researchers concluded that paraffin wax treatment was especially helpful for arthritic hands on objective measures of range of motion, pinch function, grip strength, pain on non-resisted motion and stiffness compared to control (no treatment) after four consecutive weeks of treatment."
Thermal Springs: They aren't called healing springs for nothing! Hydrotherapy has six amazing benefits. Taking in the waters can release endorphins, reduce stress, eliminate toxins, increase blood circulation, reopen breathing passages, and relieve aches and pains associated with arthritis.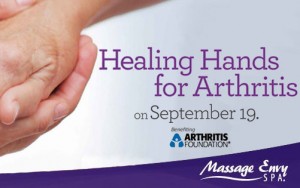 Massage Envy's Healing Hands for Arthritis – Massage Envy Spa is a national sponsor of the Arthritis Foundation's Arthritis Walk® events throughout the country as well as the host of Healing Hands for Arthritis™, a one-day, in-clinic nationwide event. For every one-hour massage or facial session performed during the one-day event (this year on September 18), Massage Envy Spa makes a donation to the Arthritis Foundation.
Even more SpaFinder Wellness locations that offer treatments for arthritis
You might also like:
Good Karma: Massage Envy & Arthritis Foundation
Readers' Choice Awards: Top 10 Best Spas for Mineral or Thermal Springs
Mediterranean Diet Proven to Successfully Prevent Heart Disease! Plus, Three Recipes
How Much Exercise do We Really Need to Fight Disease and Manage Stress?
5 Healthy Foods for Fighting Cancer You Should Shop for Now