Bike Week & Spa Industry. Same Target Market?
---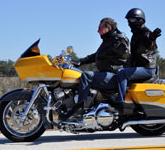 By Susie Ellis
It was a 'honey-do' thing. You know what I mean…when you sacrifice for the sake of your spouse doing something you would probably prefer not to do. In my case it was a weekend of everything motorcycles.  It means a lot to Peter that I share his hobby with him now and then – kind of like him going to the theater with me. Not that we both don't benefit from being outside of our comfort zone…just that we don't want to do it too often.
So on Friday I find myself on the back of his canary-colored Harley in a heavy leather jacket, biker boots, wearing a turtle neck sweater and a black motorcycle face mask and foam insulated sun glasses.  Yes, that is me in the photo riding on the back during Bike Week in Daytona Beach. And yes I know, I look like an alien.
It was one of the coldest bike weeks ever in the 73 year history of the Daytona Bike Rally.  Lucky me. Appropriately dressed (although I learned that there are actually heated vests you can buy and plug into your motorcycle for when it gets 'really' cold), we do the typical thing people who attend these rallies do – ride to various gathering points, visit booths and exhibits and in general spend the day looking at and admiring the hundreds and thousands of bikes (mostly Harley's, some V8's and the occasional Asian model).
Alas, I realize – this is not my tribe.
But Peter knows this and he doesn't push me too much – just wants me to show up now and then so his friends don't think he is lying about having a wife at home. I try to understand Peter's passion for these bike rallies and the many others who share it. As far as I can tell it has something to do with the freedom and adrenalin rush that happens when you ride fast down the road with wind in your face and hair. (Florida doesn't have a helmet law so the riders like riding here – no need to wear the unattractive helmets that mess up your hair. Yours truly of course always puts her helmet on for fear that the worst could happen. After all, I don't want people who come to the hospital or my funeral to be shaking their heads wondering what in the heck was she thinking not wearing a helmet?!
There seems to be a kind of macho thing going on here where everyone is comparing their bike to the other bikes and the ones that are largest and meanest generally get more attention. (I will leave it to you to figure out the obvious metaphor.) Riders also seem to enjoy strutting around in their 'biker-gear' with bandanas, leather chaps, studded belts and such. I think it makes them (us) feel young and hip again. The average age of participants seems to be about 50 or 60. I notice lots of gray beards and paunchy stomachs as well as uber- westerned grandmas here. Clearly the baby boomer generation that embraced Harley's is growing older.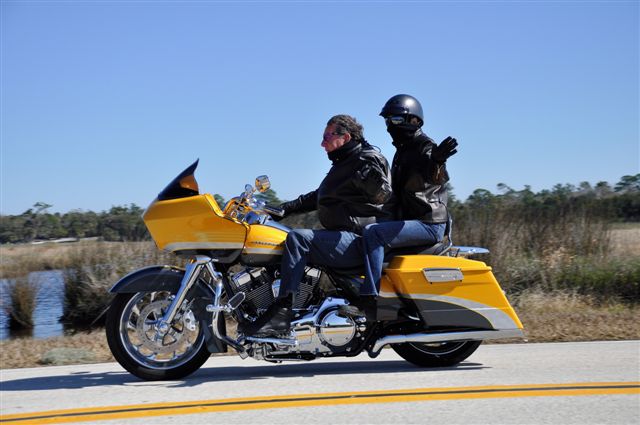 And that's where I start thinking about the spa industry.
As I see this motorcycle riding tribe getting older, I realize that my tribe – the spa tribe – that was also fueled by baby boomers is aging as well. Both industries need to look at attracting a new demographic as well as catering to their current rapidly aging market.  Not so easy to do.
I see some evidence of accommodating aging baby boomers in the biker world – tricycles (3 wheeled bikes made by either Harley Davidson or Boss Hoss) are becoming more popular for example.  But what are they doing to attract a younger generation?  I didn't see any signs of a green bike movement, of incorporating more technology or attaching a philanthropic aspect to riding – things that Gen X and Gen Y say they like.
I think the spa industry is also making adjustments for aging baby boomers such as adding physical therapists to their staff or starting "SilverClubs" at spas.  But are we doing enough to attract a younger market?  Does the younger generation really want to relax, de-stress, and revitalize the way the baby boomers did?  In general we may be doing a bit better than the biker-world in terms of attracting a younger demographic – after all we have welcomed teens into spas for over a decade now.  However we should probably be doing much more.
So my honey-do weekend comes to an end after a 5 hour bike ride the next day to Fort Lauderdale.  As I peel myself off the back of the bike, limp away because my legs were kind of frozen into rider position….I started to smile. Time for me to order those theater tickets!
My twitter address: @susieellis