Cal-a-Vie Spa Guests' Refrain, "Lucky Me"
---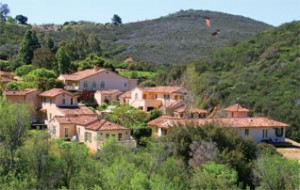 It's a rare phenomenon. If you have experienced it, you don't soon forget it.  It's like putting a dollar into the candy machine and getting two dollars worth of candy out – every time. The point is you get much more than you pay for and you can't help but be a bit giddy. It's a real 'lucky me' feeling.
Well, after Peter and I visited the exquisite destination spa, Cal-a-Vie, in southern California last week, we think there is now a spa where one can experience this phenomenon. It is truly to the benefit of guests who come to Cal-a-Vie that Terri and John Havens, who purchased the property about 10 years ago, have poured their heart, soul and a fortune into creating a very magical place with unparalleled facilities and programming.
Peter and I had a chance to visit Cal-a-Vie on Thanksgiving Day because we were on our way to Peter's mom's (she lives nearby) to celebrate the holiday. I hadn't been to Cal-a-Vie in so many years that I was really excited to see all of the changes I had been hearing about. It was also fortunate for us that Terri and John were in-residence which enabled us to see the property through their eyes.  We had a chance to learn about the background of so many of the improvements as well as get a glimpse of their plans for its future.
What began as a refurbishment and upgrading of their 26 guest rooms with Terri adding some special antique furniture and furnishings grew to become a huge creative work of art that both Terry and John seem to really enjoy doing together.  While raising their three young children, they have also been growing and improving what was already a pretty wonderful destination spa.  Along the way they added red clay tennis courts, a labyrinth, and turned the former fitness center into a gorgeous avant garde boutique; they spent millions building what must be the most beautiful gym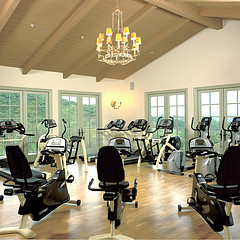 in the world with chandeliers, beautiful woods, exquisite views; they added small conference capabilities with an amazing great room and a meeting room that would impress the most discerning industry magnates (and can be used at any time by guests as an office away from home).
They decided the lovely pool which was the centerpiece of the property was not big enough for swimming laps so they built an Olympic sized pool nearby. On one of their trips abroad, they came across a lovely chapel that was over 400 years old and decided to give it a new home – at Cal-a-Vie.  They had it painstakingly dismantled and shipped over and it was placed on a pinnacle point that has a stunning view. It is perfect for meditation classes, yoga and evening musical performances. John also mentioned that they have been amazed at how many people use it during their stay as simply a place for private reflection.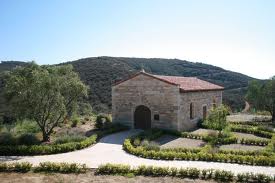 After placing the Chapel, they realized it was ideal for weddings and recommitment ceremonies but felt it would need an adjacent ballroom and kitchen. So they built a magnificent building they call L'Orangerie with antique walls from a French castle, and a new kitchen which was designed to also serve as a place to film and create TV shows with their star celebrity spa chef, Jason Graham. An antique wishing well and lovely windmill later, everything was perfect for a variety of gatherings – a recent one that even included a former President.
When the golf course next to their property went on the market, they decided to buy it so that their spa's peace and quiet would forever be preserved. And just recently they decided to plant a vineyard which will not only eventually produce some Cal-a-Vie wine, but in the mean time provides an attractive hillside view .
While we toured the property, we couldn't help but notice some construction so we inquired, "What's next?" Well, they are adding a hydrotherapy aquatic center and a two story building to create a larger Morning Room. There will eventually be a new kitchen and in the works near the front of the property – a large retail store – for antiques. Wow! They have truly created a haven (pun intended) to accommodate their growing list of regular clientele which often includes celebrities and others who want a safe place to get away, recharge and reenergize.
How to sum it up? I do believe that Cal-a-Vie has set a new standard. The Havens seem to be motivated by their passion for this place and the transformation it provides more than any kind of financial return – at least in the short term. Those who are fortunate (and smart) enough to join them on this adventure must surely experience that "lucky me" feeling you get when you put one dollar in the candy machine and get two dollars worth of candy back.  Sign me up.
PS: Interesting article on John Havens in Forbes called "From Wells to Wellness."
My twitter address: @susieellis