Feng Shui Stylings Anchor EAST, Miami's Stunning Design
---
Clodagh Design has become synonymous with sublimely stunning spaces, called upon to create healing interiors for Miraval, Six Senses, and Equinox.
Clodagh is also the hand behind EAST, Miami, the recently opened, 352-room hotel declaring the brand's stateside foray.
The glass edifice is an impressive site, seamlessly flowing from its architectural sister, the Brickell City Center. EAST's rise is a new moment in Miami's urban upbringing, reflecting interiors more prominent in prime city markets—There are no all-white washes or a sprawling lobby so often associated with Miami hotels. 
EAST's details go upward instead of outward, lending themselves to some of the best, if not the best views around town: The 360-peerings scope out Brickell Key and South Beach, wrap around to Coral Gables, and on a clear day, stretch as far as downtown Fort Lauderdale.
EAST's unprecedented vantage point pillared much of Clodagh's design, as the team made sure its essence reflected its unobstructed perch and beachless neighborhood.
Overall, the property's aesthetic aims to inspire "oohs" and "ahhs" layered with feng shui: That palpable pursuit begins when one steps into the EAST, Miami lobby.
ABOUT THAT LOBBY: CUE THE "OOHS."
"The goal was to create an enclosure surrounded by space, light, and greenery, making it welcoming and not challenging," explains design director, Nancie Min. "It is a necklace of experiences. We wanted people to like the way it feels, not necessarily how it looks." 
The rectangular lobby is as breathable as it is welcoming. While texturally rich, each element comes together to create transcendence, a BioGeometry co-created with Reiki master-teacher and spiritual teacher, Alberto Amura.
Shrubs block off the busy street front, cocooning arrivals. A traditional "welcome carpet" has been replaced by a "stone welcome rug," marked by its contrasting color and flanked by lanterns from curbside to entrance—Clodagh called it an homage to painter Sean Scully, thoughtfully keeping with EAST's penchant for artistic pursuits. The lobby walls are travertine chiseled—reminiscent of Floridian coral stone—adding a temple-like setting to the space.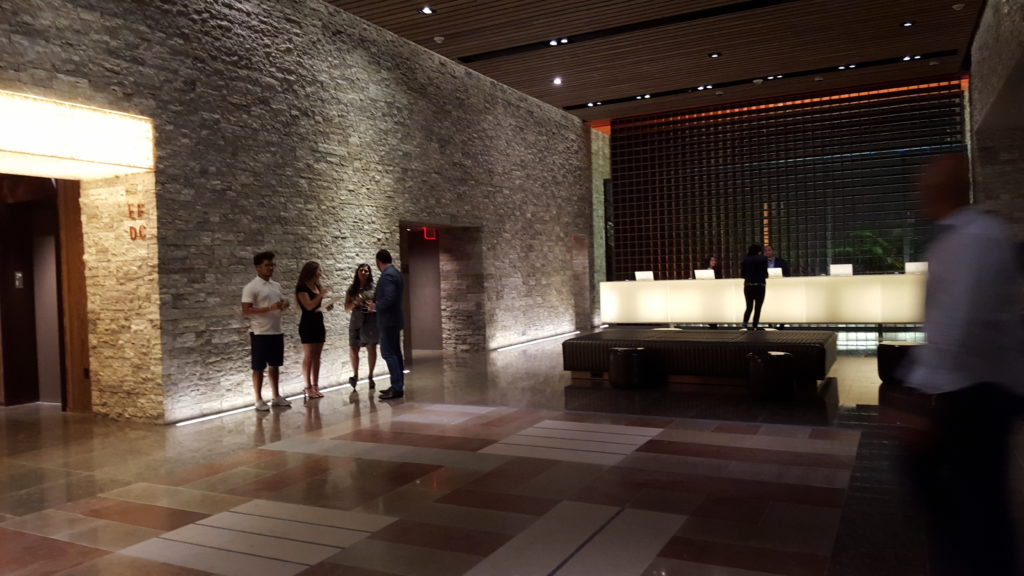 On the eastern lobby wall, EAST's signature floating desk hovers in front of two-story keyholder: The pockets are painted orange on one side and gray on another. The different surfaces create the effect that those entering or exiting the building experience the lobby differently. A similar eye trick is at the lobby bar, Domain: As the day transitions, the orange and turquoise back bar doors are slid into place, creating a fresh ambiance expanded by strategically lined mirrors. Domain's nook is separated by an installation Clodagh calls "Water Music," a piece inspired by her travels that mimics an upside organ that is gently dripping water into the ground beneath it. "The dark metal, steel is male while the copper is a female element, according to feng shui. Everything somewhat glows and has a sense of place no matter what the hour. It takes a few visits to see the full depth of all the elements. There is a sense of discovery as you keep coming back," Clodagh notes. 
The lobby results are intricate but never ostentatious, but there are also energetic commitments visitors can't see: The design team poured distinct crystals into the building's foundation so EAST would be built on positive intentions.
"We used carnelian, a stone that stimulates creativity, gives courage and promotes positive life choices; rose quartz, the stone of unconditional love, and citrine, that absorbs bad energy and anger," shares Clodagh.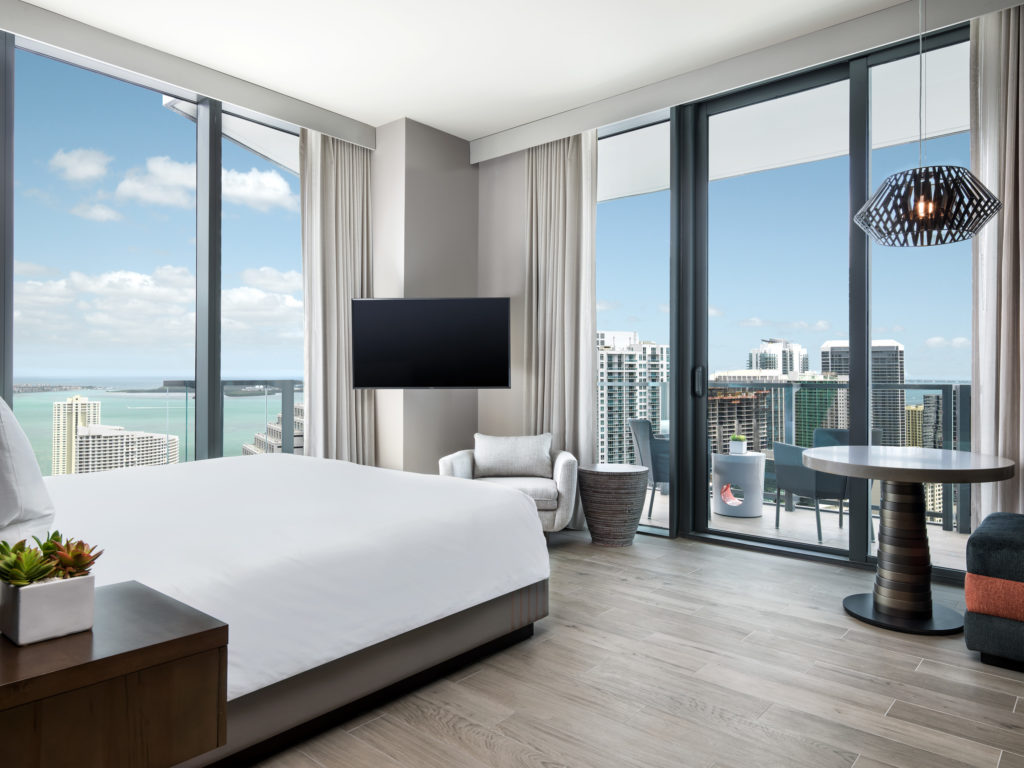 THE ROOMS BRING THE "AHHS."
Once guests move from the lobby into their elevator, they are transported to their rooms surrounded by Michael O'Brien's infinity light installation. At their feet are etched symbols representing ancient cultures and their intentions, which include hopes for purity, balance, and power.
After exiting the elevator, a moody hallway in warm bronzes leads guests to their rooms. EAST's key transitional moments are a Clodagh signature: "We specialize in things like passageways. Everything was custom designed, even the carpet," she adds. 
And the rooms are where the relaxed "ahhs" come in. "The floors are a feeling of driftwood: Lightly bleached, warm, and comfortable. We embrace the Japanese philosophy, wabi-sabi, celebrating a material's natural aging. We used all sustainable green woods; furniture is FSB-certified," says Min. "Ocean images taken from are Miami hang over the beds in the guest rooms."
To boot, every room on every floor has a balcony, opening the visitor up to Miami's growing expansiveness.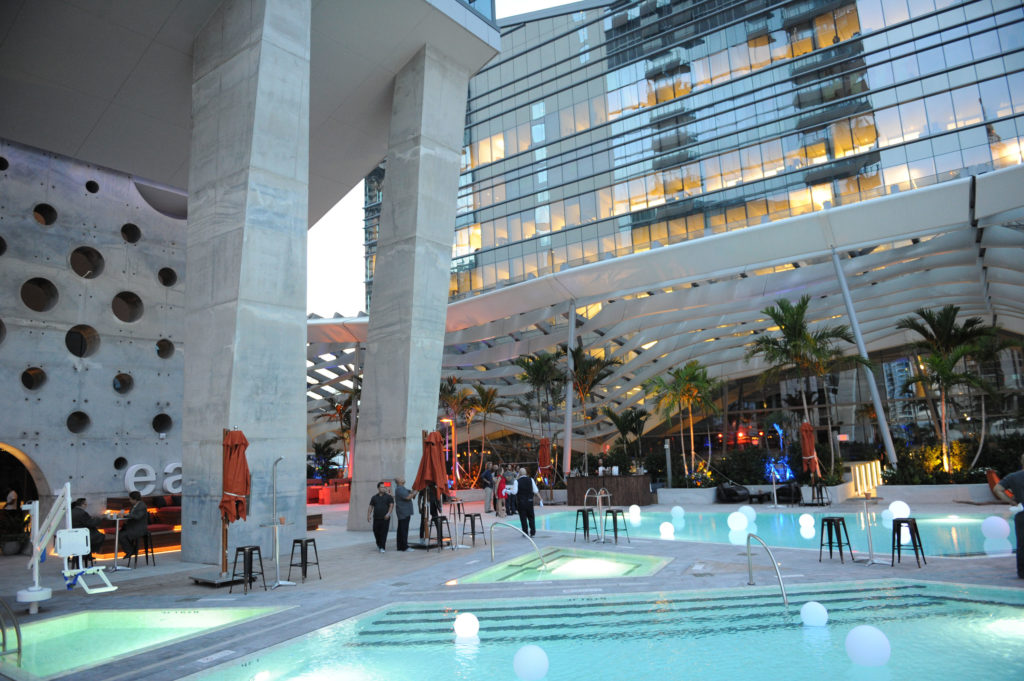 The fifth-floor pool area gave Clodagh room to play, marrying sensory experiences with a youthful vigor. Four pools make up the deck: A lap pool, spa pool, cold plunge, and hot tub answer year-round aquatic yearnings. Loungers can sit in the sun or shade, accented by a dramatic concrete overhang. There is an oversized game table with exaggerated benches and another Wonderland-like gathering table, each promoting interaction and easiness. Even the plantlife was strategic: "We selected plants that were gentle, so if you touched them they weren't prickly or spicy. There's really no bad seat at the pool," Clodagh explains.