Cold Weather Skin-Care Products We Swear By
---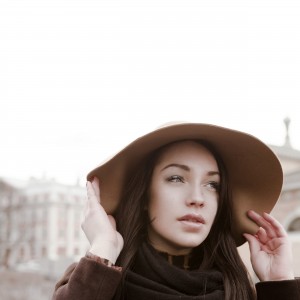 The weather's changing, and your skin-care products may need an adjustment as well. If you're someone whose skin doesn't change with the weather, lucky you! But if your skin is prone to respond negatively with the seasonal changes (causing dryness, redness, etc.), make sure you assess your complexion and take appropriate steps.
We're counting on these five products to help us get through the cold.
Jergens Wet Skin Moisturizer: I am all for taking shortcuts in my beauty routine—so long as they work. And Jergens Wet Skin Moisturizer does the trick.
A bit different from Nivea's In-Shower Smoothing Body Lotion, which you apply in the shower and then rinse off, Jergens version prompts you to shut the water off, apply to wet skin, then towel dry. It's definitely hydrating and has a very subtle beach-y fragrance (most likely stemming from the infusion of coconut oil) and will forever remain in my shower. jergens.com
Hair La Vie Revive Deep Hydration Masque: Like its name suggests, this deep conditioning hair mask is powerful—perfect for dry hair, whether it's still lackluster from late summer or caused by the recent dip in temperatures. I use the mask—made of 11 vitamins, essential oils, and nutrients, including keratin, horsetail, and bamboo extracts—twice a week for 20 minutes. $35; hairlavie.com
Olie biologique™ Balancing Face Oil: Just one or two drops of this face oil is all my combination skin needs to stay hydrated—which is no surprise, since it's infused with myriad oils, including jojoba seed, sacha inchi, tamanu, argan, and baobob. (I often add a dab in my hair for good measure as well.) Starting at $15; oliebiologique.com/
Dr. Jart+ Water Replenishment Cotton Sheet Mask: Obsessed is an intense word, but it's an accurate one when I say I am OBSESSED with Dr. Jart+ masks. Although I still feel slightly silly applying the sheet to my face, the second I remove it and feel how hydrated my skin is (for a solid 24 hours after), I'm at the store again to buy another one. (I should note I definitely leave the sheet mask, infused with marine collagen, chamomile flower water, and cactus flower extract, on longer than the recommended 15-20 minutes, but use your best judgment based on your skin's needs.) $7.50; sephora.com
Orogold 24K Deep Day Moisturizer Cream: Perfect for colder weather, this moisturizer features my favorite combination: It's super hydrating while being fairly light. Plus, ingredients like 24-karat gold, green tea, and Vitamins C and E help keep my skin smooth, masking any imperfections or fine lines (I even included Orogold's travel essentials kit in our 2015 holiday gift guide). $128; orogold.com
Plus, check out four simple hairstyles we're trying this winter!