Conquering Cravings: What Our Stomachs Are Really Rumbling For
---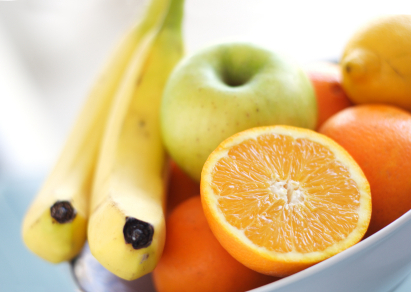 "Most, if not all, of us experience cravings — it's just part of being human," says Jared Koch, nutritional consultant and author of Clean Plates. Late at night, midday, while you're on your way to work–cravings can hit at any time. Sometimes, a craving is a completely consuming thought; other times, it's just a nagging voice in the back of our minds. Either way, cravings are an inevitable part of life. First, it's important to "accept reality and realize that everyone has them," Koch advises. We spoke with him further about how to conquer these often-annoying longings – here are his five tips on how to better understand and deal with the inevitable.
Be a Detective. When a craving arises, instead of acting on it right away, take a deep breath, and practice mindfulness. "You need to be a detective," says Koch.  Sit with the craving – observe it. Ask yourself, "Am I really hungry? What do I really need or want at this moment?"  This approach will help you develop awareness and give your body time to figure out what it really wants or needs. (Need extra help figuring out the source of your cravings? Check out the chart below!).
Drink Water. If you're experiencing a killer craving, ask yourself when you last had a glass of water. The thirst mechanism is so weak in 37% of people that more often than not, we mistake our thirst for hunger, Koch says. So the next time you experience a craving, try drinking a tall glass of water, and see if the craving passes.
Stay Nourished. A great way to beat cravings is to constantly give your body the good quality and healthy nutrients it needs. Keep balanced healthy snacks on hand in an emergency, like organic apples, vegetable slices and nuts. "We are usually craving nutrients," says Koch. "When we keep our bodies well nourished, we experience fewer cravings."
Feed Cravings with Quality. Sometimes the inevitable happens and we give in to the voice in the back of our minds telling us to get that Venti Dirty Chai (I know I do!). Try not to sweat it! It's important to feed your cravings every once in a while and in moderation. "There is an 80/20 rule when it comes to cravings," says Koch. Eat well 80% of the time and allow yourself to enjoy what it is you want, within reason, 20% of the time. Regardless, be sure to "feed your cravings with quality," says Koch. Craving sweets? Try a low-sugar fruit, some almond butter or a cookie sweetened with honey.
Understand Your Emotions. "We often turn to food to replace things if we aren't satisfied on a deeper level," Koch explains. We use food to numb pain and avoid emotions and thus begin a cycle of physical cravings. The first step to understanding emotional eating is to understand the emotions themselves. If you find yourself turning to your pals  Ben & Jerry all too often, work to fill your emotional needs in ways that will really leave you feeling better – spending time with people you love and pursuing favorite hobbies, for example.
"The body sends signals that it needs something, [and] you need to be a detective to figure out what your cravings mean," Koch reiterates. For healthy alternatives to common cravings, check out this cravings chart and find out what you really need and how you can get it, the healthy way!