Euromonitor Report for Global Spa Summit: 4 Key Trends
---
Euromonitor is a world renowned provider of business intelligence on industries, countries and consumers.  They prepared a report for the 2010 Global Spa Summit that included some very valuable statistics and observations that would (or should) be of interest to the spa industry.  Here is one slide I thought was interesting…kind of a good news ba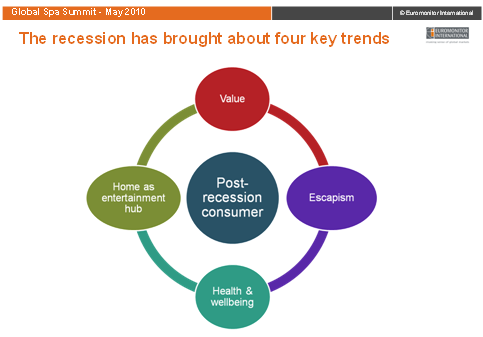 d news scenario.
The good news: The post recession consumer is even more ready for spa than they were before the recession!
Three out of the four key trends are aligned with our industry:
1. Health & Wellbeing (obvious)
2. Escapism (mental diversion by means of entertainment or recreation)
3. Value (relative worth)
This trend could  be bad news:
4. Home as entertainment hub
Perhaps we should look at the bad news trend as an opportunity.  For example….clearly this trend of home as entertainment hub is a welcome trend for mobile spas, home spa design, and even spa living communities that may make a comeback once the real estate market recovers. In addition all the retail products we sell in spas for people to enjoy spa aspects at home should become even more popular.   And for existing spas?  Perhaps these questions are worth some discussion:
Should spas be thinking about offering "at home services" as a regular feature?
How can spas make themselves more appealing so that people will continue to leave their homes and visit regularly?
What does this say about staycations?
What new creative ideas could be incorporated to take advantage of this trend?
I would really love to know your thoughts and ideas on these post-recession trends.  So let us hear from you!
If you want to read the full report, go to http://www.globalspasummit.org/index.php/summit-2010/presentations and click on "Euromonitor."
My twitter address: @susieellis