Fresh Inspiration for the Spa Industry at GSS
---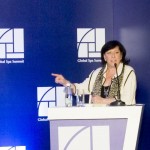 One of the goals of this year's Global Spa Summit (GSS) , held in Istanbul, Turkey in May, was to look beyond our industry for fresh ideas and inspiration.  So early on, the board of the GSS decided to invite a futurist.
Edie Weiner immediately came to mind.  She is a prominent futurist known for "saying it like it is" and she happily agreed to join us for the 2010 Summit.   In case you aren't aware, one of the special things about the GSS now is that all the speakers – including keynotes – spend the entire Summit with us.  That way we get to know them, they get to learn about our industry and everyone becomes much more engaged.
I am not a fan of listening to speakers at conferences who come in – speak – and then leave right away.  At the Summit someone (who will remain nameless) told me that there is actually a term for this – it is called "seagull syndrome." Basically someone flys in, craps (speaks) and flys out.  I thought it was an apt and very amusing graphic description!
When making arrangements with Edie to address the Summit, she said that her ideal format is to have the first 2 hours to speak to an audience.  Gasp – that scared me to death.  No one gets a 2 hour time slot to speak.  But since she is such a seasoned speaker and has given over 100 keynote addresses, I decided to give it a go.  So we put her on the agenda from 9:00 am – 11:00 am on the first day of the Summit, and I kept my fingers crossed.
Well…what can I say.  The time flew by and before I knew it we were in the Q&A portion of her presentation.  While all the gems of insight she provided are far too numerous to mention here, the following will give you an idea of some of the things that resonated with me:
Vision

is more important than strategy.
Beware of "

educated incapacity

."  That is knowing so much about what we know, that we are the last to have a clear picture of the future of our industry because we are too invested in keeping things the way they are.  Your knowledge is one of your greatest assets and also one of your greatest liabilities
Ask people from outside your industry to look at your industry – they don't suffer from "educated incapacity." Try to think about how an

alien

would see your industry or business.  Or look at it through the eyes of a child.
You say that the spa industry is very much about water….but I don't see any '

reverence' for the water

.
When I travel to spas, I see a lot of

copy-cat

. (By the way, Ian Schrager told us the same thing at our 2008 Global Spa Summit in New York.  Seems we aren't getting the message yet.)
If your spa industry were to

differentiate more

, it would be stronger.  Similarity makes you weaker.
Very few people have really given much thought to how the

huge wave of aging baby boomers

will affect the spa industry.
It is absolutely foolish to think about a category of "over 65".  A person at 65 and a person at 90 are hardly similar.  Our industry needs to wake up to the

aging baby boomer

and begin thinking about spas for these various age groups.
I understand spas are supposed to be a place where I can de-stress, but I have to tell you that

when I go to spas I get stressed

!  The heavy sales pitches during facials, and not always knowing the right etiquette stress me out.
The scarcest resource these days is not money…but

time.

It's very possible that your

biggest competition in the future

will not be another spa – but people spa'ing at home.  You better have a good value proposition to get me to leave my home and come to your spa, disrobe and pay you money and then get dressed again and drive home when I could do the same thing in the comfort of my home.
On the

retail issue –

maybe you need to totally rethink the whole model since I understand your sales to service ratio numbers are dismal.  Maybe think of your spa like a movie theater where they don't make money on the movie but on the popcorn and such.  (I heard someone in this retail session that Edie moderated talk about the "brand within a brand" concept which sounded promising.)

New distribution channels

multiply the opportunities (Radio and TV and web and alliances and collaborations…)
When you

design for the physically challenged

you design for everyone.  That's the future.
Instead of thinking about barriers to entry, think about creating high

barriers to exit

. Make sure your customers would have to give up a lot to leave you.  (like leaving your hair colorist or a good dentist)
If I am going to invest my time going to a spa I want to know that there is a

pre and post phase

.
In the future we won't be talking as much about using as few resources as possible, but rather about  how much can we

put back

in terms of resources.
Think about programs and market for '

betweenities

" – those in between marriages, between jobs, etc.
Edie gave us a lot to think about and throughout the Summit I heard people reference one of her remarks.  The most common?  "Thinking like an alien."
My twitter address: @susieellis