Glimpse of Spa Industry in Europe While Attending ITB Berlin
---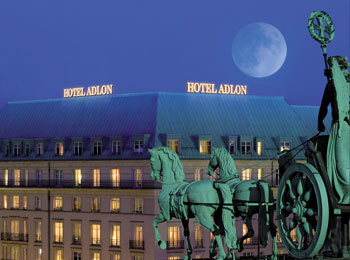 Am in Berlin – my first time at ITB Berlin which is the world's largest international travel show. The numbers are staggering…11,000 exhibitors from 180 countries and almost 200,000 visitors – most of them trade. Clearly it's "the" travel show to attend.
In addition to the huge trade show spread out in pavilion after pavilion on multiple floors covering blocks of space (it can literally take you an hour to walk from one end to the other), there are various conference sessions.
I had been invited to speak at their one-day Wellness Forum and was asked to present the findings of the first Global Spa Economy Report that was commissioned by the Global Spa Summit in May 2008. I took Nicholas, my stepson, along with me since it would give him a chance to tour Berlin which will be new to him.
My trip included spending time with the other speakers, listening to various international perspectives on the spa industry, visiting the travel exhibits including the wellness area (quite small actually) and then another couple of days in Berlin to try out the famous Liquidrom spa and the spa at the Adlon Kempinski. I tagged on a few more days to take in some sights with Nicholas and visit with some relatives who live in this area.
Some quick spa-related observations:
1. Europeans aren't seeing a huge decline in spa business due to the economy – yet. Some think they may be lagging about 3 months behind the US and expect things to slow down. The most softening so far has been in the luxury segment with day spas not feeling anything yet.
2. Seems that people are beginning to hold back on large purchases – like a new car – however spa services are still an affordable option.
3. Spent time with Detlef Jath, Director of the Spa Division for Klafs – a famous sauna and spa manufacturer. Learned that (as I suspected) most people around the world do not know how to use a sauna properly for the best medical wellness results. Some Europeans – and especially the Germans – do know how to get the most out of sauna bathing. Detlef filled me in on the "secret" formula. (More about that in another blog.)
4. Europe talks about the modern spa industry being about 20 years old. I see it as more like 25 years old. It is still my contention that the modern for-profit spa industry began in the US around the middle 1980's. I trace it back to when the term spa + global + industry came together. That happened in 1986. That was the year when a small travel agency opened in New York and published the first catalog of spas around the world. It was named SpaFinder.
5. I find it amusing to hear how adamant most European countries (and especially the German-speaking ones) are about rules, regulations, standards, etc. Almost every speech given by a German touched on this topic. Because I am German (born 4 weeks after both parents moved to the US from Germany), I am all too familiar with structure and rigidness and order. Even my husband, Peter, calls it a blessing and a curse. I agree.  
6. I feel that there is a lack of recognition that it is the consumer who is setting the standards and regulations these days. The power of the Internet, which is forcing transparency through such tools as user generated reviews and social networking, is changing the entire ball game.    
PhoCusWright (the number 1 travel technology company) and the Wellness Forum were the two conference programs given prominence on the ITB schedule. Fitting, I thought, as both technology and spas are here to stay.