Global Spa & Medical Tourism Industries Part II
---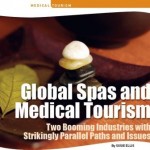 The Global Spa & Medical Tourism Industries – Part II
Evolving Models & Ways to Work Together
By Susie Ellis, President of SpaFinder Inc. – the world's largest spa media, marketing and gifting company
The history of spas (defined as destinations people visit for renewal of body, mind and spirit) and medical tourism (the practice of people traveling across borders for medical treatment) can be traced back thousands of years. Yet each sector has a distinctly modern and rapidly evolving incarnation that can be measured in mere decades and years.
In the first installment of my discussion of the spa industry and the medical tourism industry, we focused on some of their similarities: including their histories, yearly revenue figures, terminology challenges, the need for more research, and the valuable role of facilitators. In this second installment I will suggest some ways these industries might be able to work together productively – as well as outline a few pitfalls that I feel should be avoided.
While there are striking parallels between these ancient, yet young industries, each brings vastly different core competencies to the table.
What Spas Do Best: Spas' core strength is providing relaxation and de-stressing, as well as preventative health and wellness offerings. Spas are not about serious medical attention, nor are they designed for sick people. Rather, they are destinations where people in basically good health focus on getting healthier, via fitness, nutrition, body therapies and beauty treatments, sleep, mind-body modalities, and at times complementary and alternative practices, etc.
Consumers associate spas and their staffs with care and nurturing, and the spa environment is thoughtfully designed to address and soothe all five senses – that is why you will often find soft music, beautiful lighting, relaxing aromas, subtle flavors and a healing touch. Every element is dedicated to facilitate physical, emotional and spiritual rejuvenation.
While spa personnel may have expertise and credentials in areas like massage therapy, beauty services, fitness training, hotel management or spa management, and some are practioners in yoga, acupuncture or ayurveda, licensed medical doctors are not routinely part of the equation.
Spa-goers are usually called 'clients' or 'guests.'
What Medicine Does Best: A medical establishment's overriding mission is providing serious medical services in a safe, regulated environment by highly trained, reputable doctors and staff. Medical tourism, by definition, involves licensed medical facilities and professionals to administer procedures the traveler is seeking. Hence, the process is infinitely more complex and includes diagnoses, pre-operation, surgical procedures and expert aftercare.
The emphasis is, first and foremost on safety and positive medical outcomes, not necessarily on creating a relaxing ambiance, nurturing environment or providing complementary non-medical services.
Medical personnel are expected to be appropriately licensed and there is a great deal of emphasis on high levels of education as well as extensive experience.
Medical tourists are usually called 'patients.'
Cultures: While spas and medical establishments have differing core competencies (which theoretically should make working together quite synergistic), the greatest challenges are often symptomatic of their differing cultures.
With medical facilities' laser-like focus on efficiency, the fallout can be cold, sparse waiting rooms and short-tempered staff behind sliding-glass windows separating the medical experts from the patients. Spas on the other hand specialize in customer-centric healing environments – the kind of milieu that welcomes clients with a foot ritual and relaxing tea.
On the other hand, spa professionals are not required to achieve a 'medical level' of expertise, and their often unsubstantiated claims that spa treatments do such things as 'pull out toxins,' 'eliminate cellulite' or 'balance chakras' runs counter to the medical establishment's adherence to largely evidenced-based medicine. This often precludes some medical professionals from wanting to have anything to do with the spa world.
Consumer Demand: And yet, increasingly, as more people seek integrative approaches to medicine as well as meaningful alternatives to current healthcare models, it's the consumer who is clearly articulating a desire for a blend of both. A study by SpaFinder Research revealed that consumers overwhelmingly prefer "the expertise of medical professionals COMBINED WITH the ambiance and caring touch of a spa." So it's no surprise that we're beginning to see efforts to combine these distinct core competencies into offerings that satisfy consumer demand.
While initially it may be this consumer demand that drives the early intersections of medical tourism and spas, it is my belief that, over time, it will be the improved medical outcomes and satisfying experiences as a result of a model that has aspects of both that may well be the more powerful adoption driver.
To that end, here are some suggested ways I see that spas and medical tourism might be able to begin working together:
1) SPAS AS 'BOOKENDS' FOR MEDICAL TOURISM
One of the easiest-to-implement ways for spa and medicine to work together is to co-ordinate spa stays as an option on either end of the medical travel experience. This 'bookend approach' is a natural fit when there isn't serious and complex surgery involved, and indeed, pre and post medical-stay spa visits are something that is already beginning to happen and proving successful.
For instance, the medical tourist's pre-procedure accommodations can be booked at a hotel or resort with a spa, or at a destination spa where all guests are emerged in the spa experience. Alternately a pre or post stay at a facility that doesn't have a spa could be 'paired' with services from a local day spa.
This offers numerous benefits in terms of both adjusting from travel and preparing for the upcoming check up, test or medical procedure. Relaxing spa treatments, anti-jet lag management, healthy food, and mild exercise are examples of spa aspects that physically, emotionally and/or spiritually prepare patients for what lies ahead.
Likewise, these same beneficial offerings, along with the nurturing staff and 24-hour service at the spa, are an attractive plus for the post-procedure experience. In some cases, spa treatments and supervised movement can accelerate recovery, especially if coordinated between doctors and spa staff. And of course beauty services prepare a patient to look and feel their best before heading home.
Typically, only minor adjustments need to be made in spa facilities or in their programming in order to accommodate medical tourists.
Another benefit of incorporating spa into the medical tourism experience is the value for the medical traveler's companion(s). Companions serve as valuable support and assistance to the medical traveler and a spa setting, which may include some respite for them between their obligations, would no doubt be very appealing.
Examples:
A stay at the Chiva Som Destination Spa in Thailand before and after checking into Bumrungrad International Hospital for a medical procedure
Staying at the Makati Shangri-La Manila Resort in the Philippines, and using their Chi spa for pre-and post hospital stays thus book-ending procedures performed at Medical City Hospital
Using S Medical Spa in Bangkok before and after a Lasik procedure while staying at a hotel or in an apartment without a spa
2) MEDICAL ESTABLISHMENTS ADDING SPAS OR SPA SERVICES
Because of the powerful, universal popularity of the spa experience, as well as mounting evidence that many of the services they offer do indeed have health-enhancing benefits, medical consumers have begun to actively seek out hospitals/healthcare facilities which have more of a 'spa feel' – or those that formally offer spa services. Increasingly, whether it's a hospital, a clinic, a doctor or dentist's office, facilities that incorporate elements of spa are gaining an edge. Welcome to the epoch of the 'spa-spital,' the 'hospa,' the 'dental spa,' the 'medi-spa,' and such.
Examples:
Beyond, a day spa at Hackensack University Medical Center in New Jersey was one of the first examples of this hospital spa trend.
Clinique La Prairie in Switzerland began as a clinic/hospital and recently added a full spa facility complete with swimming pool, hydrotherapy, massage, beauty services and the like.
Dr. Renee Dell'Acqua is the pioneer of 'spa dentistry'. At her Dental Studio in California she uses custom made aromatherapy to help patients relax, has a massage therapist on staff that offers foot and hand massages during treatment, and uses many spa amenities such as neck and eye pillows, chenille blankets and spa music to create a most comfortable setting.
3) SPAS ADDING MEDICAL COMPONENTS
In some spas (especially in Europe) there has been a history of medical doctor involvement from the beginning. Many of those models have been changing from a government-run operation to a private for-profit business in the past years. In addition spas without prior medical offerings have broadened their offerings to include medical components whether oriented toward wellness and prevention or cosmetics and aesthetic enhancement. Terms such as medical spa, 'medi spa' (a term trademarked by Dr. Bruce Katz, New York) and SpaRx (trademarked by SpaFinder, Inc.) resulted.
Examples:
Canyon Ranch Health Resort in Arizona, which opened in 1979 as a sprawling full service fitness retreat, subsequently added medical services. Today they have what they refer to as 'The Life Enhancement Program' which is its own facility and has almost 20 full time medical doctors on staff.
La Costa Resort and Spa, a world-renowned golf and spa destination popular in California for half a century, added a medical component more recently when Dr. Deepak Chopra opened his first Ayurvedic-focused 'Chopra Center' on their premises.
Harrods in London originally opened a traditional spa, Urban Retreat. Later they added a medi spa, Renew Medica, making the space now a huge and popular well-being haven.
4) BOTH SPA & MEDICAL BLENDED FROM THE ONSET
As the synergies between medical and spas become more evident, we are seeing newer projects that endeavor to integrate both aspects right from the beginning. These hybrids are taking a variety of forms.
Examples:
The Malo Clinic Spa at The Venetian Macao-Resort-Hotel is an integrative wellness center which offers both comprehensive medical treatments (six operating theaters, a staff of 50 doctors, executive health check-ups, cutting-edge dental medicine/surgery, cardiology, plastic surgery, etc.) and a full spa services (30 luxurious spa rooms; wet and hydro facilities; a hair salon, 'The Beauty Lab;' 100 spa therapists).
The Henry Ford West Bloomfield Hospital in Michigan was designed with advanced technology throughout rooms and medical facilities, space for families to stay overnight, organic healthy food and a culinary school emphasizing healthy cuisine (they have plans for an onsite greenhouse). The hospital's wellness center features a full menu of integrative medicine and spa features that include acupuncture, massage, yoga and relaxation classes.
The Sha Wellness Clinic in Alicanta, Spain blends traditional medicine and western approaches with a macrobiotic diet. The medical team and professional therapeutic consultants work together. They don't claim to be either a 'medical center' or a 'spa' – rather they prefer the language 'devoted to wellbeing.'
Other interesting hybrids include The California Health & Longevity Institute at The Four Seasons Hotel at Westlake Village in California and Mexico's Sanoviv Medical Institute located on a picturesque spot on the Pacific coastline. The facility has at times been referred to as a "Ritz Carlton-like Hospital"
5) WELLNESS TOURISM AS AN ADDITION TO MEDICAL TOURISM
'Wellness tourism' is an emerging category increasingly being discussed in both the spa and medical tourism arenas. While clear definitions or a consensus on terms (medical, wellness, health) to use remain elusive, the overall concept is gaining momentum. Generally, 'wellness tourism' refers to crossing borders to improve one's health and well-being and might include spa experiences, thermal baths, diagnostics and testing – it often has a preventive focus, and might even include consumer education.  It need not be medical.
One significant plus for the 'wellnesstourism' model is that the concept is more expansive and tends to have a more positive connotation than 'medical tourism,' which can suffer from a narrow association with cosmetic surgery abroad. Also, as the idea of 'clusters' develops (when clinics, hospitals, medical institutions and related establishments work together to attract clients) the additional net of 'wellness tourism' consumers can prove an advantage for tourism associations as well as countries or regions around the world.  It is possible in fact that 'wellness tourism' may become a feeder for 'medical tourism."
Examples:
Destination spas around the world visited by people crossing borders are a clear example or this model. While these establishments are already properly engaged in 'wellness or health tourism,' their target audience remains largely unaware of the moniker. Some of the best known destination spas that regularly welcome international guests include the

Six Senses Destination Spa in Thailand, United Kingdom's Champneys resorts, Lanserhof in Austria, Rancho La Puerta in Mexico and Gwinganna Lifestyle Retreat in Australia

.
Traveling to medical establishments for examinations, testing and preventative or recovery services also logically falls under the rubric of 'wellness or health tourism.' Examples include getting a full physical examination at the Cooper Clinic in Dallas, banking your own stem cells at hospitals in Kuala Lumpur or the Philippines, or attending the post-partum recovery program at

Kurotel Longevity Center and Spa in Brazil

.
The creation of entire islands, cities and eventually even countries dedicated to 'wellness or health tourism' seems right around the corner. Dilmunia Development – a healthcare and leisure real estate project scheduled to open soon in Bahrain will be called 'Health Island.' Offering state-of-the-art health care services in a resort environment, it will feature clinics, spas, wellness facilities, residential and leisure areas, hotels and shopping centers, a sports medicine center, an alternative medicine center, and a 'wellness hospital' and diagnostic center.
Potential Pitfalls: Although facing a future of exciting possibilities, there are also impediments to the successful collaboration of the spa and medical tourism industries to look out for.
One major concern that simmers below the surface is that both are somehow bent on invading each other's businesses – that medical tourism wants to get into the spa business, and spas want to get into the medical arena. I find this not only to be largely unfounded, but also ill advised.
With very different cultures and varying expertise in spas and medicine, there is, in fact, evidence that prior attempts to simply move into the other's space can prove a very costly error. Examples include the Sona MedSpa and Radiance franchises in the U.S. which were both built by people with non-medical backgrounds and subsequently went out of business. Other examples include hospitals whose attempt to add a spa resulted not so much in an integrated program with medical staff collaboration assuring improved patient outcomes, but rather functioning more like a small spa/salon in the hospital lobby operating totally separate from the medical professionals and more on par with a gift shop kiosk.
Another potential pitfall is that of not respecting each other's expertise. Working together successfully necessitates that both the spa and medical professionals acknowledge the core competencies of the other. For example, people from the medical side should not fool themselves into thinking that running a successful spa is easy. Equally important, spa professionals should not imagine that simply engaging a medical doctor to perform services in a spa will provide a meaningful medical alternative for consumers.
Based on what we have seen so far in terms of successful collaborations, it appears that maintaining some autonomy between the spa and medical aspects in the design, operation and management might be the best way forward with some functions – such as marketing – more easily integrated. What is needed however is a sincere commitment on everyone's part to work together in such a way that the goal of improved patient/guest outcomes and experiences serves as the guiding force and can trump the historically unique culture friction which can result.
In time, it is reasonable to assume that there will be people who have developed expertise in the new spa/medicine genre which will make additional integration possible and easier.
Going it alone is another potential pitfall. Twenty five years ago few hotels had spas and almost no cruise ships had spas. Today most 4 and 5 star properties have spas as do almost all cruise ships. Over the past couple of decades, various models evolved: some cruise lines set up their own teams to design, build and manage their spas; others brought in consultants for part of the process and decided to run the spa themselves. Still others outsourced the entire operation from beginning to end. It is worth noting that almost every single cruise ship with a spa on board today has outsourced the operation and management of their spa to a company with spa expertise. Steiner Leisure has become the dominant player managing over 50% of all cruise ships at sea today with Canyon Ranch becoming a growing player in this market more recently. It appears as if the economies of scale and vast experience a seasoned spa company has to offer makes for a smoother operation and better bottom lines for all involved.
Hotels and resorts have integrated spas in a variety of ways. For decades there have been debates regarding the pros and cons of branded spas and who runs them. While some hotel or resort brands have developed their own spa brand (Shangri La's Chi Spa, Fairmont's Willow Stream, or Hyatt Pure) there are also many who have outsourced either the building of and/or operation of their spas to companies such as ESPA, Mandara or Six Senses to name a few. Some hospitality brands, most notably Ritz Carlton, Four Seasons and Mandarin Oriental, are going it alone by managing their own spas quite successfully.
While a variety of models will likely result, my prediction is that in the end we will see more medical establishments bringing in branded spa expertise and spas bringing in branded medical programs with both working hard to collaborate and grow together.
Market Expansion: While good opportunities are emerging for spas and medical tourism to work together enhancing the offerings and outcomes for each, the more exciting opportunity might be in the growth potential of each market and the development of an entirely new market that attracts new consumers who hadn't previously been involved in either medical tourism or the world of spas.
In essence, spa enthusiasts are likely to be prime medical tourism candidates as they already have one foot firmly on the first rung of the 'seeking health improvement ladder' so-to-speak. Alternately, if medical travelers are introduced to the benefits of spa experiences while abroad, they are probably more likely to engage in spa activities both at home and on future vacations.
Marketing is another area of opportunity. Spas can add 'sizzle' to medical tourism marketing. The popularity of spas with global consumers (97% report a positive association with the term 'spa') can make the medical tourism 'package' that much more appealing – adding a unique and attractive experience (the 'tourism') that is often missing in the current 'medical tourism' equation. Spas are pretty good at showcasing 'wow' factors – consider the underwater massage rooms in the Maldives, 24-karat gold facials in Dubai, and four- or even six-hand massages in Tahiti to name a few – each regular media magnets.
Medical offerings can add credibility – and a whole new dimension – for the spa consumer. From the lifesaving and life-giving possibilities of stem cell banking, to relatively minor procedures like Lasik or dental work – the concept of incorporating medical diagnostics, procedures and even surgery may become increasingly appealing for those who travel to spas, rendering their time away from home even more productive. In addition, the medical cost savings possible when traveling to places where medicine is less expensive or more quickly accessed as well as the possibility that some medical procedures are covered by insurance can help offset the price of a spa vacation.
In Conclusion
It's early in the lifecycle of both the modern medical tourism and the spa industries (and clearly we're in the infant phase of the two collaborating together). We can assume that even more innovative models will evolve, more pitfalls identified and more synergies will emerge. As global collaboration heats up, and especially if patient outcomes and both sectors' bottom lines are positively impacted, I think it's safe to predict that the shared future of spas and medical tourism will be an unusually bright one.
My twitter address: @susieellis