Green Shopping: Stores With Recycling, Upcycling, and Donation Incentives
---
After a proper clothing cleanse, many of us think donating our unwanted items is the next logical, pay-it-forward step. Unfortunately, as a 2013 Elle article exposed, our good intentions often end up in landfills. To combat this, we've decided to highlight three nationwide stores that reward shoppers for thinking green: Here's where you can upcycle, recycle, or donate clothing without adding to the global clutter.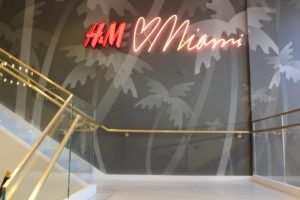 H&M
The Deal: Get 15% off a single item for every bag of unwanted clothing given to the H&M recycling program. 
How it Works: Show a cashier your bag of clothes and they will hand you a voucher in exchange. The accepted bags are normally supermarket size and shoppers are allowed two bag donations per day. The clothing donated does not have to be in good condition or from H&M – old tees, socks, and denim are all accepted. To keep the green theme going, consider using that discount on H&M's Conscious Collection.
Nordstrom and The Fashion Project
The Deal: Donate gently worn designer duds and receive a tax exemption from Nordstrom. Snag other deals and loads of warm fuzzies!
How it Works: Register on the campaign's website and read their "approved brands" list to make sure your items meet the requirements.  The Fashion Project will then send you a mailing label and donation bag for free. Pack your items and mail them out, and once approved, The Fashion Project adds your clothes to their online boutique. Sales from the digital store benefit multiple charities and those who shop it receive free shipping on orders over $100. The Fashion Project has raised over half a million dollars since its launch.
Plato's Closet and Buffalo Exchange
The Deal: Get cash or store credits in exchange for gently used, on-trend clothing. These shops offer modern, funky styles without the retail price tags.
How it Works: These regional stores have taken the taboo out of upcycling. Plato's favors junior and young adult styles while Buffalo makes room for vintage and one-of-a-kind items.