Four-Hand Massage: Four Hands Are Better Than Two
---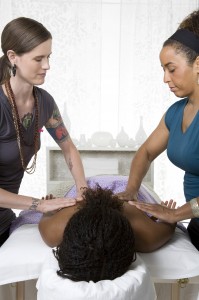 They say two's company and three's a crowd, but whoever spoke that must not have experienced a four-hand massage! This treatment, where two therapists work on one client simultaneously, can feel a bit like having two full-body massages at once —plus, it's known to be an effective spa option for those who find it hard to relax completely during a treatment.
While there are several styles of four-hand massage (also known as four-hands massage), the basics of this two-on-one treatment include two therapists crafting a choreographed sequence of unhurried, meticulous moves (often synchronized) of varying paces and pressures.  Your mind may struggle slightly at first as you try to follow what each therapist is doing, before you eventually simply surrender and slip into a deep sense of relaxation as easily as you can say 1-2-3.
Read more about the four-hand massage, and check out these spas that offer this treatment — or, visit SpaFinder's Massage Guide.