Highs and Lows of Acqualina Spa Resort in Florida Where We had Massages and Facials
---
Last Sunday Peter and I had a chance to experience the Acqualina Resort and ESPA in Florida near Miami. Their spa manager, Kate Brown, had been voted as a top-10 favorite spa manager in the 2008 SpaFinder Readers' Choice Awards. One of their therapists, Randy Felstead, had been honored as a top-10 favorite spa therapist. The spa had also won mention in a few other categories: top-10 for luxury, accommodations, romance, and interior design. It is always fun to experience a spa for the first time which has gotten raves from our readers.
Here is my report card – the highs and lows:
The Highs:
As I have come to expect of ESPA spas, this one had fantastic staff and great design and décor. I have blogged about other ESPA's over the years – Samas at Hotel Park Kenmare in Ireland, The Metropole in Monte Carlo and the Victoria Jungfrau in Switzerland for example – so I won't repeat the accolades here although they do apply.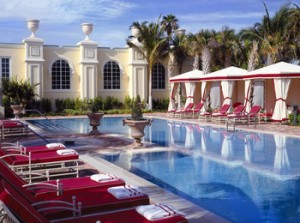 ESPA is an international company based in the UK. It was founded by Susan Harmsworth more than a decade ago. They design spas and have their own spa products. They have mastered the art of training therapists – all are both aestheticians and massage therapists.
Susan's spa designs are consistently "wow," always tasteful choices in tiles, sinks, towels, bathrobes, etc. No two ESPAs that I have seen have been exactly alike – however they have a similar thread running through them. I understand there are now more than 80 ESPAs around the world.
This time I decided on a facial since I wanted to experience the ESPA products. I have always liked their product packaging (not everyone can use orange, purple, and burgundy colors together and make them work). My aesthetician was Elizabeth…the 90-minute treatment memorable. That's unusual for a facial where most of the time they are all pretty similar. The parts I liked best included:
The comfortable and therapeutic feel when applying the hot towels
The large variety of different products that were used on my skin (I lost count at ten)
The use of hot/cold/hot/cold which was a welcome sensation and produced a tremendous result. "Contrast therapy," as it is officially called, is something Europeans are much more familiar with than Americans.
The results. My skin was radiant and moist to the touch and even elicited a comment from my husband.
The Lows:
Some facility issues. The circular crystal steam room was beautiful but didn't smell fresh. It made me wonder if they follow the recommended protocol for saunas and steam rooms – to open the doors and air them out every night and clean them thoroughly daily. The experience showers – where you can push three different buttons and get "rain," "tropical shower," and something where the side jets engage, turned out to be – well – quite an experience. At first all sequences produced cold water. Later I found that there was a temperature adjustment handle at the far end of the shower which allowed me to get warm rain, warm tropics and warm side showers (despite the fact that a staff person told me that the side showers are always cold). It was a bit awkward to adjust the temperature setting while standing in "the experience."
And finally, the outdoor Jacuzzi/whirlpool was somewhat disappointing because there wasn't enough strength in the jets to allow for a real hydrotherapy effect. The small swimming pool which I had been told had a current against which a person could swim for exercise, turned out to be problematic for Peter. When he tried to swim against the current, he overpowered it easily after just one stroke, and ended up jamming his thumb into the end of the pool. Later I noticed the angle of the "strong" jet was off center – that, along with the lack of strength of the jet may have contributed to the mishap.
Bottom line…..I do give ESPA at Acqualina a thumbs up. As I have said many times before, for me it comes down to the therapist and the therapy. And, in this case, it was a winner because Elizabeth did a fantastic job and the results were terrific. I was also impressed by the locker room attendants who were kind, alert, and plentiful.
I couldn't help but think, however, that were they to solve some of the facility shortfalls they would likely receive even more accolades in the future. And since their spa director Kate Brown was voted one of the top 10 spa managers in the world…I have a feeling that she will make these corrections in record time.