Spa Trend Analysis 2011: Hyper-local Spas
---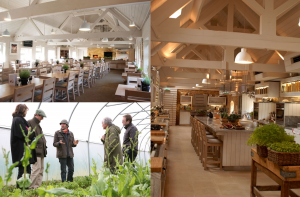 I was thinking the other day that the spa industry has done one thing exceedingly well – better than many other sectors such as hotels and restaurants for example.  Spas have from the very beginning – partially because of their nature – incorporated indigenous treatments, cuisine, and programming into their offerings. This has served the industry well and is likely part of why there has been so much growth in the number of spas across the world these past decades.  
That trend has even strengthened as we explained here with the "Hyper-local Spas" prediction.  Whereas rooms in hotels are pretty much alike for all guests, and restaurant meals are very similar for each guest, very few spa treatments are alike – they can all be customized to fit the individual and reflect local culture.  What an extraordinary opportunity in this age of mass-everything.  While pointing out this trend was spot on, I am excited about how much more hyper-local and customized spas can get!     
Spas have been trying to move away from the generic "could be anywhere" vibe for years, meeting spa-goers' intensifying desire for authenticity and immersion in treatments, food, design and experiences indigenous to the spa's unique place and culture. A maple scrub in Canada, organic food from the spa garden, or facilities built of local stone, while not new, were, until relatively recently, novelties.
But spas are now going hyper-local, putting unique twists on the "farm-to-table" movement, with farm-to-spa cuisine and farm-to-massage-table treatments. (Fruits, herbs, honey, etc. are grown on site, and then dished up in both meals and in treatments/products). Hyper-local also means ramped-up community and philanthropic projects; 100% locally sourced building materials; mandating local staff hiring policies; and finding creative new ways to connect people more deeply with place and nature. Guests aren't just passive consumers of the experience: They're gardening, farming, preparing their own food, making expeditions to local artisans and schools and even helping with wildlife rescue work.
A couple of years ago spas hit, maybe, a couple of local angles. But these new über-local spas are locally embedded on almost every imaginable front. Call it "indigenous squared"…or even "cubed."
Endless examples:
· Hay Barn Spa (Cotswolds, UK): Daylesford Organic Farm marries day spa to 20-acre farm producing everything (fruits, herbs, milk) that graces both dining room tables and their branded spa products. Floors are hewn from local trees, while sheep's wool from the farm's flock insulates the walls. Guests learn to grow and cook food, rear animals and make local crafts.
· Hotel de la Paix (Siem Reap, Cambodia): Spa Indochine's Khmer/Jamu beauty treatments use spa products made on site daily, while restaurants source ingredients from local farmers. The spa's "Cambodia Community" projects engage guests with local sewing training centers and orphanages.
· Blancaneaux Lodge (Belize): One of three of Francis Ford Coppola's hyper-local Central American spa-lodges, built of local materials by local craftsmen. Organic gardens supply restaurants and the spa, staff is sourced from local villages, and wide-ranging local philanthropic efforts include protecting jaguars and the Mayan forest and providing four-year scholarships to local students.
· Masserio Torre Coccaro (Puglia, Italy): 500-year-old farmhouse-compound-spa built from all local materials; spa carved out of a stone cave; food and spa treatments direct from vast gardens, orchards and farm. In the evening guests receive spa treatments derived from olives they handpicked themselves that morning.
· Six Senses: Eight resort/spas from Thailand to Portugal, all with extraordinary permaculturalist initiatives around local food, building and design, staffing and philanthropy. At Six Senses Phuket, "farm" often doesn't even make it to "table," as guests can eat the landscaping!
· The Farmhouse Inn & Spa (California, U.S.): Coined the "farm-to-massage table" terminology, and in every meal and spa treatment the farm is intensely present. 
Am I crazy when I say that I think spas have a place in facilitating world peace?  It just seems to me that what leaders at negotiating tables can't seem to accomplish easily can be accomplished one to one with people from different countries/cultures/races/religions who connect in a spa environment.  It's certainly a place to learn how similar we all are and how basics such as our need for touch, caring and relaxation unite us. 
**
If you wish to be put on a list that automatically sends my blog posts to your email, just click here. Thanks!