Lessons for Spa Industry from Clinton's "Health Matters" Conference
---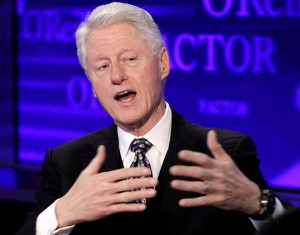 I got lucky. Then I got super-lucky.  I heard about the Clinton "Health Matters" Conference scheduled just prior to the Bob Hope  Classic Golf Tournament (now called the Humana Challenge Golf Tournament) that was going to be taking place in Indian Wells, CA just a week before it was actually going to happen. Then I found out they were only giving out 200 tickets – yikes. Through a flurry of emails and phone calls, I was lucky enough to be able to attain one.  Actually, it was two; I ended up attending with Deborah Szekely, founder of Rancho La Puerta and the Golden Door – my mentor and, in recent years, a very close friend.  So we went together.
Oh yes, I should mention right up front, we did have a chance to chat with Clinton at the end of the day.  Deborah gave him one of her Rancho La Puerta cookbooks which he loved, and I told him something that he could add to his story: that Bob Hope walked an hour a day and lived to be a 100.  (Bob Hope also had  a massage every day!)
There we were – Deborah almost 90 and the "godmother of the modern spa industry" – and me, feeling fortunate to have been part of the industry she ushered in for the past three decades.  Both of us noticed that it wasn't super well organized (they served a nice healthy buffet breakfast with fruit, eggs and such but provided exactly three tables with four chairs each to sit down).  Very odd.  However, we gave them a pass because it was their first health conference – a somewhat last minute idea I believe.  Kudos for hosting the event however.  They pulled in a slew of VIP's:
President Bill Clinton – personal health crisis, now vegan, has lost 20 lbs
Chelsea Clinton – focus is childhood obesity and type 2 diabetes
Dr. Nancy Snyderman – Today Show's medical expert
Jillian Michaels – former Biggest Loser drill sergeant
David Satcher – former U.S. Surgeon General
Billy Jean King – tennis legend
Goldie Hawn – actress and advocate for Brain Health
Notah Begay III – first Native American golfer to win a PGA title
Dick Gephardt – Former House Democratic leader
Reed Alexander – teenager and star of Nickelodeon's iCarly
Susan Dell – wellness advocate and "super-mom"
The audience that Deborah and I were a part of, which included Donna Karan and singer Barbara Streisand, was a very mixed bag: national school lunch program administrators, advocates for physical education in schools, non-profit organizations, medical folks from nearby hospital facilities, and sponsors such as Humana  – a very large insurance company.  What we all had in common was an understanding that there is a health crisis in the U.S. and that it is going to take involvement from a broad spectrum of people to affect the changes needed.  The time to help people make lasting healthy lifestyle changes and spread the message of prevention (the one thing everyone seems to agree on as a solution) is NOW.
If you want to get an idea (well, actually more than an idea) of what took place at the conference, have a quick read through my twitter notes below.  I tried to include the key points (keeping it short) from various speakers but throw in an occasional personal comment to keep people (and myself) awake. At the end I share five things I think the spa industry might consider as a result of what I learned at this one day conference.
Am in Indian Wells at one day #Health Matters Conference by the Clinton Foundation. About 300 people in audience, Clinton to speak soon.
Clinton speaking. Mentions this is a first – that they are focusing on encouraging each person to be involved in their health + #wellness.
This conference is with Clinton Foundation and Humana and replaces Chrysler as sponsor of Bob Hope Classic (financial problems for auto industry)
Opening
Greetings by commissioner of the PTA TOUR – explains this tournament raised money for charity in the past, now it is raising awareness.
Clinton spoke about how Bob Hope walked every day which is why he lived to 100.  (Bob Hope also had a massage every day – something I have known for years.  And that's what I told Clinton at the end of the day when Deborah and I had a chance to speak with him.  He responded that Hillary finds that regular massages help her with her brutal travel schedule. And asking him if he had regular massage therapy, he replied just now and then.)
Am here with Deborah Szekely (founder of Golden Door + Rancho La Puerta).  She told me last evening that she agreed with me knowing that Bob Hope had a massage daily – and added that it was always at 4:00!
Panel 1
Clinton explains that he spoke w Bob Hope who told him that he walked one hour every day – no matter what – even in Russia in cold and snow.
Clinton played golf with Bob Hope when he was 95 – and Bob Hope hit par on the first hole. So he decided that an hour walk daily might be a good thing!
Clinton explains big issue is type 2 diabetes. This morning on NBC Paula Dean (known for cooking w lots of butter) says she has diabetes 2.
(Clinton didn't mention Paula Dean – that was my commentary.) Seems an interesting coincidence however – and it was mentioned later in the day by Dr. Nancy Snyderman. )
Clinton mentions – unfortunate that the Occupy Wall Street movement never identified that the reason there are fewer raises for middle income people is because of high healthcare costs.
#Healthmatters Clinton emphasizes this is a BIG deal for our country, ageing baby boomers, children.
Clinton introduces panel: Dick Gephardt, Billie Jean King, Dr. Mark Hyman, Jillian Michaels, Dr. David Satcher.
#healthmatters byline is "Activating Wellness in Every Generation." (I notice people don't realize how important the term WELLNESS is in bringing us together.  In fact they throw it around like it has been in our vocabulary forever.  Not really true…..the Global Spa and Wellness Summit Research actually did an entire study on tracking the term wellness and it is a mere few decades old and has only really been used widely in the past 5 to 10 years.)
Panel discussion now is how unfair it is that poorer people are at a huge disadvantage in this battle against health challenges.
Jillian Michaels makes point to quit belabored the problems + start doing something. Suggests everyone do SOMETHING. We need to be creative.
Dick Gephardt starts by saying that he is nostalgic for when there was a President that could work in a nonpartisan way. Clinton downplays.
Clinton reminds everyone that he also had a contentious third year and things got better and he thinks that will happen with Obama.
Dr. Hyman says Chelsea Clinton suggested a book about how we can learn from developing countries – and it is about being community based.
Dr. Hyman spoke about the program he started with Dr. Rick Warren (Pastor of Saddleback Church) where they lost collectively 250,000 lbs – and the pastor lost 60 lbs!
Dr. Hyman is all about community support as the research shows people do better with support than alone – something the spa industry knows well.
Gephardt talks re company that paid smoking employees to go through program + quit + there was huge improvement. Weight loss more difficult.
Dr. Satcher emphasizes that schools have to be part of the solution. He says that there should be PE in K through 12.
Clinton says we have become spectators instead of participants. Jillian interrupts President (not a good idea by the way) + talks re passion needed.
Satcher brings focus back on poor people. Clinton is passionate here as well – it is a struggle for those with few resources.
Dr. Hyman makes point that getting healthy is a team sport – that poor countries have success w community programs more than with the medical field.
Gephardt makes pt that this problem will bankrupt our country, seriously. We need to focus on prevention; the results of prevention are fast. (that is clearly where our spa and wellness industry plays)
Clinton says that when he mentions prevention people clap like he has discovered gold. He says that is ridiculous. I agree. Yet, here we are.
Billie Jean King talks about her parents being active and she and her brother grew up in the public parks.
Clinton tells about Herschel Walker who never lifted weights and only ate once a day – he grew up poor. The point is you don't need money.
Move more, eat less. Clinton says it is a simple answer here; you don't need an expensive technological solution. Like the environmental problem – use less energy.
Clinton points out that there is a serious problem all over the world – UK, India, etc. It is a global problem. You need to crack the culture.
(Ok…a personal thought, nothing I have heard that is new here. Good to see so many more people involved in this effort though and perhaps stressing that a variety of solutions are the key.)
Closing remarks…Satcher talks about prevention. Clinton emphasizes that the medical field is important also. A lot of applause.
Panel 2
Chelsea Clinton speaking now and will introduce her panel. Deborah whispers to me that Chelsea looks so much like her mom today – really seemed rue today.
Title of panel "Raise the Bar for Healthy Schools." Dr. Dwayne Proctor, head of foundation on childhood obesity. Reports some progress.
Dr. Wechsler from Centers for Disease Control + Prevention. Says that there is too much focus on test scores than growing healthy students.
Anita Rao is a 15 year old student from Texas, she emphasizes healthy sleep.  Started Student Wellness Council at her school.  Impressive
Pete Shankle from Alliance Healthy Schools Champion talks about promoting wellness in Durham, NC.
Reed Alexander (actor) speaking. Young guy from iCarly who had weight problem. Now he has a website called Kewlbites.com, shares good tips.
All talking about an alliance for a healthier nation that is trying to improve the numbers. Chelsea asks about innovative things that work
Innovative ideas – use a bike that powers a blender for your smoothie in the morning. Opening schools in the morning for fitness.
Chelsea mentions re snacking – now kids snack 3 times a day, it used to be 3 times a week. One school gives out red apples vs. gold stars.
Anita, the teenager, says it is harder to talk to other teens than this audience. Need to appeal to interests…helps w grades, w athletics, look good.
Many using the term "food deserts." New to me – apparently about areas where people can't get good food…not necessarily a lack of food
Anita makes point that a lot of people don't know there is a childhood obesity problem.
Lunch Break then Panel 3
Lunch break over – nice tasty healthy (mostly) food. Now new panel on employee wellness. Moderator Editor in Chief Golf Digest.
Travis Bogard CMO Jawbone, they can monitor heart rate, steps taken, sleep…James Curleigh, CEO KEEN Footwear…notes that they don't work with consumers, they work with their fans.
Michael McCallister, CEO, Humana, 40,000 employees. Those w over 30 BMR use up most of the health care dollars. He is into behavioral economics.
They did a Biggest Loser contest in company, it works but when you stop, you lose what you gained. (Exactly what we discovered w SpaFinder.)
Humana brought 1000 bikes to Republic and Democratic conventions and got a lot of people active. He pushes for innovation!
Bob Lanier (NBA) now Global Ambassador helping kids in lots of various ways. There is a lot of talk about recess here. NBAfit. Make it fun.
Casey Wasserman, CEO Media Group represents athletes and is now encouraging all of them to help get kids moving.
Editor of Golf Digest said that a round of golf burns 2,000 calories – if you walk. (I would challenge that – you burn 100 calories per mile.)
McCallister (Humana) went to Davos last year, came back w job to head up employee wellness saying in general companies don't 'get it' yet. (I agree…but this is the year of the wake-up call.)
Question from audience – psychotherapist says people need direction. James suggests getting chalk + drawing hopscotch outside your office.
More talk about recess and talk about where it came from – in middle 1800's Louise May Alcott's father. (Hmm, need to check Wikipedia on that odd fact.)
Audience question about what is a good message to spark involvement. Like don't drink and drive. But what is a clever slogan?
Next panel. Susan Dell speaking talks about learning exercise helped her get straight A's. Her motto, fuel for performance, train for life.
Susan Dell promoting Be Well book giving out millions for free. Give the gift of wellness for your kids. (She looks very fit btw.)
Lakeysha Sowunmi founded Perfectkidz – tried working w churches and found a lot of resistance at first. Then into schools + more resistance.
Her point is that there is a lot of resistance and so rather than trying to get people to do things – go in and do it yourselves.
Notah Begay Native American – first Native American to win a PGA tournament. He got a scholarship to Stanford. Injured – then helped kids.
Annika Sorenstam (Sweden) professional golfer for 16 yrs. She also wanted to help young kids to pursue their dreams. Started foundation.
Annika talks about preventive care. Kids sitting too much and too much diabetes. She is working with SPARKS.
Goldie Hawn after 9-11 she started knitting + decided instead to do something. She thought the kids are going to suffer. Obese, suicide, ADD, etc.
Goldie Hawn learned that our children are least happy (other than UK) kids compared with other kids.
Goldie Hawn created program for kids. Teach kids about their brain. About stress, mindfulness. About acts of kindness. Look at happiness.
Her curriculum teaches optimism and she has loved this more than acting. Has been doing this for the past 10 years.
Q + A from audience, most all for Goldie Hawn, people are really into the emotional, mental part, stress issue is something people 'get.'
Dr. Deepak Chopra speaking (on video). Hmm, he doesn't live that far from here. Talking about well-being. Self-awareness is key he says. (Later I learn he was in India – his son was at the event.)
Dr. Nancy Snyderman introduces Clinton, Susan Dell, Surgeon General Satcher, etc. She asks Clinton about responsibility for our own health.
Clinton is oldest male in his family to live this long. All others died before 65. He has genetic predisposition to high cholesterol.
Dr. Snyderman mentioned Paula Dean on NBC this morning, her unwillingness to admit food choices has a lot to do w her diagnosis of diabetes.
James Curleigh from KEEN. Talks about connection. Balancing simplicity and sophistication.
Susan Dell talks about how exercise helped her get straight A's (ok, we did hear that earlier…hmm, seems she has a "stump speech").
Question re subsidies for farmland. Clinton discusses government needs to do more. Also mentions studies that show we should all live to 120.
Question re subsidies for farmland. Clinton discusses government needs to do more. Also mentions studies that show we should all live to 120.
Safeway did a lot to help their employees. Clinton mentioned preferential rates for those who don't smoke. Carrot and stick are important.
Satcher says that Johnson and Johnson has lowered health care costs and increased productivity due to an employee wellness program.
Question re personal responsibility and also social responsibility. Poor people can't afford good food and have no parks to play in.
Clinton recommends that medical loans can be paid down by helping the underserved. Snyderman gives an example of how this could work.
Person in audience mentions how someone in LA paid to have parks open at night and they found that the crime rate went down and it paid off.
Clinton talks about midnight basketball.  You can't just tell kids to say no to everything – you have to give them something to say yes to.
A lot of agreement that keeping schools open late is a very good thing and it would help with more activity and community involvement.
Point that support of friends + family networks is key. Community watch program for those who want to jog in unsafe neighborhoods. (Interesting that most of these people understand the importance of community…I rarely hear that point made outside of the spa industry where we have of course also learned it.)
Point that we have a social disease and need a social solution. Saddleback Church was a model. Disruptive healthcare.
Conclusions for our spa and wellness industry
The good news is that we are no longer the lone rangers preaching prevention.  There is going to be a lot more help now.
The bad news is that, as others help trumpet the "prevention banner," they do not seem to consider the spa industry as a partner in these solutions.  No one on the stage mentioned the word spa the entire day.  (It's only appearance was as a description for the afternoon "spa break.")
We either need to put time, energy and/or resources into helping spread the word about our work and how it can contribute positively or come up with a more creative strategy.
One creative strategy that comes to mind is focusing on "stress reduction" as our unique selling point.  Gyms do fitness, school programs and nutrition are already a partner cause, however no one really "owns" reducing stress.
A possible innovative strategy might be for our entire global spa industry to embrace teaching kids how to reduce stress.  I think that would get attention – while at the same time doing a world of good.
Most recent from Living Well