Mandara Spa at Atlantis – A True Sanctuary
---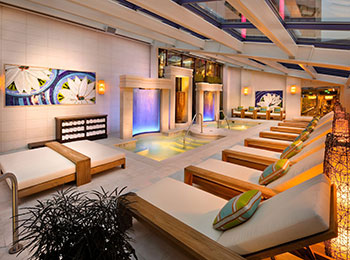 Peter and I did something this weekend which we were never able to do while living on the West Coast – hop on a short flight to spend the weekend in the Bahamas. It sounds so "East Coast" doesn't it? Actually Peter is on a mission to convince me that getting into boating would be a good idea. I fear he has an uphill battle here, however I didn't mind spending a weekend with him checking things out. Besides, this jaunt would give me a chance to visit two spas: Mandara at Atlantis and the One & Only Spa at the Ocean Club, Bahamas.
So we boarded a 2 1/2 hour flight yesterday morning and flew directly into Nassau. Peter decided we should stay at Atlantis since it is on the water. While ordinarily a resort with 3,800 rooms and lots of kids would not be my first choice for a weekend trip, we were just staying one night so I thought, why not? Besides, here on the East Coast I see so many Atlantis ads, it seemed like a good idea to see what all the fuss was about.
Well…Yes, it is large. Yes, it has lots of kids (although there is one tower which is for adults only – not the one we stayed in.) Yes, the decor is a bit Disneyland-20-years-ago. And it seemed expensive. My bagel and cream cheese this morning was almost $5.00 and Internet usage here in the business center is about $1.00 a minute. The room too was pricey. I must say, however, those families who were here all had broad smiles on their faces and seem to be having quite a bit of fun with their kids. It looks to be a good family adventure.
On to the spa. Happily Jeff Matthews, who is a good friend and the head of Mandara for Asia, had let them know ahead of time that we were coming. Vicky, the very impressive Spa Director, greeted us and was expecting us. That was nice. I learned that this is their NEW Mandara Spa – opened just a year ago since they had outgrown the old one. This one has 35 treatment rooms and the men's and women's locker rooms have saunas, steam, hot whirlpool and cool plunge (note, not cold, but cool plunge….probably a good idea since I rarely see anyone going into a cold plunge). And surprisingly, the spa rates seemed cheap!
Nice decor in the spa – more sophisticated than the rest of the resort that's for sure. The suite where we had our couple's massage was quite nice – shower, restroom, tastefully decorated, etc. Both therapists were excellent (and they washed their hands before starting the treatment – hurray!). I would give my therapist an eight on a 10 point scale, Peter would give his therapist a seven. Since we are rather picky, those are not bad scores.
I worked out in the fitness center the next day (this morning) which I learned was also managed by Mandara. I find it interesting that more spas are managing fitness facilities these days. It used to be that fitness and spa were very separate from each other in hotels and resorts. But I like this coming together because it broadens the public's view of spa to include not only the pampering and stress-reducing therapies which help people take a step toward wellness, but the exercise gym and studio which does as well.
The gym had quite a large display of Elemis products – in fact more obvious than the product display in the spa itself. Knowing that Steiner (who owns Mandara and Elemis) is known for high retail sales in their spas, I was surprised to see the rather subtle product presentation in the spa. It would be interesting to know if the product sales in this spa are as brisk as in other Mandara/Elemis/Steiner managed properties.
Well…I will save my One & Only Spa report till later since the clock is ticking here in the business center.