Medical Tourism Will Force Health Care Change: Spas Benefit
---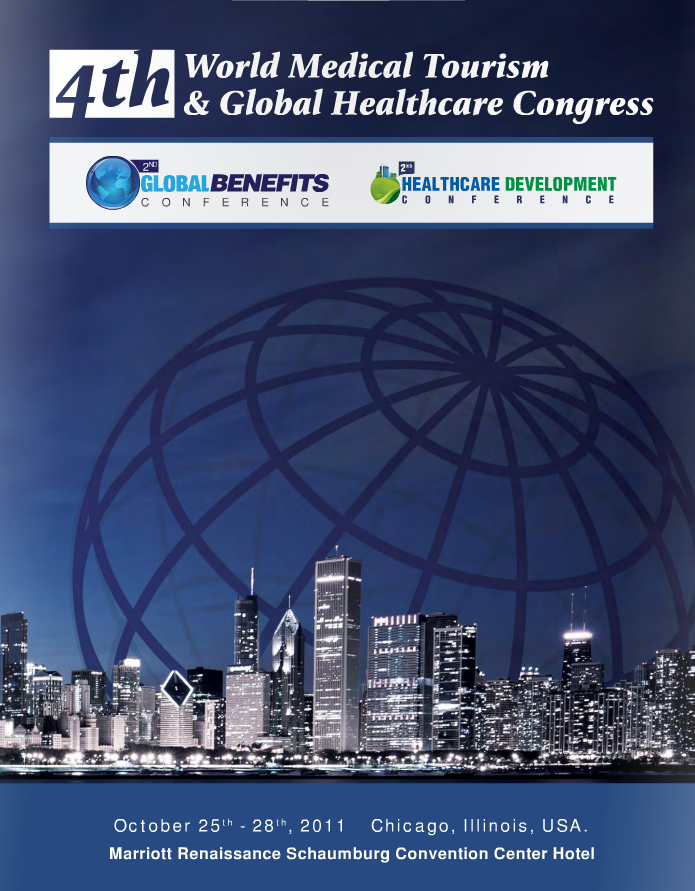 I had a big "ah ha!" recently.  It came after reviewing my notes and reflecting on what I heard and learned at the World Medical Tourism & Global Healthcare Congress I attended in Chicago a few weeks ago.
It was the revelation that because of medical tourism – people traveling across borders eitherinternationally or domestically for medical care – we can eventually expect a dramatic improvement in the health care crisis in the U.S. and around the world!
That was a major wow – and it gives me great optimism not only for our country but also for the spa and wellness industries as a whole.
Bottom line, medical tourism is now creating competition – true competition – and that is spilling over causing health care all over the world to respond.  Add to that some of the changes in both the European and the U.S. health care systems and we are approaching a tipping point.  Prices will come down and quality of care will go up.   Here are some things I learned at the conference that bring me to that conclusion:
The quality of hospitals and doctor's skills around the world is increasing so quickly that in many places it has not just caught up with the U.S., it is now surpassing it!  That is a game changer.
Patient care is more caring in many parts of the world.  Due to lower labor costs there are more people to care for each patient in places like the Philippines, Thailand, India, Barbados, etc. Patients get more time with their doctors, access to more thorough testing and are taken care of from the minute time they arrive in the foreign country until the time they leave.
The Internet is helping all of this along…the power is now shifting into the consumer's hands and they are looking (and finding) places for cheaper, quicker, or better medical care.
90 different countries attended this conference. That's huge!  It means that 90 countries are interested in medical tourism which will fuel even more competition.
Insurance companies are beginning to embrace medical tourism by helping their policy holders find overseas solutions.  This is new.  (There were quite a few insurance companies at this conference.)  The lower costs are just as attractive to insurance companies as they are to individuals!
Businesses that are self insured are fostering relationships with specific countries for their health care needs.  Blue Lake Casino works with a medical facility in Costa Rica for all their orthopedics issues.  B & H Photo of NY has 1700 staff.  50% are Jewish so they decided to work with a hospital in Israel for their health care needs.
Many places offer quicker service.  Some countries (Canada, UK) have long waiting lists…going abroad can solve that.
Often lower costs can be found abroad.  For example, dental work (often not insured in the U.S.) is becoming as good as or better in Mexico than in the U.S.  at a fraction of the cost.
One can get access to new cutting edge medical options that may not be available in one's home country.  Example:  stem cell medicine which is growing very fast.
Transparency is greater abroad. As one speaker explained – just try finding out the cost of a colonoscopy here in the U.S.  It's almost impossible because of the various entities involved in that procedure.  You can easily get an all inclusive colonoscopy price quote in from many countries.
Executive physicals are popular. One research report found that 45% of medical tourists are interested in Executive Physicals,  33% interested in Dental procedures, with lower percentages for oncology, orthopedics and cosmetic surgery.   The physicals are more comprehensive and cheaper.   There is more time to discuss results with a doctor and some tests aren't available anywhere else.
Areas of specialties are arising both domestically and internationally.   Brazil is known for plastic surgery, Korea is known for living donor liver transplantation and robotic surgery,  and Oklahoma is positioning itself as the medical tourism destination for oncology care in the U.S.   Missouri's Hospital Association found that domestic medical travel created over 3,000 jobs and generated $124 million in non-medical travel expenditures in 2009.
Hospitals are doing deals and getting creative. Lowe's just struck a deal with Cleveland Clinic making it the first time a national company selected one specialist hospital. Mayo Clinic is planning to build a destination Medical Community as they  now realize that if they don't get involved with people post stay at Mayo, it will affect future customers. A company in Boston that talked about sending their employees to Thailand for orthopedic procedures found that a hospital in Boston was willing to match the price.
The last session of the conference really hit home – it was called "Meet the Medical Tourist."  There were several people who had taken trips abroad for medical care sharing their experiences.  The most memorable was the couple from London who had not been able to get pregnant despite 3 cycles of IVF.  They decided to try a well known fertility clinic in Barbados that had a very high success rate.  The baby on their lap gave away the result.
Of most interest to me was the mother's summary.  In Barbados she had a more thorough evaluation, much greater interaction with the doctor and a more extensive preparation strategy.  They took time to improve odds by monitoring aspects of her physiology that the doctors in London didn't seem to have time or interest in doing.
I think medical tourism is something the spa and wellness industry should wholeheartedly support.  Why?  We benefit directly because medical tourists often travel with a companion and sometimes an entourage.  Once someone has experienced a country – whether for a medical procedure or a spa vacation – it is reasonable to assume that they will feel more comfortable selecting it for the other. According to the GSS research, wellness tourism ($106B) is already twice the size of medical tourism ($50B).  Medical Tourism doesn't have a lot of repeat business – wellness tourism does.  By supporting medical tourism, we will encourage people to think about their health when traveling.
Medical Tourism leads to Wellness Tourism.  And Wellness Tourism leads to Medical tourism.  And all of it will be a positive for the health care situation in the future.
I feel like kicking up my heels.