Six Senses Spa to Introduce Most Expensive Spa in the World
---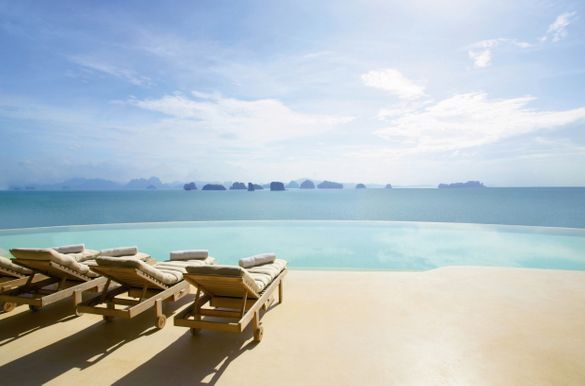 Had a sneak peek at the soon-to-be-launched new Six Senses Destination Spa here in Thailand. It was a 30 minute boat ride from the Six Senses Hideaway Yao Noi where I am currently staying. During a tour of the property which is nearing completion (although it looks to me will need more time than they think to be ready for opening), I kept saying, "wow," "wow," "wow" with every corner I turned.
The opening of this Destination Spa is going to be big news, – both inside the spa industry and outside of the spa industry. My guess is that these will be the big media stories:
1. You can eat the landscaping around your villa and pretty much eat everything else growing on the property.
2. This isn't one spa – it is literally four spas in one: an Indian spa, an Indonesian Spa, a Chinese Spa, and a Thai Spa. And I don't mean "area" but "spa"! There is also a salon called the hair spa as well as color therapy spaces, colonics, Watsu area, Pilates, kenisis, a feng shui'd gym (finally!), and a host of other offerings too numerous for me to remember. It would be easier to try and list what they don't offer.
3. Although not a medical spa per se, there will be master practitioners and medical doctors and an emphasis on both Eastern and Western wellness options – no aesthetic medicine.
4. It will no doubt be lauded for its ecologically embedded practices.
5. The food will likely get rave reviews because of the garden-fresh ingredients, their raw food restaurant option, and the status of their spa-celebrity chefs.
6. The 7th Sense will be introduced which will trump the Sixth.
7. It will be the most expensive spa in the world.
There are very few true destination spas left. In Asia there are just a handful – Chiva Som in Thailand (the most well known), Como Shambala in Bali (very small but exquisite), and the Farm at San Benito in the Philippines (unfortunately, a well kept secret).
North America has Canyon Ranch, Miraval, Rancho La Puerta, Golden Door, Greenhouse, Cal a Vie, and about 10 others. All destination spas are gems in my opinion. Very expensive to create and operate yet offer the greatest chance to pursue wellness and transformation.
Bottom line for me is that I always feel my best (and am told I look my best) after a stay at a destination spa. In fact that reminds me of how I recently heard someone describe the difference between a resort spa and a destination spa:
Stay tuned….and fasten your seat belts.