Moved at the TED Conference
---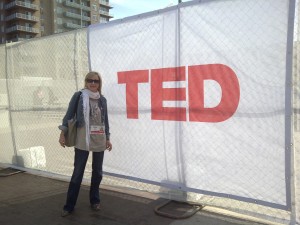 Moved at the TED Conference by Susie Ellis, President, SpaFinder Inc.
I went to the TED conference in Long Beach, California recently for two reasons…the obvious one was to learn from the speakers and perhaps be inspired by them.  The other reason was to observe the structure and organization of this extremely successful conference in case there might be aspects we could adapt for the Global Spa Summit – an event I have the privilege of creating with others once a year.
Happily, I feel that on all count I have come away very much enriched.  Not richer mind you…as the charge for these 3 ½ days of curated information is $6,000 per person (going up to $7500 next year) and that doesn't include accommodations!
I mention this only to make the point about how popular this TED event is – and why I wanted to learn about its structure as well as from the speakers who share their " ideas worth spreading" within the strict 18 minute time frame allotted.  Keep in mind, they accept only 1800 people (at $6,000 each) to attend TED each year – and that is only if you are "approved." What is amazing, is that registrations sell out within a week!  If you do the math (and I always do), that is about $13.5 million and that doesn't count the TED Active Palm Springs event held at the same time which costs $3750 per person and is open to 600 people, nor their sponsorship revenue or the revenue from satellite TED gatherings or from those who pay to follow TED in real time from their computers at home (That costs $500 and you can have up to 10 people watch with you).  While I don't of  course know all the numbers, I think it is safe to say that a conservative estimate of their revenue for the week would be about 20 million dollars.
And I say – good for them!  It isn't every day that you come across an event that has managed to garner this level of demand.  I consider it a great privilege to have been able to attend and I am really looking forward to sharing some insights with  you of what I learned.
Am planning to do this in 2 parts.
Part 1.  This blog post will be about what I learned from the speakers.  (You can check out the complete program here.  http://conferences.ted.com/TED2011/program/guide.php)
Part 2.  The next blog post will be about the people I met (including some celebrities) and what I learned regarding organizing events.
So let's get started with Part 1:  What I learned from the speakers and how I felt overall.
When I left TED on Friday afternoon – after 3 ½ days listening to over 50 speakers (each speaking for exactly 18 minutes –  no more, no less…and that includes Bill Gates by the way) the one word I would use to describe how I felt is "moved."  I was not tired.  I was not glad it was over – in fact, I could have gone on for another 3 ½ days.  Rather, I was inspired and moved to action, to gratitude, to humbleness, to greater possibilities, to understanding more about the essence of things.  I felt smaller – not larger.  Yet clearer and more optimistic. All in all….it was a very satisfying feeling which is no doubt why most "TEDSTERS" (as they are called) plan to attend year after year.
Here are some of the things that moved me:
The young 22 year old sharing her poetry – so young, so good, so insightful, and amazing. Sarah Kay – a performing poet.
Roger Ebert who has lost all ability to speak as a result of jaw cancer whose voice has been reconstructed thanks to technology using bits of his recorded voice from the past via computer.  His wife's emotion when reading the notes he had typed the night before to be shared with the audience.  She broke down during the part where he had written how people come up to him now and

treat him like an inv

alid

…they speak loudly and slowly as if he can't hear – when in fact he can hear and see and walk perfectly.  He simply can no longer speak on his own.
Salman Khan – The guy who spoke about new ways children can learn….thanks to technology, they can learn at their own pace in a way that is fun and easily replicable all around the world.  I think we all saw

the future of education

during these precious 18 minutes.
The woman who wrote the book about being wrong….and learning that being wrong feels just like being right at the time….until later when you realize you have been wrong and that's when you are embarrassed and upset and maybe sorry.  Lesson to learn?  Maybe we need to think about the fact that we might be wrong when we think we are right.  It was Kathryn Schulz who calls herself  a Wrongologist and her book is "Being Wrong" which I plan to download on my Ipad asap.
The printed kidney.  How the machine on the stage shows promise to the point where

a human organ – the kidney – may be printed in the future

and donors ill no longer be needed!  Mind blowing – the kid that this doctor saved 10 years ago with his miraculous advanced bladder thanked the doctor – they hadn't seen each other since the operation.  It was Dr. Anthony Atala from Wake Forest Institute for Regenerative Medicine.
Free the slaves.  This was a video…very impactful.  I think the number was 27 million slaves around the world.  Young children working in coal mines, prostitutes on the street, people who have no way of getting out of the most miserable of circumstances.  Heart wrenching.
Seeing what lives under icebergs and finally understanding why it is important that they don't melt.
JR artist – this year's TED prize winner – how he uses his art to tell stories that need to be told…how ingenious he has been…putting up the face of a son slaughtered so that people would come to comfort the family and help bring attention to the atrocity…to taking photos of one Israeli doctor and one Palestinian doctor, one Israeli chef and a Palestinian chef, teacher, etc. and put them up side by side and challenging people to tell who is who. While I am not fond of graffiti that he promotes, the cause is noble and the execution brilliant.  In one country where drawing protest or controversial issues on walls would have gotten him arrested, he simply painted white and no one bothered him.  Only later did they find that the wind would blow the dust onto the canvas and the message would emerge.  He was long gone.
The woman who got out of her wheelchair for the first time in 15 years right there on stage – she walked because of what technology had created (an Exoskeleton called eLegs) and the guy next to her who was carrying a 200 lb backpack with ease because of the same technology.  What a fantastic advancement for our soldiers.
Homaro Cantu – a chef from Chicago's Moto Restaurant who has made food an art – post modern cuisine he calls it…we were given a box with little things to eat.  Some looked like packing popcorn, some like rectangular bits, a sour lemon…and then you eat the pill included and suck on the lemon again and it is now sweet.  He tricks your taste buds.
Indra Nooyi – the Chairman and CEO of Pepsico who spoke eloquently about what seeds the company is planning in order to do good…taking money out of doing Super bowl ads and investing in their people, mission, values.  She calls her program "Performance with Purpose." A later "rebuttal" session had an attendee point out (quite accurately) that Ms. Nooyi didn't address the very anti-sustainable practice of putting sugar and water in plastic bottles for profit.  Yet Chris Anderson (TED's Curator) contributed his feelings that we should welcome big companies to TED…we should listen and not be dismissive.
Beatrice Coron – paper cutter artist walking out on stage wearing a regal robe made out of paper that she had cut by hand…..she tells stories with her paper cutting….how creative, how beautiful.  Works of art translated into fences and other mediums.
Julie Taymor, creator of the Lion King and the troubled Spiderman musical on Broadway who talked about how she boils her creative projects down to one key image. Lion King = circle of life.  Spiderman = web.  Tempest = sandcastle.  Later that evening at the dinner event I met a New York producer who told our group some of the "behind-the scenes- issues" regarding all those Spiderman problems.  His opinion was that the essence of the problems stemmed from the fact that Taymor doesn't really understand the Spiderman character and so even though the stunts that have injured actors are what people talk about; it is the story that doesn't work. (Interesting….she was fired as director of Spiderman a few days after her TED talk.)
Bill Gates showing how companies need to balance budgets and be accountable and how governments "should" but "don't" and that there is no long term thinking, only short term.
The guy who is trying to eradicate polio from the face of the earth – Bruce Aylward…how much closer they are coming to having gotten rid of it from most countries and yet how it persists in some countries like India…and the vaccine costs so little and the distribution is so hard.  I thought about the "anti vaccine" trend….I was also somewhat disappointed that he didn't give credit to Jonas Salk for having discovered the vaccine.
The tech guy who warned that so many of the search engines on the internet are serving up exactly what we want – or what they learn we want because of the increase in tracking.  He warned about "over-filtering."  Is that a good thing really in the end?  We may end up getting only what we want versus what we need.
Bill Ford – a grandson of the founder of Ford…shares his vision of cars of the future that include Ethanol, Gas Blends and other things….which reminded me of a conversation I had with a gentleman early on in the week who told me in no uncertain terms that were we to do all the windmills, electric cars and other energy conservation stuff – it wouldn't make a difference.  The only solution is burning some kind of alcohol….clearly I don't remember the details, however he was extremely convincing and it gave me hope.
The autistic savant who told us he would not be performing number gymnastics or telling us what day of the week it was on the day we were born (although he could), rather he shared with us the way his brain sees the world.  In color, with pictures.
The goofy, hysterical and brilliant artist who had wanted to put together a collection of outstanding works from people all over the world and when realizing that this would be costly, time consuming and challenging, decided he would simply make up the people, their bios and do all of the art himself!
The dinosaur digger who has studied dinosaurs all his life and is looking for DNA that will allow him to create one.  They have come close…but haven't found DNA yet.  For the moment they are endeavoring to reverse birds back to the dinosaur state by turning off certain genes.
Stanley McChrystal – the very impressive 4 star general who spoke about leadership and conveyed emotionally how the commitment his guys make that they will never leave one of their own in enemy hands without going in to get them is a bond of trust more iron clad than marriage vows.  Also making the point that today in leadership technology is a big issue.  And that there is now such a thing as "the reverse mentor role" because often the young people know more than their superiors when it comes to technology.    Later at the conference I began wondering….wasn't he the general who had to resign recently?  Wonder why he didn't mention anything about that?  And then at the end of TED when Chris was summarizing and acknowledging from the stage that the General had shared some of his mistakes…I thought, interesting…it showed me that Chris had not heard the talk.  (Understandable as there is quite a lot to do and when you aren't in the audience it isn't the same.)  Yet, it made me wonder….perhaps McChrystal has more work to do personally reflecting on leadership and mistakes and when he gets to the place where he can share that embarrassing and painful incident, the standing ovation he got will likely last even longer.
The black educator (John Hunter) who created a game for 9 year olds that replaces all the work done in his class for the year.  "The World Peace Game" that is now played on four layers with tanks and soldiers and countries and presidents and cabinets and all the kids in class working together to solve 50 major world problems – well, it seems truly inspired.
And some miscellaneous thoughts that I recall:

Collective wisdom is better than any that stands alone
The big applause was for whatever improves education
Silk is such a cool substance because it is strong and biodegradable; it can be planted in a body and doesn't need to be retrieved.  It can also replace bones or veins.
The average young man watches 50 porn clips a week.  This is causing "arousal addiction."
There are a lot of fish that emit light.
Jamie Oliver is promoting "scratch cooking."  As one woman from Greece, who I spent some time with at the conference said – her mother would be horrified to think that there was a $100,000 TED prize award to someone promoting scratch cooking!
The key to human's creativity and power is language and collective learning.
The demonstration of a digital book-of-the-future; not only were the photos life-like, but (showing a windmill in a photo) you are actually able to blow on the windmill and make it turn at the pace at which you are blowing!
Interesting experiment that was done where garbage from one community was tagged and then followed for months to see where it landed.  The map showed some crazy inefficiencies.
Future of evolution is that it will be "self-directed"…we can accelerate through super attributes
And so I left feeling the following:
Grateful for the experience – profoundly grateful as it really touched me.  It was the excellence that inspired me the most.  Each person who spoke was a 10.  There were no mistakes; there was no hemming and hawing or poor delivery.  Everyone was talking about something they were passionate about and in which they had such expertise – probably tops in the world.  Hearing one such presentation is awesome – hearing 50 is humbling.  And yet….I could have gone on for many more days.  Excellence doesn't tire me.  I was not tired.  I have a great deal of respect for each person and what they shared.
It struck me that when I look at the presentations as a whole, I see amazing progress in science and technology, lots of problems on the planet especially debt and the environment, and then when it comes down to it the very human part – our interaction with each other, our connection with people, and our emotions – these profoundly trumping everything else.  And then the "given" that collaboration and working together brings a better result than on one's own.
It makes me want to live in the emotional realm more…to share from the bottom of my heart, to hear other people's hearts.  To facilitate that kind of interaction in my family and our company and at the Global Spa Summit I am so passionate about.  It makes me glad that I have stayed in the spa industry all of my life and have a unique perspective and that I have found my calling and get to do what I love every day.  I also see how very small and unimportant it is next to other things like helping the lame walk, or the blind see or governments come to democracy or making great music or sharing profound ideas that make the world a better place.
My twitter address: @susieellis