Products We Love: Omyst Healing Herbal First Aid Spray
---
We all get minor cuts, burns, rashes and insect bites and more often than not, we just deal with them and hope they'll go away. Well, now there's an easy—and natural—way to clean and treat without slimy gels or smelly creams and the Band-Aids that are often needed to cover them.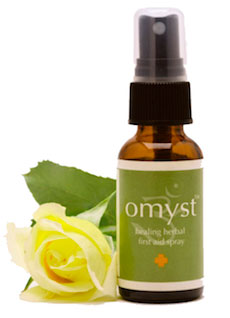 Omyst is an herbal first-aid spray made from 100-percent organically grown botanicals. Clinically demonstrated to soothe, cleanse and help heal cuts, scratches, minor burns, insect bites, minor rashes and scars, I love the way it smells and how it feels extremely light and fresh on the skin – and, more importantly, it really does work! With a boyfriend who works with metals, glass and wood on a daily basis, cuts and scratches are a dime a dozen. I had a chance to test the product on him, too, and now, he's asking, "Where's that spray?" for every cut or burn.
Created by Noreen Mulvanerty, a nurse practitioner and herbalist who was alarmed by the number of minor cuts and bug bites that become "superinfections" requiring IV-antibiotics, Omyst speeds the healing of everyday skin injuries in a natural, effective way. It's also incredibly easy to use since it comes in spray form. Just one spray three to four inches from the site does it. The plants used in Omyst are grown at the Healing Spirit Farm, a 30-acre organic farm in the Finger Lakes region of New York, and the four key healing ingredients—all of which are organic—include:
Calendula, a soothing herb with emollient and anti-inflammatory properties
Yarrow, which features anti-fungal properties and is demonstrated to have broad-spectrum antibiotic coverage
Plantain, an astringent with restorative, styptic and antibacterial properties
Wild roses, which rejuvenate, soothe and heal
Completely non-toxic and safe for everyone, infants, children and the elderly, you can be sure that I'll have this in my first aid cabinet from here on out.
Omyst is currently available at omyst.com and at tattoo parlors, pharmacies, spas and healers in the New York boroughs. 1-oz. bottle, $20.