The Ranch at Live Oak Malibu Recipe: Beet Spring Salad
---
This bright and beautiful dish featuring soon-to-be-in-season beets comes from Kurt Steeber, executive chef and nutritional alchemist for The Ranch at Live Oak Malibu. As a supporter of the slow food movement and proponent for sustainable food procurement, Chef Steeber nourishes and educates guests at The Ranch on healthy, flavorful cuisine.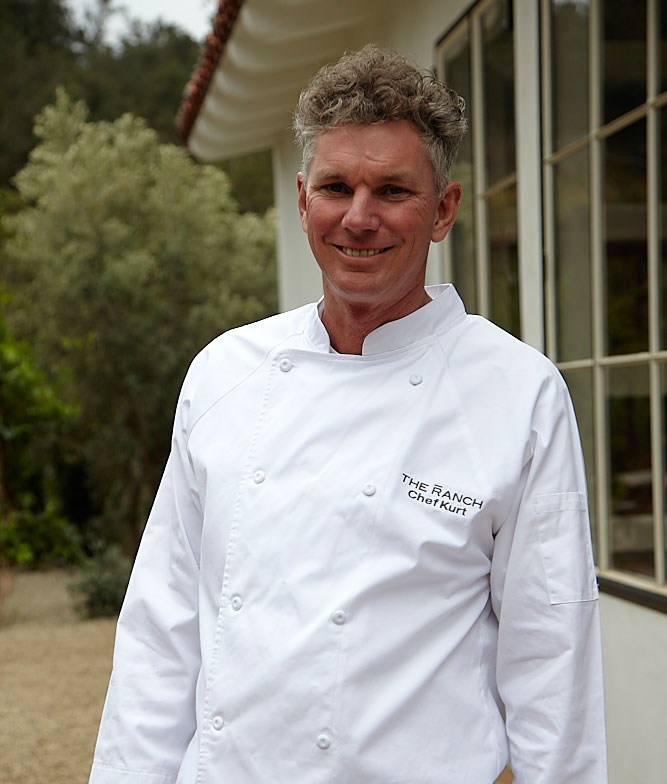 As the nutritional alchemist at The Ranch, Chef Steeber is tasked with creating a seasonal gourmet meal plan using the fresh vegetarian ingredients harvested daily to fit within a 1,200-1,500-calories-per-day diet. To do so, he draws on both his skills as a chef and his intuitive ability to create flavor profiles that resemble their high-calorie, high-flavor counterparts using the latest technology and techniques. Beets, which many people love to eat with feta cheese and nuts, are rich in phytonutrients called betalains, which offer antioxidant, anti-inflammatory and detoxification support. While there's no cheese in this beet salad, Chef Steeber's recipe doesn't make you miss it one bit.
"My goal with this cuisine is to create something beautiful that gives our guests something they weren't expecting. The Ranch has changed the way I approach food," says Chef Steeber, who worked as executive chef at the exclusive Ventana Inn and Spa in Big Sur, California, prior to The Ranch. "While I have always been a healthy person, having my own kitchen and organic garden have made me more thoughtful and empathetic when it comes to the guest experience. I hope to connect with the guests at The Ranch and show them they can change the way they eat and not feel deprived."
While the beet is a root vegetable usually associated with fall, it also does well in the cooler temps of spring, becoming available in late spring as well. If you don't have or can't find banyuls vinegar, usually made from Banyuls sweet wine from a region of France that borders Spain, you can substitute it with a sherry vinegar or red wine vinegar. We know we'll be storing this one away for June picnics and barbecues!
Beet Spring Salad (Serves 12)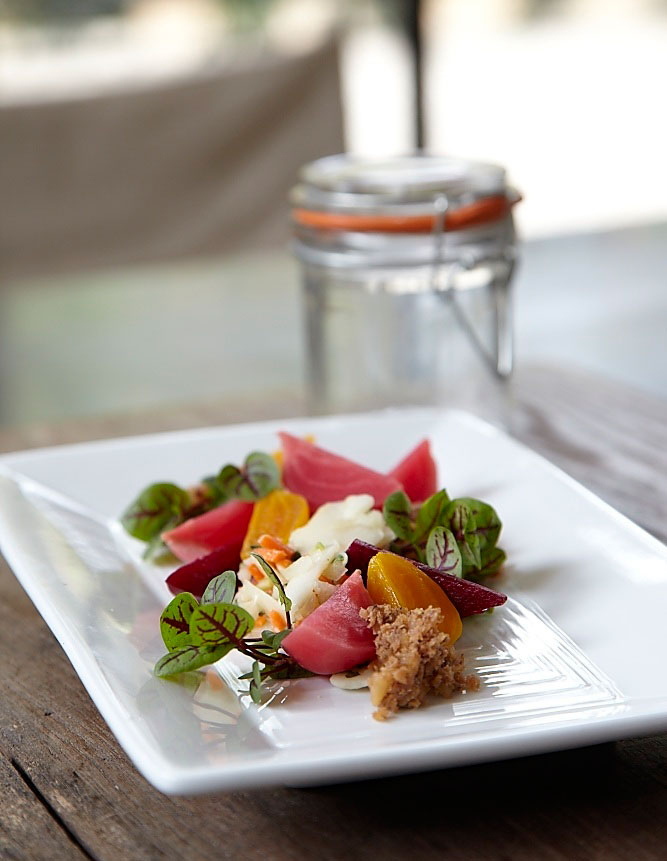 Ingredients:
2 lbs baby red beets
2 lbs chioggia beets
2 lbs golden beets
3 tbsp sea salt
3 tbsp olive oil
3 tbsp banyuls vinegar
8 oz. walnut halves
1 tbsp olive oil
2½ oz. walnut oil
1 tbsp maple syrup
½ tsp sherry vinegar
½ tsp dry mustard
1 orange, supremed or sectioned
6 oz. arugula or as pictured red ribbon sorrel

Instructions:
1.      Preheat the oven to 375° F. Wash and scrub fresh beets. Leave one-inch stem on beets.
2.      Place beets in baking dish and toss with olive oil, salt and pepper.
3.      Put enough water in the bottom of the pan to cover beets up to about one quarter of the way.
4.      Cover with tight plastic wrap and tin foil. Bake for 45-60 minutes.
5.      When beets are cool, take a wet cloth and under running cold water, slide the skin off of the beets.
6.      Vacuum seal beets in olive oil, salt, pepper and banyuls vinegar for 4-10 hours. Or allow to marinate for 24 hours if not vacuum sealed.
7.      For vinaigrette: Whisk together olive oil and banyuls vinegar. Salt to taste.
8.      For walnut chutney: In food processor combine walnuts, olive oil, walnut oil, sherry vinegar, dry mustard and process.
9.      To serve: Toss dressing with arugula and sprinkle with walnut chutney. Cut beets lengthwise in half and place around salad. Garnish with orange segments.