Salty Healing: Salt Therapy 101
---
That happy feeling you get at the beach and the way your nose clears up after a swim in the ocean is not just from physically being at the shore. It's most-likely the result of negative ions at work, which is exactly what salt therapy takes advantage of.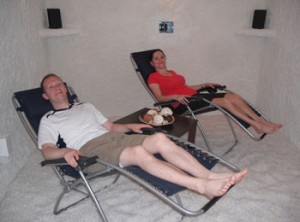 Also called halotherapy ("halo" means salt in Greek) or speleotherapy, salt therapy uses the conditions of caves and mines to help with a variety of ailments in both adults and children, including allergies, respiratory diseases, skin problems, chronic pulmonary diseases like asthma and bronchitis, the common cold, depression, fatigue, and more. While there are no clinical tests on salt therapy in the U.S., basking in salt caves (a centuries-old Eastern European healing tradition) at modern spas is now more widely recognized as a natural therapeutic option.
Generally, negative ions – created both at the beach from the waves crashing, and at salt spas across the country and all over the world – bring more oxygen to the brain (which is why some people may feel a little dizzy after time in the salt room) and can help clean out the respiratory system. It generally takes an average of 14 sessions to detox your lungs completely and perhaps more to help with skin conditions like eczema and psoriasis.
Even SpaFinder's Susie Ellis' included predictions for salt spa trends in SpaFinder's Spa Trend Report™ 2011:
Stylish new salt rooms/caves at larger stay spas: i.e., salt-drenched grottos or hyper-modern rooms comprised of salt blocks
Dedicated day "halotherapy" centers, many with children's rooms
Spas using technology recreating natural cave microclimates (infusing pure salt/negative ions in air)
Home salt-inhalation devices on rise
Attractive to spas, given no therapist costs
More "salt time" integrated with massage, yoga, etc.
If you're in the Northeast, check out Respira Salt Wellness Center in New Jersey during Wellness Week™. They're offering specials on salt therapy sessions for adults and children, and even a one-hour massage in a salt room! And, here are some other salt spas or spas that have salt rooms across the country. Check one out in your area.
Chicago has many salt therapy spas because of its dense Polish population:
Timeless Spa and Salt Cave
Venus Spa
Colorado:
California:
Salt Chalet, Encino
Diamond Family Spa, Rowland Heights
Florida:
Massachusetts:
Alantra Spa, North Reading
Missouri:
St. Louis Salt Room, Maplewood
Nevada:
The Spa at ARIA in Las Vegas
New Jersey:
Respira Salt Wellness Center, Berkeley Heights
New York City:
Oregon:
Virginia:
Read more about the science behind salt therapy and SpaFinder's visit to NYC's Halo/Air when it was open!