The Setai Spa Wall Street
---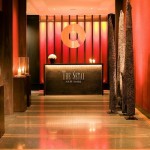 The Setai Spa Wall Street
If I lived in the financial district of Manhattan near Wall Street (and especially if I was a regular recipient of those Wall Street bonuses), I would love being a member of the new Setai Club .  With an award winning restaurant, access to their cool new Setai gym and Setai spa, and great aesthetics all the way around – I would no doubt impress the most sophisticated guests I could round up.  It would be a great way to entertain and live in lower Manhattan.
Peter and I visited the recently opened spa at the new Setai Club – twice actually.  The first time we had lunch at SHO Shaun Hergatt with friends and colleagues, Steve Kass and Wendy Bosolovage from American Leisure.  Their company created and now manages the beautiful Setai gym and spa.   Our next visit was to experience both.   What follows is a short report card… and then a final recommendation that, if I do say so myself, would be worth heeding.
Highs:
Quality all the way around….visually attractive with attention to details, and yet a friendly atmosphere.  The steam, sauna and jacuzzi area are inviting…logo'd towels arranged 'just so' and the attendants were, well, attentive.
The Setai fitness facility is in perfect proximity to the spa, close enough so you are more likely to work out before a treatment but not so close that the different atmospheres interfere with each other.    Both the gym and spa are managed by American Leisure and this is an example of a trend I am seeing.  Rather than having the gym managed by one company and the spa by another, I like it best when the two are thoughtfully put together and run as one.  Otherwise the cultures are different and often the service is uneven.  No problem here – 5 star in both areas!
Their gym equipment  is Precor's latest for cardio and weights and every fitness accessory is available. The gym is well organized, nicely arranged – like a perfect home dream gym.  Not all management companies get the gym right… but American Leisure has a lengthy history of specializing in fitness and it shows when you see a gym where every detail has been thought through.  It's squeaky clean, has nice amenities, there are earphones in plastic cases for those who forgot to bring their own (that would be me),  no water coolers, smelly hampers, or the usual commercial feel.
The spa is attractive, the waiting room area is comfy, and there are generous amenities such as whole fruit, healthy nuts, small dessert samples from the chef at the SHO Shaun Bergatt, a nice variety of ready-to-go teas, and heated neck pillows offered by the attentive staff.  I don't know why it always impresses me when amenities are generous… but over the years I have found it to be an almost perfect predictor of the success of the entire spa operation.  In this day and age of cut backs, it is amazing what some plump cashews and attractively displayed dried fruit does for my well-being.
Lows:
The handle on the inside of the sauna gets too hot.  Ouch!  This must be a design mistake and should be easy enough to fix.  After only about 7 minutes in the sauna, when I grabbed the handle on the door to exit I found it to be scathingly hot.
The one other challenging issue I would mention is the way the Jacuzzi was designed.  It always surprises me when jets in a Jacuzzi are not arranged in a way for maximum therapeutic value – in particular, when all of the jets are at exactly the same level, and all the seating is at exactly the same level.
Musings:
The Jacuzzi jet issue is of particular importance for the spa industry and as the baby boomer ages and more aches and pains need to be addressed, I think the role of a spa's whirlpool or Jacuzzi is going to increase.  Jet height, positioning, strength of water pressure should accommodate various body sizes and therapeutic needs.  The Setai spa Jacuzzi seating was too high for me so that much of my torso was out of the water while trying to enjoy the water massage.  While I thought this might have just been something that didn't fit my physical size, Peter who was in the men's spa, told me later that he had the same problem.
As a guest you can work around these things, however I always wonder why with all the progress we have made in the spa industry over the years that this still comes up as a continual problem.  I think it stems from the unfortunate fact that most people (and definitely the people who build and install Jacuzzi's) do not truly understand principles behind the physiological benefits of hydrotherapy.
In contrast, a few days ago I visited both the Mandara Spa and the Mandarin Oriental in Toyko experiencing their vitality pools.  Both spas had varying stations with therapeutic water massage jets at different levels in different configurations such as lying down, standing up, sitting, etc.  And in a facility in Bangkok called TRIA, they have even gotten so sophisticated as to have installed an ice fountain in their Jacuzzi so that women's hormones can be addressed with a split of heat at the bottom of your body and cool at the top.
We have a ways to go to catch up with the progressive therapeutic bathing facilities in Europe and Asia.
Recommendation:
Try out the Setai Spa during April's upcoming Spa Week! Their offering of a 45 minute massage for $50 will get you access to all the splashy luxuries and you can save a bundle as the regular prices are three to four times that.  While the Setai Spa hadn't opened in time to participate in our week of  SpaFinder Deal Days ($50 Spa Treatments in March), I really encouraged them to participate in Spa Week to help get the word out and the buzz going.  My advice: book early.  It will likely be one of the hottest values in the city!
Bottom line is that the hip and trendy Setai Spa is a welcome new comer to the New York spa scene and it will no doubt be a grand success – especially if the stock market keeps going up and those Wall Street bonuses keep rolling in!
Other New York City Spas to check out
My twitter address: @susieellis