Is It All In Your Head? Craniosacral Therapy Explained
---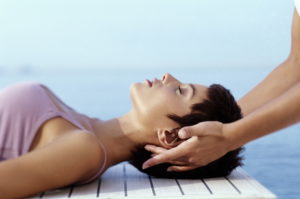 As the name suggests, the focus here is the top and bottom of the spine, where it meets the cranium and sacrum.
Osteopath John Upledger developed the technique in the '70s after observing a neck surgery in which he saw movement in the patient's cranial membranes. If these tissues move naturally, he reasoned, gentle manipulation of them by a therapist could be beneficial.
The goal is to improve the flow of cerebrospinal fluid around the brain and spinal cord, said to enhance the functioning of the central nervous system.
During a session, you lie face up (and usually clothed) while the therapist applies extremely light pressure and traction along the neck and skull, or you sit while she works on your lower back.
The soft touch can be very relaxing – many recipients fall asleep – but proponents say it also stimulates the body's own healing mechanism and can address conditions as disparate as migraines, back pain, autism and learning disabilities. We can't vouch for all that, but we've found it effective at relieving both neck and lower back pain.