Spa Cruising: Azamara
---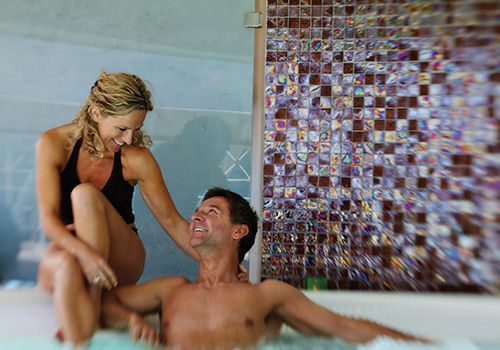 Azamara Cruises offer more intimate experiences in their approach. For spa-enthusiasts, they offer a robust set of services, treatments and activities.
Here's a broad set of offerings from their site.
Spa services can be purchased a la carte or in specially priced packages. Reservations are required for most services, and slots quickly fill up, so please plan ahead. An 18% gratuity is added for each service.
*Please note that not all cruise ship spas accept Spafinder Gift Cards. Please check with the spa to be sure gift cards can be used for spa services.
The Sanctum Terrace: Enter your private spa deck with a bubbling salt water bath and powerful jets that massage you as you soak up the views.
Facial Glow services: State of the art skin care and restorative facials for men and women.
Massage therapy: Hot stone therapy, deep tissue massage, Swedish massage and other exotic massage treatments from around the world.
Body sculpting: Renewing seaweed wraps, cellulite reduction body sculpting, lime and ginger salt glows, and more.
Spa rituals: A selection of carefully crafted half and full-day packages including body sculpting, facials and massage for the ultimate in relaxation.
Teeth whitening services for bright beautiful smiles.
Hair styling and care including cuts, coloring, highlights and color correction.
Manicures and pedicures.
Salon favorites: Special packages of hair and scalp renewing rituals, milk-and-honey manicures and pedicures with massages, and barbering and grooming services.
Customized personal training: Certified personal trainers will work with you to develop a customized workout plan and lead you through individualized instruction. Take written material back home and keep it up! Customized Pilates instruction is also available.
Body Sculpt Boot Camp: Offered by the spa, this get-fit boot camp includes individual analysis with a personal trainer and four supervised group workouts.
Acu-Lift: A safe, painless and effective rejuvenating treatment for the face and body. This treatment improves muscle tone, increases circulation and cellular metabolism, and stimulates the natural production of collagen and elastin. You'll see a more youthful look in moments, and improvements in skin texture and smoothness.
Nutritional Consultation: These hour-long nutritional consultations start with a thorough investigation into your diet and lifestyle. You'll come away with a personalized diet plan based on current nutritional research and a Chinese medical diagnosis. Personal physical concerns and constitutional sensitivities will be addressed, and you'll have a pathway to better health.