Spa Cruising: Disney
---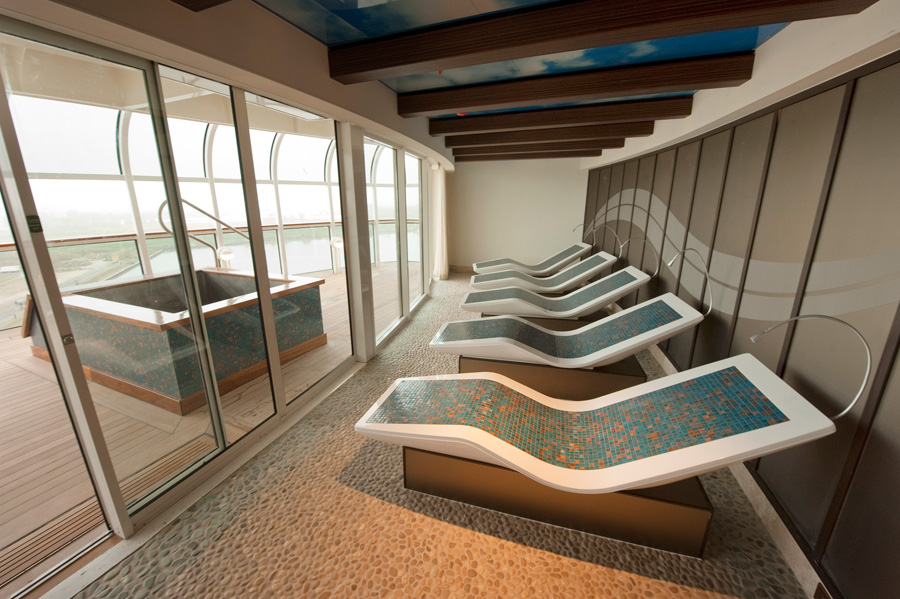 On designated ships, Disney features fully staffed spas with a variety of treatments and services on offer. Start with the Disney Magic, Dream or Fantasy to learn about available spa services.
Here is a list of what to expect on the various ships.
*Please note that not all cruise ship spas accept Spafinder Gift Cards. Please check with the spa to be sure gift cards can be used for spa services.
The Senses Spa includes rainforest-themed aromatherapy steam rooms, a dry sauna fashioned after a Roman bath, and private luxury villas with the following therapeutic and beautifying personal care services for both men and women:
Couple's Choice
130 minutes
The Couple's Choice delivers 130 minutes of comfort and pleasure—including a 75-minute spa treatment of your choice. Select a treatment from a range of options, including:
Elemis Aroma Stone Therapy
Elemis Cellutox Aroma Spa Ocean Wrap
Elemis Musclease Aroma Spa Ocean Wrap
Exotic Lime & Ginger Salt Glow with half-body massage
Exotic Frangipani Body Nourish Wrap with half-body massage
Exotic Coconut Rub & Milk Ritual Wrap with half-body massage.
This sensual package may be booked online or onboard at the Senses Spa and Salon.
Romantic Hideaway
120 minutes
The Romantic Hideaway package offers irresistible relaxation and rejuvenation options. Select one of the following:
La Thérapie HydraLift Facial
Elemis Pro-Collagen Marine Facial
Elemis Deep Tissue Muscle Massage
Swedish massage
Elemis Exotic Lime & Ginger Salt Glow with half-body massage.
Please note that this enchanting package may only be booked onboard at the Senses Spa & Salon.
Ultimate Indulgence
150 minutes
The Ultimate Indulgence package combines our most sumptuous pleasures—a revolutionary Elemis Pro-Collagen Marine Facial and our soothing Elemis Deep Tissue Muscle Massage—in an unforgettable retreat into ecstasy for the body and spirit. Couples seeking quiet time together will find this package ideal. The facial miraculously rejuvenates and reduces signs of aging, while the massage brings the body into balance. Please note that this heavenly package may only be booked onboard at the Senses Spa and Salon.
Frangipani Scalp Treatment
A balanced formula created with botanical extracts—including those from the Tahitian frangipani flower—is gently massaged into your scalp, leaving it soothed and conditioned.
Women's Blow Dry
Add flair to your existing hairstyle or a completely new one with a professional blow dry.
Women's Shampoo, Cut and Style
Our highly trained stylists will work with you to create the perfect haircut to complement your personal style. Look fresh and fantastic in your vacation photographs!
Women's Up Do
When a formal onboard occasion calls for an elegant up do, our hairdressers can help. Make an appointment to create a look that will turn heads.
Men's Cut
Whether it's a classic clean cut or the latest hair trend, our salon specialists can create the look you want with a wide range of men's hairstyles in their repertoire.
Fire and Ice Manicure
45 minutes
Your nails are one of your most important accessories, so keep them beautiful with this invigorating manicure that will warm your spirit and chill your stress. Thanks to a combination of therapeutic cooling gels and massage using a heated stone, your skin will be smoother and your nails will be nourished and polished to perfection.
Fire and Ice Pedicure
55 minutes
This super rejuvenating pedicure will set your senses aglow and melt your tension away. Savor the sublime feeling as your feet and lower legs are soothed with our cooling gels and then warmed with a heated stone massage. This combination of hot and cold—plus aroma-therapeutic ingredients and polish application—promote healthy-looking skin and nails.
Dysport® Targeted Wrinkle Softener
Refresh your upper face with a modern technique that temporarily relaxes facial muscles, preventing them from causing lines and wrinkles. Results are visible within days and last 3 to 4 months and can help with the following frustrations:
Frown Lines – softens wrinkles between the eyebrows
Forehead Lines – smooths horizontal forehead lines
Crow's feet – smooths the area at the corner of the eye
Restylane® Facial Dermal Filler
Restore youthful contours on your lower face and lips by replacing lost volume and fullness. Results are instant and last 6 months and can help with the following common trouble spots:
Smile lines – smooths the lines that run from the corners of the nose to the corners of the mouth
Marionette Lines – softens the lines that run from the corners of the mouth to the chin
Lip lines – softens the lines that run along the edges of lips
Lip thinness – adds volume to uneven or small lips for a fuller pout
Thermage® Skin Tightening
Firm up and contour your skin in just one session. This premier, noninvasive therapy uses radiofrequency to improve the appearance of sagging or loose skin on the face and body, and can help:
Smooth and tighten face, neck and jawline
Smooth and tighten wrinkled, sagging skin on the stomach
CoolSculpting® Fat Reduction
Reduce fat and sculpt your body with a single treatment. This noninvasive body contouring treatment uses controlled cooling technology in order to:
Eliminate stubborn fat in the upper and lower stomach
Reduce unwanted fat around the waistline (also known as love handles)
Lose unwanted fat from the inner and outer thighs
Diminish or eliminate the double chin