Spa Cruising: Royal Caribbean
---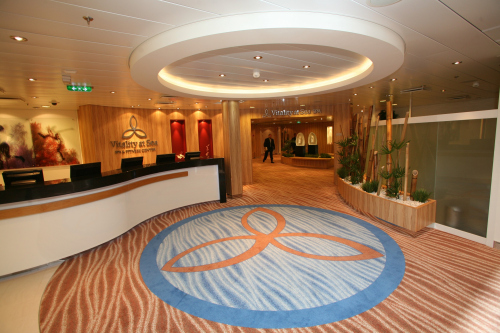 The Royal Caribbean VitalitySM Spa experience features a robust lineup of signature treatments, massages, medi-spa services and salon to enhance and energize your cruising experience.
*Please note that not all cruise ship spas accept Spafinder Gift Cards. Please check with the spa to be sure gift cards can be used for spa services.
Acupuncture
Discover the wonders of an ancient treatment to reduce the effects of stress, relieve chronic pain, reduce migraine severity, assist with weight loss, and more health benefits.
Body wraps and scrubs
Rejuvenate from head to toe with Elemis Spa detoxifying wraps and exfoliating body masks, using natural ingredients that cleanse and stimulate your body systems.
Botox, Restylane and more
Convenient, FDA-approved medi-spa treatments performed by trained physicians, including Botox, Dysport, Perlane and Restylane to smooth out fine lines and wrinkles.
Facial treatments
Enjoy a brighter complexion and restore youthfulness with 24-karat gold facials, collagen booster serums, signature La Therapie HydraLift Facial, and an array of other treatments for all skin types.
Hair services
Look your best with the latest cuts, colors, and highlights from our experienced stylists, plus hairstyles to complement formal evening looks.
Just For Teens
Our YSpa menu features services made just for teens, including Acne Attack facial, Beach Babe deep conditioning hair treatment, Sole Mate pedicure and more. (Note: Spa services vary by ship.)
Massages
Elemis Aroma Stone Therapy, deep tissue massages and reflexology are just a few treatments offered to relieve muscle tension and help rebalance the body's energy.
Nail services
Spoil your hands and feet with paraffin treatments, an Elemis Exotic Sole warming foot pedicure, or a variety of other innovative and traditional nail indulgences.
Relaxation rituals
Experience the Thermal Suite, with heated beds, showers, and a collection of exotic steam vapors throughout. Or try Rasul, an Arabian cleansing ritual of chakra muds and aromatherapy.
SMiLE Teeth Whitening
Brighten your smile and light up your whole face with safe and painless advanced tooth whitening.
Spa for men
Men can enjoy the benefits of a deep cleansing exfoliation, an anti-aging shave or an Elemis Skin facial – treatments to accelerate skin repair and protect from everyday damage.