Let the Spa Research begin! (Guess what…it already has.)
---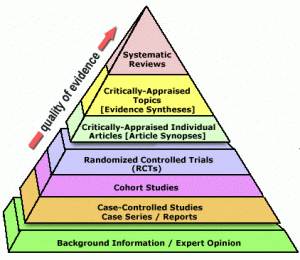 Let the Spa Research begin!  (Guess what…it already has.)
When it comes to Evidenced Based Medicine (EBM) research studies that support many spa and wellness modalities (such as massage, exercise, meditation, yoga, Reiki, and the like) we need not wait to create them – they already exist.
In my previous blog post I wrote about the two Global Spa Summit (GSS) initiatives I am so excited about this year.  The one that got the most response in terms of comments was the Evidenced Based Medicine (EBM) Portal for Spa and Wellness Modalities.  (The other one, White Paper: The Future of Medical and Wellness Tourism is probably too new of a topic for many people to comment upon.)  Let me share with you what people said in response to the EBM blog post – see if you can spot the common thread:
"I welcome the call for evidence-based research in the spa industry."
"I am so pleased to learn that there will now be major focus on getting data and facts on the actual effects and benefits of spa-ing."
"Would be lovely to have an evidence based study on the important effects of spa going."
"Let the research begin!"
That last line is the most illustrative of all.  Many of us believe that our industry needs to start doing research to prove its benefits.  Well, the good news is, there is already a lot of research out there.  This is something Dr. Ken Pelletier made abundantly clear at the 2010 Global Spa Summit in Istanbul.  We do not need to wait for research to happen.  What we do need to do for starters is to find the research that already exists and broadcast it.
Thankfully doing that is a lot easier, quicker and less expensive than embarking on new research studies ourselves (not that we shouldn't in time encourage that as well).  The Internet is making databases around the world more accessible.
To be clear…there are hurdles to overcome.  Finding all the relevant databases globally is a challenge.  Navigating some of those databases is daunting.  Not all of the databases can be accessed for free.  Some of the research studies are difficult to read, etc.  Nevertheless, there is research out there and aggregating and curating it into a simple straightforward format that will be available to all for free is the goal.
I am learning that some spa and wellness modalities have more published research than others.  A few have almost none.  In addition, I anticipate that we as an industry are not likely to be happy with all the research results.  Some of it on the other hand is a pleasant surprise.  However, the right thing to do is to proceed ahead, encourage transparency and learn from what has and hasn't already been done.  Isn't that the point really?  It's the way forward for our industry that seeks to help people improve their health and well-being.
Dr. Daniel Friedland, who I met at a Medical Tourism conference in LA a couple of years ago, is an expert in the arena of Evidence Based Medicine.  In fact he teaches hundreds of classes a year to medical doctors showing them how to use the various research databases available.  He is now one of the medical doctors working with the GSS to help us put together this portal.  For those who want to learn more and get a bit more up-to-speed on Evidence Based Medicine, here are two links from Dr. Daniel Friedland's website, www.supersmarthealth.com that you might enjoy exploring.
Here is an overview Evidence Based Medicine Resource Center
Here is a list of many of the Evidence Based Medicine Databases
This collaborative project is open to anyone who wants to contribute ideas, studies, or resources (that includes money).  The more we have, the more we can do.  There is more information here.
And finally, guess what I am finding to be my primary role as the shepherd of this project?  Making sure that all of these very smart folks with their brilliant ideas contribute to an end result that will be simple, simple, simple.  Trust me, that's my greatest challenge.
My twitter address: @susieellis