A spa that looks like the Garden of Eden (mine anyway)
---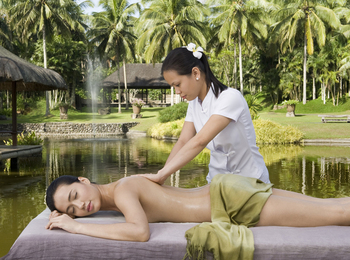 450 people working every day for three years: That is what it took to create the extraordinary place called The Farm at San Benito, along with the resolve of a man, Eckard Rempke, who was stubbornly committed to his vision of creating a place of healing unlike any other in the world.
When I envision the Garden of Eden, this is the picture in my mind. Lush vegetation, beautifully manicured landscape, meandering walkways with surprises at numerous turns – you get the idea.
There was an Ayurveda center here, a Bali lounge there, an orchid atrium, fountains, flower gardens, vegetable gardens, birds chirping, peacocks strutting, small lakes, pools, water features – and at night, walkways and gathering areas lit by candles.
This kind of masterpiece could only be created in an area where labor costs allow such an undertaking. Here in the Philippines, that is the case. The only other place I have seen a similar setting is at Begawan Giri in Bali.
And that's just for starters.