Spa Trend Analysis 2011: Spa, in a New York Minute
---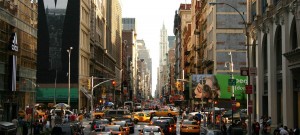 Our 9th spa trend prediction for 2011 was about adapting to people's busy schedules via express spa treatments. While we mentioned quick services, no appointments necessary, several services at once, expanded hours, mobile, etc. there  have been some new developments that we didn't forsee just 12 months ago.  New to the scene are "Drybars" (U.S.) where its all about getting a blow dry, "Simply Glowing" (U.S.) for quickie make-up, wax only salons or "Zoom Groom" (UK).  I am going to give us an A- grade for this because we somewhat underestimated the strength of the trend.  On the other hand, it does show just how right we were!
"In a New York Minute" means in an instant, referencing how things get done faster in hectic New York City. It's also the name of a whole suite of mini (15- to 30-minute) spa treatments (designed to be performed simultaneously by multiple therapists) at the new Auriga Spa at The Setai Fifth Avenue (NYC). In our stressed-out, expected-to-be-working and on-the-go, 24/7 world, we've all morphed into frenzied New Yorkers. And the spa industry is responding, helping people spa anytime and far more efficiently, from open early, open late, and all-night spas to "express," "sampler" and simultaneous treatments to new, more efficient treatment technology and facility design.
Traditionally spas have kept banker's hours, closing primly at 5-6 p.m. Just a couple years ago, articles spotlighted "late-night" spas that stayed open until 9 p.m.! But suddenly a 9 p.m. closing time is the new spa norm, addressing people's real-world schedules, whether they're seeking stress-relief in preparation for sleep, or a beauty boost for late-night partying. The Massage Envy and Bliss franchises are typical: open until 10 p.m., 7 days a week. "Open late" now means midnight, 2 a.m., or all night. A few examples: In New York, Homme Spa is open until 3 a.m. weeknights, Osaka Health Spa until 2 a.m., and Juvenex Spa around the clock. In London, Lost in Beauty's "after-hours beauty club" performs everything from threading to massage as late as its customers want, while Chelsea's trendy Diva Beach Club serves up mani/pedis between 9-10 p.m. and massages with cocktails from 9 p.m. to 2 a.m. once a week. Seoul has all-night spa-ing at Hair Party 24 Hours; the Chinese day spa chain Dragonfly does massage until 2 a.m.; and Tokyo has Spa Qua for 22 hour-a-day hot springs soaking. Spa-goers report that not only is the night-owl spa scene calmer, but that many love the cocktail-hour "free drinks" atmosphere. But the trend is also towards earlier. For instance, most major Las Vegas spas (i.e., Canyon Ranch SpaClub, Qua Baths at Caesars Palace or Hard Rock's Rock Spa) open at 5:30 or 6 a.m., while the Spa at Mandarin Oriental, London, opens at 7 a.m. The variety of times attracts both business people jumpstarting their day and revelers calling it a night.
The trend towards "express," "sampler" or "mini-sized" treatments will continue to rise in 2011, gratifying time- and budget-crunched consumers. Not just 30-minute massages, but even 15-minute massage will increase, as consumers realize the critical relaxation response can be elicited pretty quickly. More spas like Spa Helani at The Westin Ka'anapali Ocean Resort Villas (Hawaii) or Dorit Baxter (New York) will stage their massage menus in 25-50-80 minute increments. We'll see more quickie treatments like Repechage's (locations from Poland to Ghana) "Spa Express Facial," where clients grab 30-minute (or less) beauty treatments sitting fully dressed and upright at the "bar," right next to each other. There will be more à la carte sampler menus like The Mirage Las Vegas' "Small Indulgences" 25-minute treatments, each aimed at a different body part. The explosion of airport spas worldwide plays into the "express" trend neatly, as does the decline of elaborate rituals (foot bathing, etc.) at many spas, to get right to the heart of the matter: the therapeutic treatment.
More treatments will be administered simultaneously by multiple therapists, apparent at Swissotel, the Stamford (Singapore's) "Multi-Tasking Spa Experiences," or The Delano, Mondrian and Shore Club spas (Florida, U.S.), where massage and mani/pedis are performed poolside.
The quest for efficiencies is also reflected in new directions in facility design and
treatment technologies. Global spa designers report the locker room is on the decline, being replaced by the Spa Suite, where guests change and shower right in treatment rooms. It's "sweet" for the spa (eliminating non revenue-generating spaces) and wonderful for spa-goers, who will have more private, personalized experiences. (Examples of the locker-less: All new Iridium Spas at global St. Regis properties, i.e., the St. Regis Florence, opening in 2011, or The Waterfalls Spa at Greek Peak Mountain Resort (New York, U.S.). And more spas (including the new Iridium brand) are eliminating or modifying formal reception/front desk areas and time-consuming check-ins.
Spas are also watching their budgets, and many hotel-resort spas are scaling back in size and featuring more compact hydro-wet areas. Water treatments are morphing into semi-private experiences thoughtfully sequenced for maximum therapeutic value. And we'll see more self-service wet areas, where guests grab product kits and perform DIY scrubs, masks, etc., on their "spa journeys." Necessity is the mother of invention: Rather than spas installing big, expensive contrast pools, watch out for "wind chill experiences" and "chilled ceramic loungers," where bathers can simulate cold plunges after thermal experiences. Hot Bamboo Massage is gaining on Hot Stone Massage because the bamboo is so much easier to heat and work with, while still providing the same incredible deep tissue penetration. (It's a featured element in Hilton's new Eforea spas, rolling out to 80 locations worldwide over the next couple years.) The ultimate, futuristic "efficiency" design concept: Planet Beach Contempo Spas' 100% therapist-free "automat" spas, where push-button machine-pods perform massages, facials and guided meditation.
Finally, the quest for stress-free efficiencies will mean more spa-seekers embracing 24/7 online appointment booking and mobile apps that let them locate and book spas on the fly.
Spa anytime, anywhere, for as little or as long as you want, at the price-point you can afford…it's all about letting spa consumers have it their way.
In my upcoming post on the 2012 Spa Trends, we will be visiting the rise of those quick, single-service establishments again.  Stay tuned. 
**
If you wish to be put on a list that automatically sends my blog posts to your email, just click here. Thanks!