Spas: Pay Attention to the New Book "The End of Overeating"
---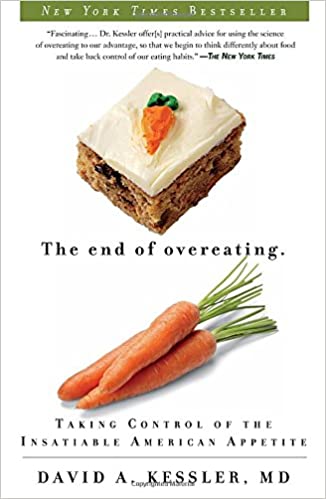 If you could see the book shelf in my office (and a list of all the books I have read in the past three decades) you might be surprised to see how many of those books have been about weight loss. Not only has this topic been part of my studies and lifelong career, (I wrote a research paper comparing children's weight with IQ my first year in college), but I have also had my own experience with overeating issues. For several years of my life I was an "exercise bulimic" who ran marathons to support my habit of overeating which was the true goal of all that training. I mention this because it will help you put the following statement in context:
"I just finished what I think is the most important book on weight loss that I have ever read!"
Dr. David A. Kessler's new book, The End of Overeating is currently #5 on the New York Times best seller list. (My prediction is that it will remain on that list for a good long time – at least I hope so!)
This book really resonated with me. I can tell by all the underlining I did while reading it. Every page. Multiple times. Crazy! That's because I kept turning the pages and saying…wow, that's incredible. Wow…I didn't know that. Wow…this is hysterical. Wow, this just makes me want to cry.
I am going to have to devote two blog posts to this book to share with you some of the pearls of wisdom I found within. It is my fervent hope that I can convince those who are interested in the topic of weight loss (and that is most of us) to buy the book or download it on Kindle ($9.99). Not only do I think that it has an important personal message for all of us, but I think the spa industry in particular can be seen in an entirely new light as a result. After all, spas – especially destination spas – are one of the few places left on the planet where solutions to the dilemma Dr. Kessler outlines can be achieved.
Here are a few tidbits to give you a sense of where this is going.
"hyperpalatable" (ideal combinations of sugar, fat and salt) foods are actually "altering the biological circuitry of our brains"
"where traditional cuisine is meant to satisfy, American industrial food is meant to stimulate."
"Intentionally or not, industry activities take advantage of the biology of the brain, selling us products that alter our bodies."
"the excitement in the brain generated by these multi-modal stimuli increases our desire for further stimulation."
"the goal is to get you hooked" (craveability)
And in Dr. Kessler's words:
"millions of people …don't have any of the eating disorders we've learned to recognize and treat, but food is never far from their minds. And once they begin eating, they can't seem to stop. Long after they've ceased to feel hungry, they're still eating. No one has ever explained what's happening to them and how they can control their eating. That's my goal in this book."
"…the struggle to resist certain foods isn't unique to people who are overweight or obese–people who maintain a healthy weight also face this challenge. How can something as simple as a chocolate chip cookie hold such power over so many of us? I had to go inside the food industry and understand the workings of our brains to comprehend the essence of this struggle. The food industry designs foods to be powerful stimuli. And what is served in many restaurants is nothing more than FAT on FAT on FAT loaded with sugar and salt."
"I wanted the answer to what would appear to be a simple question: why is it so difficult to control what and how much we eat? What I learned was that our brain circuits become rewired by certain foods, so that we end up wanting and eating more than we need. Naturally, my next question became: how can we alter our response to food? In more technical language, how can we make the needed "critical perceptual shift" that fundamentally changes the way we view food?"