Spas, Salons, Hot Pink Nails and a NASCAR Race
---
Normally I would have no interest in NASCAR racing – however I couldn't help but get involved this weekend. Peter decided to say "yes" to a crazy idea to become the primary sponsor for a car driven by NASCAR driver Danny O'Quinn, Jr. in the Talladega (Alabama) Race this weekend. He thought it might be fun to have a hot pink and purple NASCAR in the race with the words "Salon Wish" to promote our newest gift certificate division – Salon Wish – especially right before Mother's Day.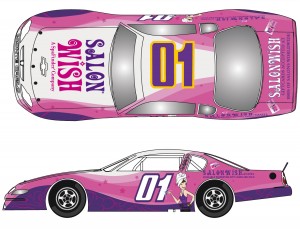 When it comes to promotional ideas, I have learned to trust Peter. He has an amazing pulse on what will get people's attention. (In case you aren't familiar with his out-of-the-box thinking, you can have some fun listening to his famous bouncing ball commercials that helped him sell a lot of cars in the 1980's when he was a car dealer.
Or you can check out the first ever Super Bowl commercial by an Internet company – Autobytel – which Peter founded in the late 90's. It created quite a stir! These live on thanks to YouTube and the Internet. What people may not know is that the buzzzzzz created by these somewhat wacky ideas was more valuable than the actual promotions. After all – they are still being talked about today – and the bouncing ball even made it into a movie!
The Salon Wish NASCAR may be what I call a Pete-RePeat. The link below shows it has already caused a flurry of interest (most clicks by far). We had so many media interview requests this weekend that we had to fly someone from our offices here in New York down to Talledega to handle all the interest. It sure got the spa/salon Mother's Day message out!
In case you are interested in more info (including learning that NASCAR is the #1 spectator sport in the U.S. with more female fans than any other sport), here is the press release that accompanied the event. I have to also give credit to Betsy Isroelite who not only wrote this clever release but also – along with her husband – created the famous bouncing ball jingle more than 25 years ago and the Super Bowl commercial. She is quite a genius and the only person I know who really "gets" Peter's promotional mind.
New York, NY – April 22, 2009 – People once thought NASCAR was only a male passion, but think again. That myth continued to be shattered when Salon Wish, the popular gift card from SpaFinder, announced today that it will be the primary sponsor of the '01' car driven by NASCAR star Danny O'Quinn, Jr. in the upcoming Aaron's 312 NASCAR Nationwide Series Race at Talladega Super Speedway on April 25th.

At 6'5", O'Quinn is used to standing out in a crowd and he will stand out even more at the helm of the Chevy Impala trimmed in Salon Wish's signature hot pink and purple colors and the 'Salon Genie'. Named NASCAR Busch Series Rookie of the Year in 2006, this season O'Quinn is driving for JD Motorsports.

Many wouldn't think the market for salons, hair and nails is one and the same as the NASCAR audience, but NASCAR data shows that more women attend races and watch on TV than any other sport. With 75 million fans, NASCAR is America's #1 spectator sport, holding 17 of the top 20 most attended sports events in the U.S.

According to SpaFinder CEO Pete Ellis, "We jumped at the chance to sponsor O'Quinn and be part of NASCAR. Women are almost half of the NASCAR audience – why not have a car that appeals to female fans and reminds male viewers that Salon Wish gift cards are the perfect gift for Mother's Day, birthdays, anniversaries and more."

Salon Wish gift certificates and gift cards can be used at thousands of salons across North America for the salon service the recipient chooses. They can be purchased at SalonWish.com and at retailers including major drug and grocery chains.

Media Contact: Betsy Isroelit 213.300.0108 betsy@rbicom.com
* NASCAR Nationwide Series Race airs on ABC, Saturday, April 25 at 2:30 p.m. ET
**
If you wish to be put on a list that automatically sends my blog posts to your email, just let dulcy.gregory@spafinder.com know and she will add you to that list. Thanks so much!