Spa Trends 2012 Revisited: Spas Go for the "Wow" (Grade A- because we could have seen more creative "wows.")
---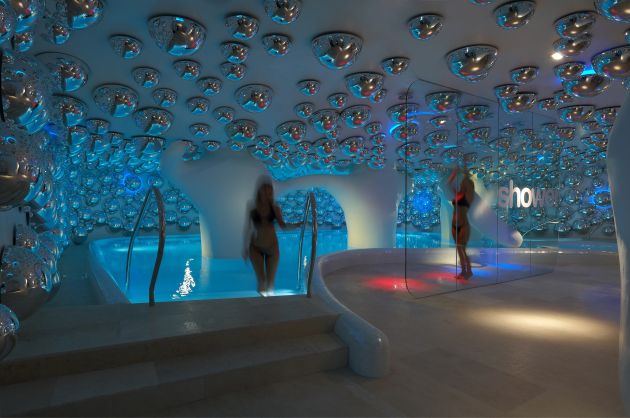 For many years, people thought that one hotel or day spa sure seems a whole lot like any other: the same beige, Zen look, the same menu of treatments and homogenized experiences. But now spas are really piling on the "wow" factors, serving up both big and small wows (and true surprises) in a quest for individuation.
"Wows" and efforts towards greater differentiation are rising as a countertrend to the strong spa branding/franchising trend we identified for 2011. And given the fact that, if once upon a time, conformity helped the budding spa-goer know what to expect when stepping into the spa realm, now spa-goers are far more seasoned, and they crave truly new "aha" experiences.
The big new wows include eye-popping design and futuristic, blow-your-mind amenities. But, given this economy, many of the wows are smaller, less expensive and very smart. Most spas are attempting to engage and delight spa-goers without a ton of investment by adding unique little touches, a few strategic "wow" amenities and more unique treatments/experiences. So, with the much-discussed economic realities of our 99 percent and 1 percent world, there are "wows" for most any budget. If spas over the last couple of decades had become hushed shrines of deadly seriousness, more spas are now lightening it up — and that trend includes whole new spa models like "amusement park spas" that are fun and social, where laughter is becoming one of the best medicines they serve up.
Big wows: One big wow is the jaw-dropping design heating up at resort spas, often in "wow," exotic global locations…
Take a look at the bold design elements at the Atomic Spa Suisse, or "bubble spa," in the Boscolo Milano hotel (Italy), where wild, LED-illuminated mirror bubbles rise to the top of the interiors of the treatment rooms, sauna and baths, like a frothing glass of champagne. This hyper-unique design scheme certainly defies "spa minimalism."
At the Coqoon Spa at Indigo Pearl in Phuket (Thailand), the design literally thrusts spa-goers into nature. At its center is "The Nest," a luxurious wicker tree house hanging from the branches of an ancient banyan tree, and the individual spa "coqoons" have private pools, rain showers, saunas, etc. nestled within the rainforest.
St. Regis Bangkok's (Thailand) high-design Elemis Spa provides a little mid-air pre-pampering, with its floating, nest-like relaxation pods.
Ritz-Carlton Hong Kong's spa by ESPA is the world's highest spa (on the hotel's 116th floor), where incredible design elements include an infinity pool that makes you feel as if you're in an airplane, peering down on the city — and a stunning indoor pool with a ceiling-mounted LED screen.
Sparkling Hill Resort & Spa (Canada) touts itself as the first building in the world with "crystal architecture," and is comprised of 3.5 million Swarovski crystals.
Bota Bota Spa-Sur-L'Eau (in the old port of Montreal) is a floating, five-deck modern spa constructed on an old barge, featuring a cool water circuit and cocktail lounge.
Other big wows: Spa resorts bringing in celebrities, for the "spa-parazzi factor": Six Senses brought in Richard Branson, and Arizona's Miraval Resort & Spa (U.S.) has a partnership with Dr. Andrew Weil.
And more spas are unveiling highly thematic design/experiences, like the Banyan Tree Spa at the Marina Bay Sands Hotel's (Singapore) new 4,000-square-foot tropical garden spa, where everything from the art on the walls to the botanical treatments revolve around the brand's "Tree of Life" concept. Or Germany's Schloss Elmau, which uniquely blends spa and high culture: Guests experience a full schedule of classical music and jazz concerts in the spa resort's very own concert hall, hear from great artists and authors and read from the wonderful books that fill the spa lounges.
"Amusement park" spas: A whole new concept is taking shape in spa-land, and we're calling it the rise of the "amusement park" spa, popping up across Asia, Europe and North America. These dynamic, fun, adult playgrounds are full of sensory rides, typically offering larger-than-life all-day water and spa experiences for the entire family. (See trend 9: "Spa: It's a Family Affair…") This new species of spa speaks to the facts that not only do many more people want to have a whole lot more fun when spa-ing, but that the affordable daycation in this economy has massive appeal. These new spa-parks often embrace a Disney-internationalism "it's a small world" vibe, piling on dozens of experiences like "Icelandic geyser baths," "Caribbean lagoons" and "Amazon waterfalls."
In North America, there's Spa Castle (New York City born, but just expanded to two more U.S. locations). Five stories high and 100,000 square feet, spa-goers buy tickets like a theme park, there's a food court and a vast number of internationally themed sauna, steam bath and swimming/hydro experiences.
Across Canada, the Nordic-based Scandinave day spa resorts, which offer fun circuits of saunas, steam rooms, waterfalls, plunges, etc., are a big name gaining popularity.
Yunessun is a hot springs spa resort and water amusement park located in a scenic part of Japan.
Kalev Spa Water Park in Estonia was developed by top sportsmen and includes numerous pools and water attractions like "tube slides" and "bubble baths," along with a big menu of theme saunas.
Many of these spa-parks are explicitly geared towards kids or accommodating parents and kids: Sealala Spa & Water Park in South Korea is kid-focused, while GyulaCastle Spa in Hungary (within Almasy Castle's park) has a Wellness and Sauna Centre for adults and a huge aqua playground for the kids.
You can feel the "small world" spin at Center Parcs (four locations in the UK), which features "around-the-world-themed" spa rooms inspired by the Far East, India, Greece and Ancient Rome and its "subtropical swimming paradise." You can really feel it at Schwaben Quellen (Stuttgart, Germany), with its dozens of global spa- and water-themed experiences like "Himalayan salt rooms," "Canadian log cabin sauna" and "Temple of the Maya" lounging room.
Smaller "wows" (that still pack a punch): Many of the "wows" are smaller, less-pricey touches, with spas innovating ways to capture people's (and the media's attention) without having to be on the cover of Architectural Digest. Think of the "wow" when Bliss spas opened, with the brand's brownie buffet in relaxations areas…the smaller wows are about giving spa-goers that "something more" they didn't expect, even if it's serving them lunch, a glass of wine or a tea ritual, or warming their bathrobe. It's about engaging them.
It's happening with individual wow amenities: Consider the JW Marriott Grand Rapids (U.S.), which only had one massage room, so recently brought in an innovative mobile spa cart system, "Suite Spa®," that brings massages, facials, wraps, pedicures and even hot stone therapies directly into guest rooms. That "SpaSuite" cart is now rapidly franchising to more hotel properties.
Destination spa Mii amo (U.S.) now features a "WaveMotion" massage table — that rotates, rocks and tilts, so people feel like they're floating.
The amazing new ESPA Life spa at London's Corinthia Hotel (UK) is a major "big" wow — and an example of the many individual, smaller wows within is the stunning all-glass amphitheater sauna.
The new spa brands are, of course, not devoid of wows: Hilton's global spa brand eforea is emphasizing Vichy showers.
With thousands of yoga studios around the world, the Salt Yoga Studio at the Mantra Samui Boutique Resort (Thailand) stands out for its wall of Himalayan Salt (See 2011 trend: "Salt Rooms and Salt Caves"), so people can get their salt therapy while they do their yoga.
The unique treatment wows, some with a ramped-up focus on sheer fun and whimsy, are too endless to detail. Expect more creative offerings on spa menus like "Rockupuncture" (Gwinganna Lifestyle Retreat, Australia), which combines acupuncture with a hot rock treatment. And more engaging guest engagement "wows" like Los Angeles's Hotel Palomar's (U.S.) "Walk this Way" program, which rewards guests who walk 10,000 steps a day (they use pedometers) with a 50 percent discount on their next stay.
Hitting the fun angle squarely: Cosquillearte, a new "tickle spa" in Spain, and more spas worldwide featuring "laughter yoga," whether it's Ecotulum Resort & Spa in Mexico or Peritiwi Resort in Bali.
Look for far more hyper-individuality, and more liberal doses of that je ne sais quoi from spas in years ahead. Given the realities of 72,000-plus spas globally, both brand-new and established spas will continue to push the "wow" envelope to get the world's attention.
Post Script: Looking at this prediction a year later – and having spent a fair amount of time preparing for our Innovation through Imagination Global Spa and Wellness Summit in Aspen, I would say that I was somewhat disappointed that we didn't see more creative and innovative wow's. It might be because spas are still often thinking about cutting expenses rather than investing in things that get people saying, "wow" I have to say it is more likely that we aren't spending enough time focusing on this because as we learned in this trend little "wows" count also.
I noticed that a tickle massage and a face slapping facial got the media's attention and just yesterday I was introduced to a golf ball massage by Natura Bisse that they give on the 18th hole of the golf course right on the fairway. I do think there is much more we can do however.