Spots be Gone: Five Ways to Fade Sun Spots & Freckles
---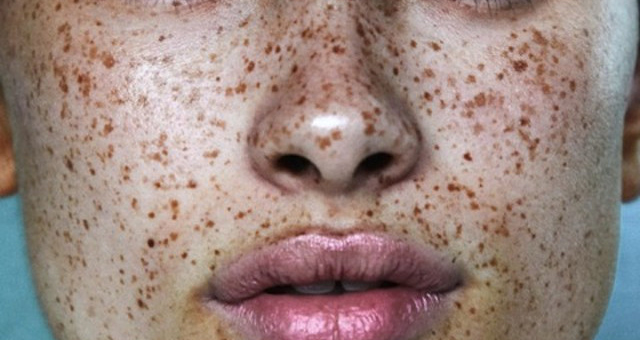 Are you seeing spots when you look into the mirror? Sun spots and freckles are a common complaint from clients. You may assume I only hear about spots in the summer months because people are in the sun more often. However, spots can develop year-round. They can also be hereditary or hormone related.
There are few ingredients I suggest and simple steps to follow to treat spots & freckles and prevent future damage:
1.Powerful antioxidants like vitamin C help protect the skin against UV rays. C boosts the effectiveness of sunscreen, so I urge you to apply a C serum daily underneath your sunscreen moisturizer.
2.Two of my favorite superfoods – turmeric and blueberry – contain fantastic brightening powers:
Turmeric is one of the most highly-prized spices in the world. My favorite cosmetic attribute of turmeric is its brightening powers. The brightening effect is caused by curcumin, which is the primary pharmacological agent in turmeric. Curcumin works to block the activation of proteins that increase melanin, which makes it an amazing complexion brightener.
When used topically, blueberries fade spots and discoloration; they also counteract the appearance of aging and help reduce breakouts & acne. Blueberries also reduce the intensity of blemished skin brought about by UV exposure.
3. I also recommend resurfacing the skin on a consistent basis of four-five times per week at night. Resurfacing is a way to exfoliate the skin that gently dissolves dead skin cells, some of which are likely to be discolored on the skin's surface.
4. Rain or shine, protect skin on a daily basis using a full-spectrum sunscreen with an SPF of 15 or higher.
5, To avoid skin damage and sun exposure, Sunless tanning is the way to go. Sunless tanning tips:
If you have freckles or hyperpigmentation, I recommend you only use the products from the neck down because sunless tanners will make them darker. Instead, use a mineral bronzer, BB cream or CC cream on your face.
Before applying, prep by exfoliating with a scrub. After exfoliation, apply moisturizer to areas where sunless tanner might pool or collect – elbows, knuckles, knees – to ensure the tanner is absorbed evenly.
Also, don't go into the sun for several hours after putting on bronzing products because they contain chemicals that make skin more sensitive to sun exposure. Instead, apply these products later in the day and sleep in them.