The Story of SpaFinder and NewBeauty Magazine
---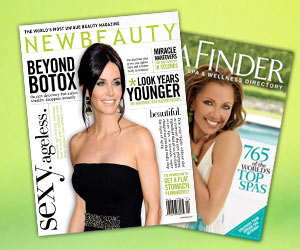 As I was talking with some friends the other day about our upcoming NewBeauty SpaFinder: The Guide to Global Spa, Wellness & Beauty, a thought occurred to me. In the midst of all the excitement and work we've been doing, we hadn't really taken the time to share the story of how the partnership between SpaFinder and NewBeauty came about.
The idea began with a discussion that Peter and I had while taking a morning walk last year. We were talking about the fact that SpaFinder would be celebrating 25 years of business in 2011. We thought revitalizing the design of our annual directory would be a great way to mark this milestone and anniversary. But who could we entrust to uphold our standards and understand our presence as a leader in the spa industry?
NewBeauty was the magazine that came to mind. I thought that the publication had great aesthetic style and an unparalleled approach to covering beauty content–much like SpaFinder does with spa content. They touch upon everything beauty related, from high performance-products to innovative procedures; NewBeauty truly educates the audience of beauty enthusiasts.
Peter reminded me that he knew Adam Sandow, the founder and owner of NewBeauty's parent company Sandow Media. After our initial meeting with the Sandow team took place–as they say–the rest is history. Things evolved quite naturally; both parties realized that the synergies between the two publications make for a win/win. It seemed only logical to bring together our brand as the spa authority with NewBeauty's brand as the beauty authority.
Below I've outlined the results of our meetings and what you all have to look forward to.
Each issue of NewBeauty magazine will have a SpaFinder section (think magazine within a magazine) that includes beautiful spa photography and spa editorial. I am working closely with their editorial team on content to ensure that the spa coverage is on the cutting-edge. This section will be an ideal place for spas and spa products to advertise. The first issue will debut in the 2010 Fall/Winter edition of NewBeauty.
The annual NewBeauty SpaFinder: The Guide to Global Spa, Wellness & Beauty will have access to all of NewBeauty's distribution outlets–including newsstands, spas, private airports and select retailers–for its launch in November (around the same time of year that we had always produced our directory). The Guide will be debuting at ISPA and will be available for the holidays when people become especially enthused about browsing beautiful photos of spas and planning spa vacations.
My desk is piled high with wonderful spa concepts that I'm working with the NewBeauty editorial team on, and my entire month of August is pretty much blocked out to focus on spa coverage for both the annual Guide as well as the SpaFinder section in NewBeauty. We incorporated a redesign to the property profiles, and the editorial coverage spans an array of content.
A few of the categories we're exploring are: Nutrition, Health and Wellness; Beauty Around the World (including indigenous treatments); Energy Treatments; Peaceful Settings at Home; Fitness; Spa Trends; and, of course, Products. It's a work in progress, and updates are made daily.
I hope this letter helps explain the SpaFinder/NewBeauty relationship and why I think that this is so exciting for consumers and the entire spa and wellness industry. Please don't hesitate to get in touch if you have any questions or even suggestions of what spa editorial you might like to see in future issues.
P.S. Peter just proofed this letter for me and suggested I mention that the deadline for spas to be listed in the annual directory/guide has just passed. If you are still interested though, feel free to call him directly at 212-716-1210 or email pete@spafinder.com asap. Did I mention that he is the sales person of our duo?
My twitter address: @susieellis