Cool sculpt, Thermismooth and Ultherapy- noninvasive ways to reshape
---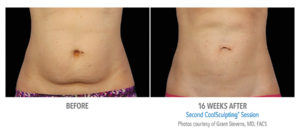 We soulcycle, crossfit, kickbox, yoga, HITT train and trouble spots won't budge so can you Cool-Sculpt, Thermismooth and Ultherapy ? Bye bye bra bulge, saddle bags, tummy pooch and double chins!
So what are realistic expectations? What can you achieve? What do they entail? Are we talking about a lunch time procedure or are you going to need to take a day off? Are they an alternative to surgery?
Here's the skinny:
Coolsculpting
Downtime: None.
Claim to fame: Kills fat cells
Single treatment duration: 35-60 minutes depending on the area
Retreatment: in as little as 30 days if desired
Results: 90 days with notable changes in the first 30
Developed by two Harvard physicians more than 10 years ago, Coolsculpting is the most common body contouring procedure performed today according to the American Society of Dermatologic Surgery. This FDA-cleared treatment uses controlled cooling applied to a specific body area, which kills fat calls.

The dead cells break down and are eliminated from the body over ninety days. Patients can expect a 20% permanent fat reduction from a single treatment. It takes up to ninety days to see results. For patients wanting more than a 20% increase in fat reduction, additional treatments may be done in as little as 30 days, if recommended by the practitioner. A single treatment is 35 minutes and patients are able to relax or read during treatment. After the treatment patients can resume normal activity immediately. CoolSculpting is cleared for use on the abdomen, flanks ("love handles"), double chin, and inner and outer thighs. And, as of January 2017, it is now cleared for arms. Goodbye wiggle and jiggle!
ThermiSmooth
Downtime: 24 hours
Claim to fame: Reduces Cellulite
Single Treatment duration: 60 minutes
Retreatment: Only if desired within x days?
Results: ?
Heat is another natural, effective catalyst for body reshaping. When correctly applied, it stimulates cells to produce new collagen. Thermi technology delivers highly controlled doses of radiofrequency heat to all parts of the body. The ThermiSmooth treatment provides a reduction of cellulite from arms to ankles and is minimally invasive. It's perfect for tightening loose areas without major surgery. The treatment can take up to an hour for the face alone, and local anesthesia is applied to the skin for numbing. Patients may experience some swelling, so it is not recommended to return to work the same day as treatment.
Ultherapy
Downtime: Take 24 hours before returning to work
Claim to fame: Produces collagen to lift and tighten areas specifically facial areas
Single Treatment Duration: 60-90 minutes for face and neck, 30 for chest
Retreatment: Only if desired within x days
Results: Some immediate but 2-3 months will really reflect changes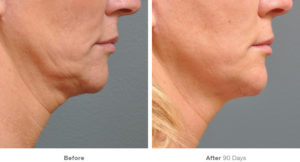 Ultherapy harnesses the power of ultrasound, a technology that has been around for more than 50 years. The device targets tissue deep in the skin's foundational layer with a precise ultrasound energy. This triggers a natural response under the skin that produces new collagen. Ultherapy is FDA-cleared for lifting and tightening the neck, chin and brow, and improving lines and wrinkles on the chest. While there are no incisions, there is some minor discomfort with a full face and neck treatment and a mild sedative may be administered. Patients can apply makeup and return to work the next day. While some results will be visible almost immediately, the real results appear over two-three months as new collagen works to lift and tighten and smooth skin.
If you can pinch a trouble spot, it can be treated. But how do you know which treatment is right for you? The right option for your body will be determined during a consultation with a medical provider. These treatments are non-invasive and are indeed real medical solutions to shape and contour the body. These technologies can be used alone or in combination for maximum results. They are safe for pre- and post-pregnancy, but those hoping to become pregnant should talk with their doctor. Results can change if excess weight gain occurs, including pregnancy.
As a patient, what can you expect from the doctor?
A full review- Patient consultations are usually a full hour and includes a full medical history review, pinpointing the patient's goals and identifying which body shaping treatments are best to achieve them. The Doctor should provide research as well as before and after photos that demonstrate expected results.
A treatment plan. Sometimes one technology complements another or the fat differs in certain areas. One technology may be able to treat it differently. Don't be afraid to ask questions. The doctor is there to help you achieve your goals. Note that these scientific breakthroughs don't replace diet and exercise in an overall fitness plan. What they can do is reshape those troublesome problems areas without invasive surgery or major downtime.
Additional questions to ask:
What happens if I get pregnant?
How will this affect my skin? Will it tighten or stretch? Will I need to do something else to maintain this?
Do I need to take supplements? If so, which?
Do ask questions to achieve the results you're most happy with and make the best decisions.
In summary today's technologies provide incredible options for toning trouble spots and getting bikini ready quickly with no downtime. While surgery is often perceived as a quick fix, depending on the surgery you will need to inquire how long you need to restructure your life to accommodate the aftermath so keep in mind non-invasive is an option.