TED: Smart Ways to Do a Conference
---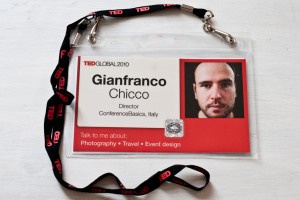 This last post about my experience at the TED conference is to share smart things they do that might help other conferences.  Good timing since our Global Spa Summit (GSS) team and I are in the busy season of preparing last minute details for our upcoming Summit in Bali.  Here are some things that work well at TED:
1.  TED has a clear guiding principle – "Ideas Worth Spreading."  It is part of their logo and you can tell it underlies all their strategy and decision-making.  Global Spa Summit also has a motto that has been guiding us since day one "Joining Together. Shaping the Future."  This helps focus everything.
2.   TED has smart super-large name tags. Not only is it easy to see people's names and where they are from, but on the back of the nametag is an abbreviated version of the entire 4 day agenda!  Well, what can I say, this was just too good of an idea not to emulate exactly for this year's GSS.
3.  TED is dedicated to transparency and openness.  In the early years their 18 minute speeches were only available to attendees, sent to them on DVD a few months after the conference.  Now they put all speeches on their website for free for anyone.  Bingo. Ironically the more they give away in terms of value, the greater the demand has become for their events.
At GSS we too began in a more "closed" way and have since opened up.  The first year we spent $120,000 on the Global Spa Economy Report, distributed it to all attending delegates and subsequently sold it for $1500 to others.  The next year we adopted the TED philosophy and not only made that report available on our website for free to anyone, but have done so with all subsequent research.  We also share all speeches, powerpoints, and notes online for others to enjoy and learn from after the Summit.  I love this – it furthers our mission perfectly.
4.   TED has no dress code.  Anything is fine – jeans included.  This reduces pressure in a good way.  What you are wearing is not important at all…in fact if you are too put together you would probably look out of place!  This may not work for every conference but it's perfect for them.  This year our dress code in Bali is pretty easy – everything is casual.  (Shorts encouraged!)
5.   TED mixes it up when it comes to topics.  Instead of sitting through an entire conference on one topic (Real Estate, Business, Spas, etc.) at TED you learn a little about a lot of things.  We had for example Julie Taymor creater of Lion King and Spiderman talk to us about Creativity, then Dr. Bruce Ayland explained his plan for Polio Eradication, and then we heard from someone who had put together a fantastic virtual online choir.
Our first year's GSS was totally about spas and wellness however a few years ago we began bringing in more speakers from outside of our industry to bring fresh perspective and new ideas.  It has definitely helped ignite creativity!
6.   TED is into healthy food.  Nothing unhealthy was served and I mean NOTHING.   There are large glass front refrigerators stocked with yogurt, drinks, juices, – you can help yourself whenever you want.  All meals and breaks have organic choices.  This year everything was catered by Wolfgang Puck's.  At GSS we try to have a healthy menu, however after seeing how TED does it – we have a long way to go.
7.  TED is growing.  There are now TED books, TED Actives,  TEDED, TED Global that takes place in England in the summers and more TED this and that in the works. A TEDWED online dating service was even suggested!
GSS also continues to grow – however more in terms of the quality of agenda, research and impact instead of additional gatherings at this point.  Their model is worth watching.
8.  TED's "curator" Chris Anderson sets the perfect tone.  He is not a polished MC.  He doesn't pay much attention to what he wears – sometimes his hair is even kind of messed up.  He is simply genuine, heartfelt and present.  No long introductions, questions to speakers are spot-on.
His example has helped me.  I am not a great public speaker.   Although I am not the sole "curator" of GSS, I do have to spend some time on stage with introductions, etc.  I am much more relaxed about all of that now, less worried about what I am wearing and whether or not I will make a mistake.  It's about the content, the speakers, the audience and especially the work we accomplish.  It is not about me at all.  Whew…what a relief.
So you might ask.  Does the GSS do anything that TED could learn from?  Well, my answer to that is a humble yes.
Tables of 6 for lunches and dinners. One thing I know we do well that other conferences (including TED) could adopt:  Switch out those ghastly huge round tables seating  8, 10 or 12 people for lunch and dinner to smaller tables of six where there can be one conversation and everyone can hear.   We require every venue to have 42 inch tables for every lunch and dinner function.  This avoids the awkward situation where you are seated at a huge table and can't talk with anyone other than the person on your left or right.  (Hotels love those large round tables because it is quicker and easier for the waiters.)
Alas, we did learn one thing along the way – no hotel has enough of these smaller tables for six that we insist on so we always have to rent them and bring them in!  (In Bali, I was afraid we might even have to have them made!)   Thankfully…our team finally found some to rent.  This six table seating is really one of the secrets of our success and I don't mind at all if others adopt this idea.
In fact, perhaps like so many of the smart ways TED organizes, it might even qualify as an "Idea Worth Spreading!"
My twitter address: @susieellis