Tokyo Spa: Wowed at Mandarin Oriental
---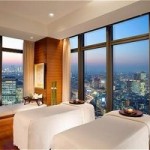 Just returned from a spa trip to Asia.  First stop – Tokyo for a SpaFinder Japan press conference.  Yoriko Soma, our partner in Japan, hosted a lovely event honoring recipients of the Crystal Awards for top spas in Japan.
Consumers voted these the top 10:

1. The Peninsula Spa by ESPA Tokyo
2. The Ritz Carlton, Tokyo
3. Le Spa Parisien at the Westin Tokyo
4. Nagomi Spa and Fitness, Grand Hyatt Tokyo
5. The Spa at Mandarin Oriental Tokyo
6. Chi, The Spa at Shangri-La, Shangri-La Hotel Tokyo
7. Wakka Spa at Hilton Niseko Village, Hokkaido
8. Mizuki Spa at Conrad Tokyo
9. Joule Spa & Wellness, Hyatt Regency Tokyo
10. Niki Club Japan
I only had time to experience one spa so Yoriko arranged for me to have a treatment at the Mandarin Oriental Tokyo.  If she was trying to 'wow' me, she succeeded!
This 'spa in the sky' (37th floor) pretty much blew me away.  A combination of their extremely impactful view of Tokyo from almost every room in the spa – fitness, treatment, vitality pool (even the sauna!) – and having Karen Aleksich give me a customized treatment in one of their spa suites – well, it doesn't get much better than that.  The price tag – almost $500 – was a 'wow' also.
Here's what I learned:
1. Mandarin Oriental seems to have achieved a consistent 5-star level in their spas.  I feel like I have been to enough Mandarin Oriental's around the world now (sometimes unannounced) to have felt this consistency.  Their décor is always exceptional and their therapists extremely well trained.  I would say however say that Karen was a step above all the rest.  (They tell me that even though she is in management now, they won't let her out of the treatment room because she has such a following!)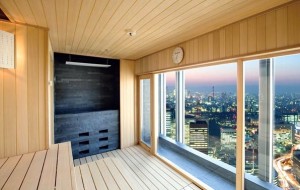 2. Wow factors do 'wow.'  When I think back to my experience – it truly created a memory:  floor to ceiling windows (no drapes needed) with amazing 270 degree views all around you.   The Tokyo skyline seem to go on forever.  Even though I live in Manhattan, where we have some pretty impressive views, it looked to me like 20 Manhattans could fit into one Tokyo.  It was so exhilarating that I almost had a hard time relaxing!
3. Yoriko explained to me that in Japan there is a premium on prestige.  Experiencing a spa so high up in the sky definitely makes a first-class impression, thus the extremely high prices.  With over 12 million people in greater Tokyo and a density (similar to India) of about 343 people per square mile (U.S. is 31), I guess management and staff can take comfort in looking out the window and being assured that there seems to be enough people who can afford their 'wow' pricing – even during recessionary times in Japan.
My twitter address: @susieellis